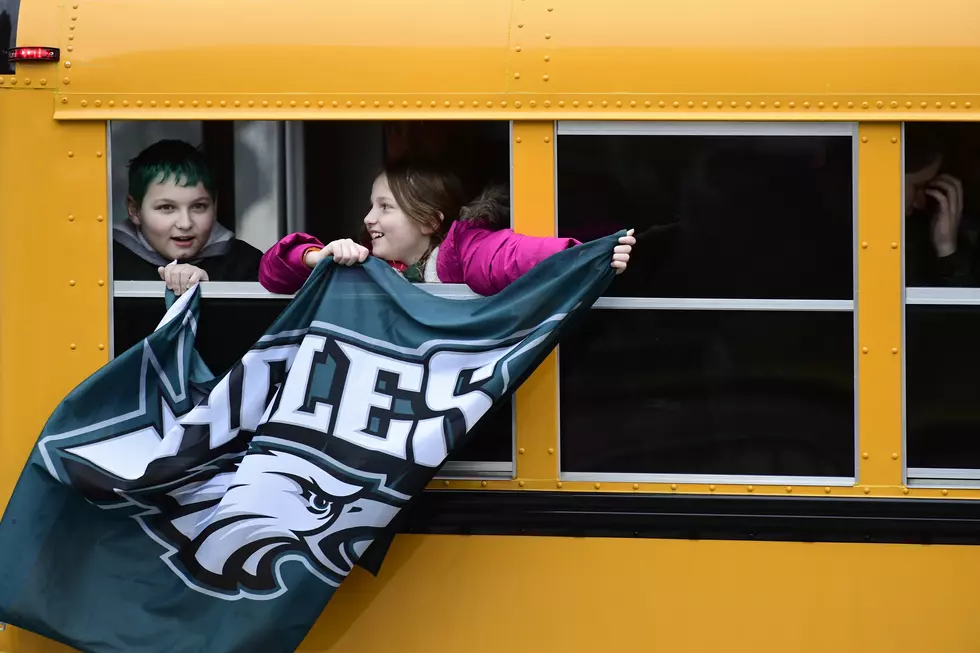 GO BIRDS! Gloucester City NJ Schools Announce 2 Hr Delay Opening on Monday After Super Bowl
Getty Images
If your kids go to school in this South Jersey school district, let 'em know they can stay up late watching the Super Bowl!
Ahead of Super Bowl Sunday on Feb 12 when the Philadelphia Eagles go head-to-head with the Kansas City Chiefs, the Gloucester City school district has announced they're granting its students a 2 hour delayed opening on Monday Feb 13! Wooh!
I came across a post on Facebook displaying a screenshot of a text sent out by Gloucester City, reading:
"All district schools will be on a 2-hour delayed opening schedule on Monday, February 13th. It is a rare and special time for families to watch our local professional football team compete in the Super Bowl. We feel that it's important to give students and staff the opportunity to enjoy the game with the families and still attend school & work the next day safely and well-rested."
There are just three schools within the Gloucester City School District:
Cold Springs School
Gloucester Middle School
Gloucester High School
If you ask me, other school districts in New Jersey should take a page from Gloucester City. All green-bleeding students should be able to celebrate and cheer on the Eagles into the night without regretting it in the morning.
Should other Eagles nation school districts in New Jersey do the same thing? It'd be so cool if they did. Lucky kids!
GO EAGLES!!
---
Tinsel Takes Flight — A Philadelphia Eagles Pop Up Bar — Opens in Center City
Tinsel Takes Flight is now open 7 days a week at 116 S 12th St in Philadelphia, Pa. They'll be open through the football playoffs as we hope to cheer on our team. Check out how AWESOME this place looks on the inside too:
NFL pros from New Jersey
There are more than 60 active pros with NJ roots.
More than 10 players who made it to the NFL conference championship games this year have NJ ties — and four active NFL quarterbacks were born in the Garden State.
Some of them may even be on your fantasy football team.