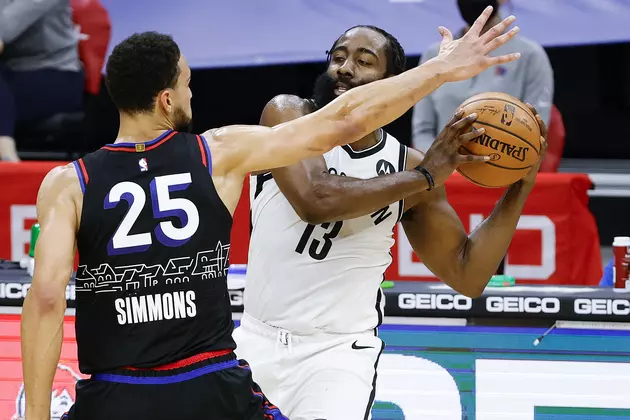 Grades From Sixers' Victory Over Nets
(Tim Nwachukwu, Getty Images)
The Sixers would be in action on Saturday night, facing off against one of the teams on their heels in the standings in the Brooklyn Nets. This game was supposed to be a star-filled affair of Eastern Conference juggernauts, but injuries and protocol would change that. 
Without the services of Kevin Durant and Kyrie Irving, the Nets would struggle against the Sixers. In the end, the Sixers would pick up a 124-108 victory and improve to 13-0 on the season when their starting five plays. 
Here are some grades from the outing. 
Joel Embiid: A+
Brooklyn's lack of size was a clear advantage for Joel Embiid and the Sixers heading into this game, and Embiid would make the most of it for the most part. Putting on another big performance to add to his early MVP campaign. 
Embiid would end this game with 33 points, nine rebounds, three assists, and even swipe three steals. He also continued to get to the line at an absurd rate, attempting 14 free-throws and making 12. 
Two things that stand out from this game were turnovers and jumpshot volume. Embiid would give up the ball five times against the Nets, and attempted seven threes while making just one. After being more calculated this season with his threes, Embiid looked to be falling back into old habits. 
What makes the volume an issue is that he was bailing out the Nets defense when settling for jumpers. They had no answer for him around the rim, and he was making life easy for them by hoisting up shots on the perimeter. 
All in all, this was another good Embiid performance, but his time spent on the outside raises questions on if his back is bothering him more than he is letting on. 
Tobias Harris: A+
Tobias Harris struggled a bit against the Blazers on Thursday, but he would get back to his All-Star play against the Nets. He would be the team's second-leading scorer and tie for the lead in rebounds. 
Harris' final stat line was 21 points, 12 rebounds, six assists, two steals, and one block. He continues to shoot efficiently from the floor, knocking down 10 of his 16 shots in this game. 
After the game, Joel Embiid would sum up Harris' play this season nicely. Saying "he's been great, he's been consistent all season. I've been pushing for him to be an All-Star." 
This was a great bounce-back game from Harris after looking mortal for the first time in weeks against Portland. 
Seth Curry: B+
Another player who looks to be breaking out of a slump is Seth Curry. After really struggling on the floor since returning to the lineup, he started to look like his old self against the depleted Brooklyn squad. 
Curry would end his night with 11 points and four assists and would knock down a pair of threes. Doc Rivers said he wanted Curry to get back into the flow of things organically and it looks to be working as Curry showed glimpses of his old self in this game. 
Danny Green: B+
Danny Green would be tasked with defending James Harden for the first half of this game and hold his own against the former MVP. He would also step out and hit three shots from deep en route to being one of the seven Sixers in double-figures this game. 
Doc Rivers would credit Danny Green for having one of the moments that would shift the momentum in the Sixers' favor during his postgame availability. After receiving a technical for arguing with a referee, Green would come down and hit back to back threes that would open the flood gates for the Sixers to pull away with a big lead. 
Ben Simmons: A++
Whether it was being fresh from having a night off his feet or the storyline within the game, Ben Simmons left his mark all over this game. He played like a man determined to show everyone the team made the right decision by not trading him.
Simmons would finish just shy of a triple-double on Saturday night. Racking up 16 points, 12 rebounds, eight assists, and three steals. His aggressiveness from the opening tip was great to see. 
The biggest thing that stood out from Simmons in this game was the intensity he played with. Everyone got to see the matchup they had been waiting for in the second half when Simmons would be the primary defender on James Harden. The game within the game would not disappoint as Simmons would smother Harden defensively, giving him no breathing room on the floor.  
His intensity would flow to the offensive end as well as he would receive a technical foul after chirping to Brooklyn's Tyler Johnson after dunking over him on a fast break. Although the call was questionable, you'll take it every time if it means seeing Simmons play as aggressive as he was. 
These past two games have been a huge reminder of how impactful Simmons is on the floor. Doc Rivers put it best when he said was Simmons brings to the floor is invaluable.