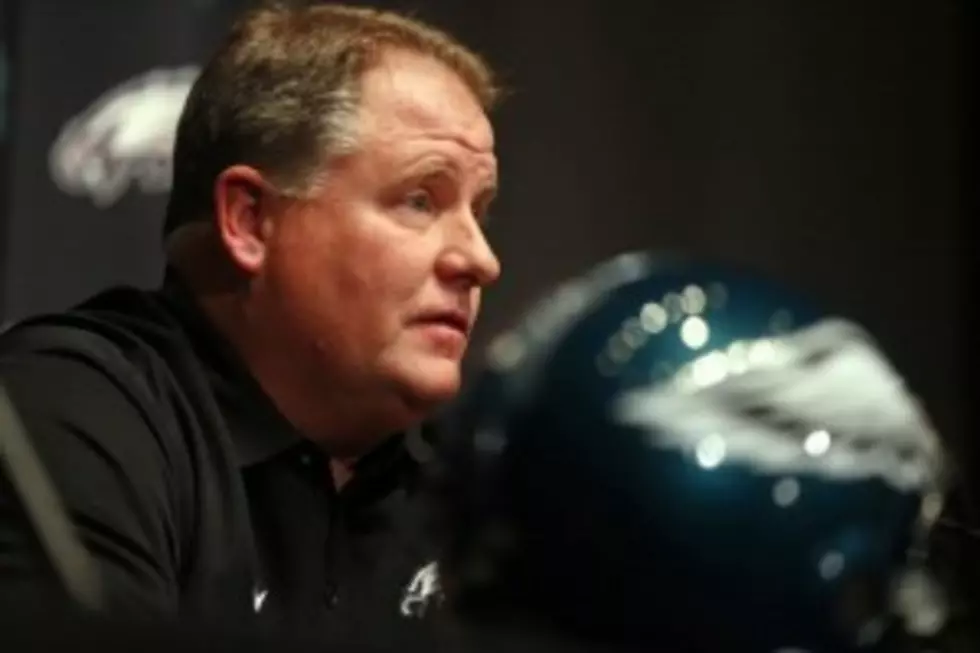 Have Eagles Fans 'Lost That Loving Feeling' Already?
Eagles coach Chip Kelly. (Getty)
In the movie Top Gun - Maverick and Goose serenade Charlie in the bar by singing "You've Lost That Loving Feeling" - by the end of the song everybody joins in, kind of like the end of the Andy Reid era in Philadelphia.
It was the best of times, it was the worst of times, in the end it was just time.
On January 11, 1999, Andy Reid was hired as the head coach of the Philadelphia Eagles, as an unknown quarterback coach from Green Bay, he had never been a head coach at any level before he got the top job in Philly.  At the time, owner Jeffrey Lurie saw something different in Reid and hired him to replace Ray Rhodes.
The moved was criticized locally, Reid had not only never been a head coach at any level, he was never even an NFL coordinator. He was 40 years old when he got the job, at the time he was the second youngest coach in the NFL, behind only Jon Gruden.
Reid struggled in his first season, riding journeyman Doug Pederson as his starting quarterback for the first nine weeks of the 1999 season.  Meanwhile, Donovan McNabb, the No. 2 overall pick in the draft, sat and watched an offense with little talent average just 17 points per game.  McNabb become the starter in week 10 that season and a new era was born.
It's fair to say Reid entered Philly as somewhat of an unknown - and therefore that loving feeling wasn't there day one of the Reid era.  However, one thing Reid got was his quarterback, something current coach Chip Kelly is having a difficult time finding.  Reid entered with McNabb - and together the two gave the Eagles a chance at a Super Bowl from 2000-2009, when the duo finally split.
Now there's no welcome look in your eyes when I reach for you
And now, you're starting to criticize little things I do
It makes me just feel like crying
(Baby)
'Cause baby, something in you is dying.
After leading the Eagles to a 11-5 record, McNabb was traded to Washington following the 2009 season - since McNabb's departure the Eagles have not won, one single playoff game.
Kevin Kolb, Mike Vick, Vince Young, Nick Foles and  Mark Sanchez are a combined 0-2 since McNabb's departure.
On January 16th, 2013 the Eagles hired Reid's successor - Chip Kelly.
While Reid may have never really fully had that loving feeling, if at any point he did, he definitely lost it by the end of 2012 - Kelly had it from day one.
Kelly like Reid's rise to an NFL head coaching position is quite a story.  In 2006 he was the offensive coordinator at the University of New Hampshire, in 2007 he left the Wildcats for Oregon where he became their offensive coordinator. In 2009, he became the Ducks head coach and in 2013 he was hired by the Eagles.
While fans weren't sure who Reid was, the were clamoring for Kelly.  Fans also didn't endorse Reid's quarterback, instead they were hoping for running back Ricky Williams, the duo of Reid and McNabb was never fully really embraced.  Kelly may not have handpicked his quarterback, but the thought of his innovative spread offense had fans yearning to see what his offense would look like in the NFL, regardless of who was running it.
Reid's first season, he went just 5-11, Kelly took over a 4-12 team and turned it into a 10-6 division champ in his first season. You can say after Kelly's success, 'we had a love, a love, a love you don't find everyday'.
In year two Reid got a taste of 'the loving feeling', going 11-5, losing to the Giants in the divisional round of the playoffs.  In this third season, Reid's Eagles went 11-5, losing to the Rams in the first of four straight NFL Championship games.
You would think at this moment, Eagles fans would 'get down on their knees' for Reid - but it never really happened.
Finally in 2004, Reid got over the NFL Championship hump with a 13-3 season, beating the Atlanta Falcons in the title game before falling to the Patriots in the Super Bowl.  It would be Reid's only Super Bowl appearance - part of the reason why Reid never really had that loving feeling from the demanding Philadelphia fans.
It started with 'baby, baby, I get down on my knees for you', if you would only love me like you used to do.'
But as you know...that hasn't happened.
His Eagles have taken a step back after winning the NFC East in his first try, the birds will not be one of the six NFC playoff teams -something that happened only five times in Reid's 14 seasons in philly - missing out in his final two years, the only time the Eagles missed the playoffs back-to-back years under Reid.
What if is a question Kelly doesn't like to answer - he avoids just about every hypothetical question thrown his way.  But "what if" the Eagles miss the playoff next year - that would be two years in a row, would Kelly 'lose that loving feeling' that he entered with?
Or has that process already begun?
It seems the only difference in how we felt about Reid and how we feel about Kelly has to do with knowledge.  We didn't know who Reid was, so there was a lack of excitement, or no loving feeling.  We knew Kelly, we were excited about Kelly, and tired of Reid, so he got here with 'that loving feeling' without having to do anything to prove himself.
Reid won 58-percent of his games in Philly, including 10 playoff games, right now Kelly has won 61-percent, with no playoff wins.
So Eagles fans, have you already lost that loving feeling for Kelly?
We certainly need him to bring back that lovin' feelin, cause right now it feels like its gone, gone, gone, woooooah?
You're trying hard not to show it....But baby, baby I know it.
It's gone, gone, gone, woooooah....
And without the ability to handpick his quarterback ot might be hard for Kelly to 'Bring back that lovin' feeling'.