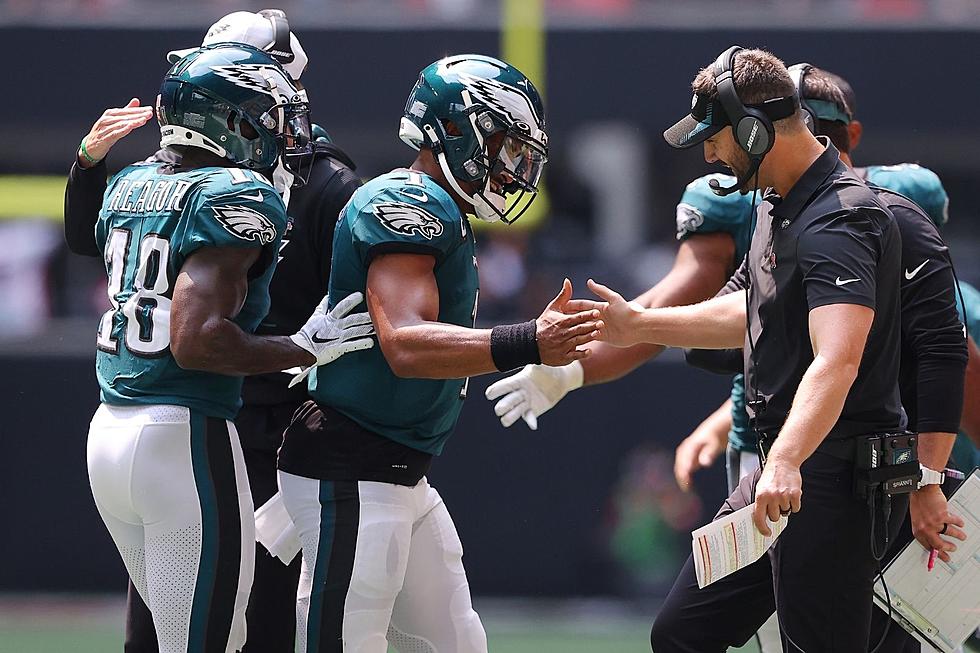 Impressive Start for the 2021 Eagles – Are you excited?
(Photo by Kevin C. Cox/Getty Images)
The Philadelphia Eagles got off to an impressive start for the 2021 NFL season with a victory over the Atlanta Falcons 32-6 last Sunday.  The Eagles coaching staff had a good game plan and with the exception of 14 penalties for 89 yards (as a result of the starters not playing much in the preseason - tune into Saturday's show and I'll explain more), the Eagles offense looked good.  Quarterback Jalen Hurts had a great game going 27 of 35 Passing for 265 yards with three Touchdowns and a QB rating of 126.4.  But the biggest reason for the success of the offense was the fact that they didn't turn the ball over!  The Defense kept the anemic Atlanta Falcons offense in check even though they gave up 124 yards on the ground.  The Birds Defense buckled down in the second half and shut out the Falcons.  Eagles Nation will be ready for Sunday's home opener at Lincoln Financial Field against the San Francisco 49ers!  I will be headed to the game on Sunday to support the 1-0 Eagles!!
To get you pumped up for Eagles Football listen to The Locker Room with Billy Schweim this weekend for a chance to win an Eagles prize package courtesy of Pro Image Sports and Fan Treasures!! 
On Saturday's show, Scott McKay and I will reflect on the Eagles big win and get you pumped up for Sunday's showdown against the 49ers.  During the show you will have a chance to win the Eagles Prize package, listen in for details.  Then we will hear from the "Sports Book Consigliere" Dave Sharapan from Las Vegas with his six pack of picks; College Football and Pro Football he covers it all.  The Phillies are fading and we'll talk a little baseball… maybe. 
On Sunday's show Pete Thompson joins me in the studio for our Eagles pregame show.  As always we will hear from 97.3 ESPN.com Eagles Writer and Fox 29 News Sports Anchor Scott Grayson.  Grayson will give us the latest news on the Birds and his take on the Eagles versus 49ers game.  Then the Fantasy Football Guru Brian Hartley will give you his plays for Week Two in the NFL.
All that and more on The Locker Room with Billy Schweim every Saturday and Sunday from 10am to noon on 97.3 ESPN Radio.!
Don't forget to come visit me up on the Ocean City Boardwalk at All Campus for the Rant Booth. We broadcast live on A2D radio and Facebook, Youtube, Twitter TV from 6-9pm. 
Photo gallery: Eagles Open 2021 Season at Atlanta Falcons