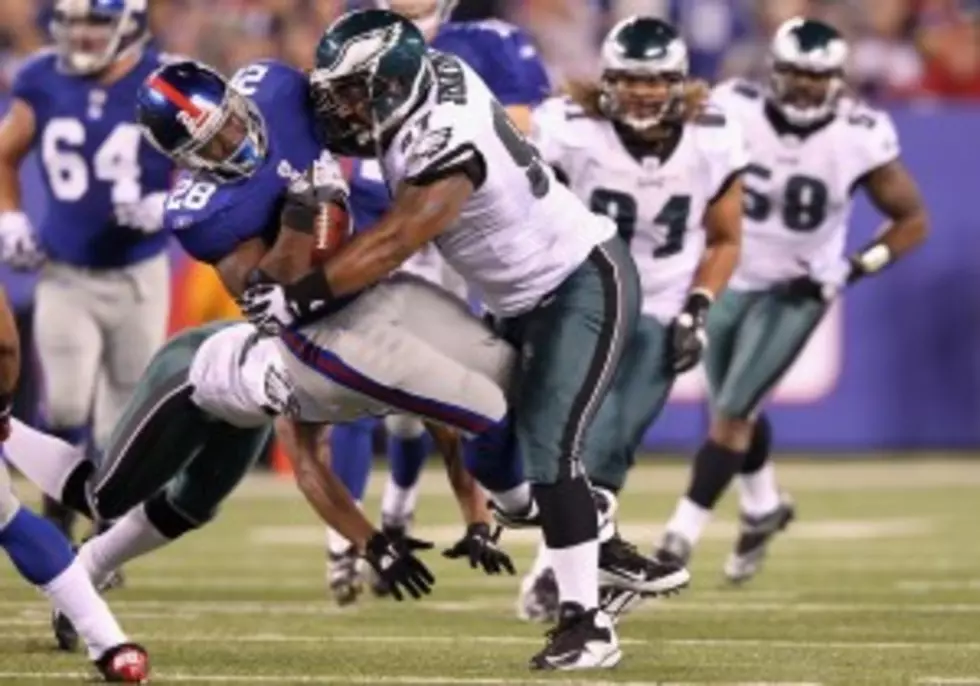 It All Starts Up Front: Eagles 17, Giants 10
Vince Young was clutch, DeSean Jackson was electric again, and the Philadelphia Eagles wanted it more on Sunday Night in MetLife Stadium. But the biggest reason for victory last evening? The dominant play of Philadelphia's defensive line.
Quarterbacks, wide receivers, and running backs get the headlines. Coaches and coordinators get the blame. Often times, though, the final score has little to do with them and more to do with what happens before their abilities have a chance to matter.
Just a Bit Outside prides itself on telling it like it is. Well, here's how it was from last night. The following eight names deserve the bulk of the credit for getting Philadelphia's season potentially back on track: Jaqua Parker, Derek Landri, Trent Cole, Jason Babin, Darryl Tapp,  Mike Patterson, Trevor Laws, and Cullen Jenkins.
The group that Jim Washburn and Juan Castillo envisioned reeking havoc on opposing quarterbacks and ball carriers did just that last night. They were relentless with a pass rush that produced ten quarterback hits -- tack a few more on there for the shot Laws got on Eli Manning after Jamar Chaney's first quarter interception -- and three sacks. Five of the six tackles for loss recorded by the defensive unit were courtesy of these fellas.
To be fair, it wasn't the first time these players have played well in a game this season. Just take a look at some of their individual statistics. Babin has had an outrageous year. Cole has gotten penetration from the opening snap of the season. But this was, by my estimation, the best game the group played collectively all season long. They rushed the pass as a cohesive unit, and maybe more importantly, were disciplined enough to contain the run. New York won't be confused with the Joe Gibbs' era Redskins when it comes to rushing the football, but they also aren't 29 yards on 17 carries bad.
Last night, Philadelphia's defense made them look that bad. The eight defensive lineman rotation battered Eli Manning, made Brandon Jacobs look ready-for-retirement slow, and manhandled the Beatty-Diehl-Baas-Snee-McKenzie group upfront. The effort allowed the much maligned linebacking corps to make some plays without blockers on them and the secondary to not be exposed by a quality Giants receiving group. And don't forget the hustle play of the year by Cullen Jenkins. His run down of D.J. Ware -- knocking him out of the game with a potential concussion -- showed just how much Philadelphia wanted to win last night.
A tone was set early when Laws trucked Manning after Jamar Chaney's interception. It carried through to Jason Babin's strip sack of Manning on the game winning possession. When Derek Landri recovered the football to seal the game and a victory for Philadelphia, it was the first time I sensed domination on the defensive side of the football from that unit in a long, long time. From start to finish, they were simply better than their opponent.