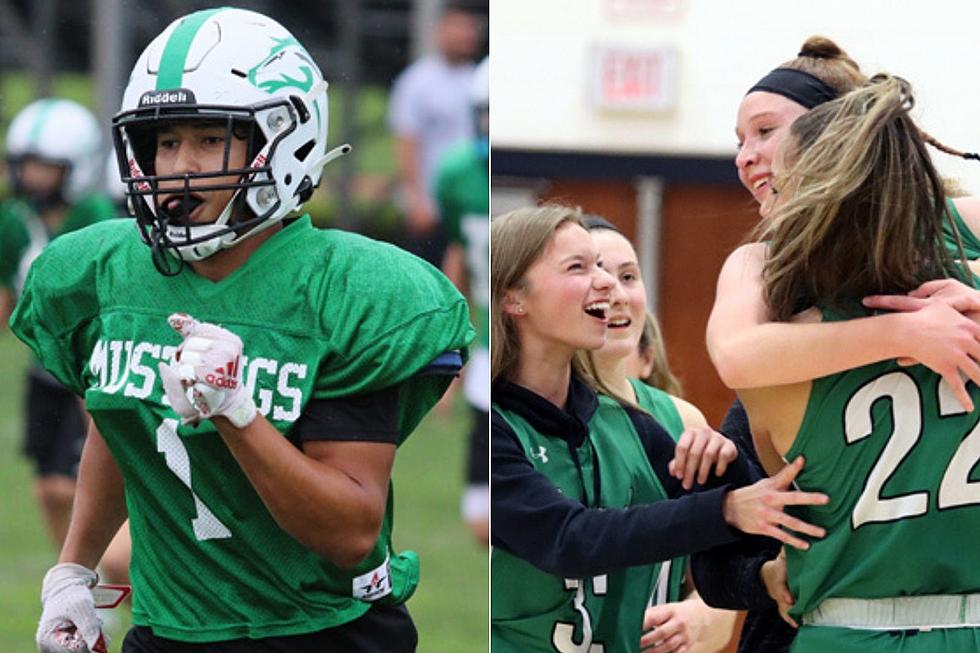 Mainland Regional continues commitment to Student-Athletes
Photo Credit: Dave O'Sullivan/Glory Days
In our first edition of local High School Athletics Spotlight series takes a closer look at Mainland Regional High School.  In the coming weeks, we will do similar profiles of other local High School Athletics here in South Jersey.
Driving down Route Nine between Somers Point and Northfield you will pass the sports fields at Mainland Regional High School, one of the most competitive athletic Public School programs in South Jersey in multiple sports. A big part of the success in sports has been the incredibly loyal support of the local community that supports their school.
Since the early 1960's, Mainland Regional has been the public school for Somers Point, Linwood, and Northfield with a student population that has excelled in both athletics and academics. It wasn't until 2012 when Mainland Regional won the Under Armour Finding Undeniable Contest that people outside of the Cape Atlantic League footprint began to truly recognize the students and the community support for all the Mustangs' Sports Programs.
The last 18 months have been difficult to navigate and stressful for everyone in the aftermath of the COVID-19 Lockdowns in 2020 followed by the rollercoaster of protocols and restrictions everywhere we turn. Like other local High Schools, Mainland Regional had to work through different obstacles and challenges to allow the students to have some "Normalcy" in their lives and get back to school while also competing in athletics.
Mainland Athletic Director Mike Gatley spoke to 973 ESPN about what this Athletics season has been like for the whole school:
"This year has been anything but 'normal', in fact it has been more arduous on many levels (but there's been) tremendous resilience from both students and coaches. (We are) getting ready to embrace more challenges as we move indoors with COVID Protocols, etc. (but) goals are always the same at Mainland: Education-Based Athletic Programs. Our coaches continue to that adhere to our department philosophy: 1. Teach Fundamentals Everyday - 2. Hold Student-Athletes to High Standards On and Off the Playing Surface - 3. Treat our Athletes Appropriately."
One of those coaches at Mainland Regional is Football Head Coach Chuck Smith who previously was the Head Football Coach at Oakcrest High School before making a "Homecoming" to Mainland after legendary Football Coach Bob Coffey retired. Coach Smith spoke very highly of the Mainland Community and Student Athletes when 973 ESPN reached out to him:
"Our Mainland Community of students, administration, parents, businesses, and alumni have truly 'Stepped-Up' during the past 18 months. We do not lack support even during these difficult times. Mainland Regional is a great place to live, raise a family and the public school systems are tremendous. The schools provide the necessary resources and support for every level of student to be successful! This Football Season was much better than 2020 (because) we had a 'Regular' off-season, preseason and we were much better prepared for any situations that arose due to COVID-19 and its' protocols. The players have understood the world we live in now and have been tremendous with complying to all rules/regulations."
Another coach at Mainland Regional who spoke to 973 ESPN is Girl's Head Basketball Coach Scott Betson who oversaw six straight seasons of at least 20 wins each year before the 2020-21 Athletics season that derailed everyone's lives. Betson spoke to the success of Girls' Basketball program over the last decade at Mainland:
"First and foremost, we have been blessed with some outstanding talent over the past number of years. That in itself is a reflection of the community and its commitment to the sport. Beyond that, I think we have done a nice job of establishing a standard that we expect to compete in every game we play. Obviously, we aren't going to win every one, but the kids go into every game believing that they are going to. That belief comes from the work that goes into every facet of the program, from the off-season, to pre-season, to in-season preparation. Again, none of that would be possible without good kids and parents to support it all."
The level of talent and hard work by South Jersey athletes has gotten more recognition in recent years with a growing list of Boys and Girls athletes getting opportunities to perform at the next level of their sports. Just one recent example is Pitcher Chase Petty being drafted by the Minnesota Twins 26th overall in the 2021 MLB Draft. Football Head Coach Chuck Smith told 973 ESPN:
"I believe we are seeing more 'high-end' talent being spotlighted (in South Jersey). We have always had talented players in South Jersey but many seemed to fly under the radar (in past years). I believe much of this is due to the 'new' ways colleges can recruit via Hudl and Social Media."
At the end of the day, High School Sports is about the Student-Athletes and giving them a great experience that also amplifies their development into becoming great people. For the 2021-22 season, with some "Normalcy" back for High School Students, Girls' Head Basketball Coach Scott Betson points to the value and importance of that for the young athletes:
"I am just excited that the kids will get a chance to play again. There were several times over the past year and a half that it seemed playing basketball might not be possible. I am also looking forward to the kids having a chance to compete for some of the championships that were not on the table last year....It was great to get a season in last year, but it was a surreal feeling at the end when the season just ended without any playoff at all. Normally, at the end of the year we are gearing up for a playoff run, but last year, it was kind of anti-climatic in the sense that we just played our last game, won, and then packed everything up...We have a number of girls who can really play and I cannot wait to see what they can do with a full season. These kids and the community have endured a lot of challenges and disappointment over the past 18 months, so hopefully this season can give everyone some reprieve from all of the negativity that seems to pervade life right now."
Most Accomplished South Jersey Male Athletes From Each High School