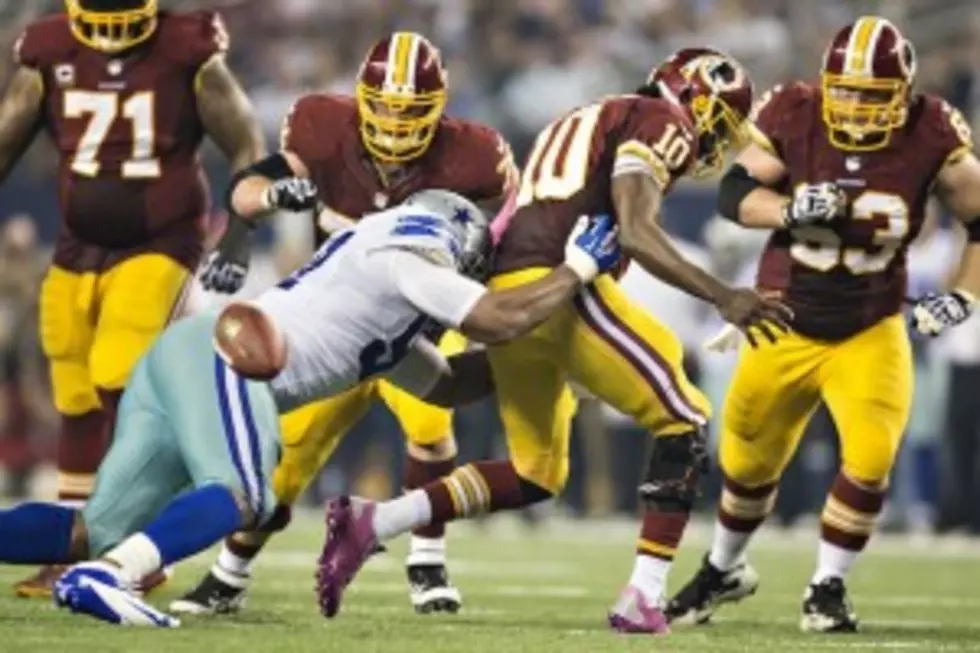 McMullen on the Eagles: Examining Interest in RG3
Getty Images
PHILADELPHIA (973espn.com) - When Jay Gruden stepped to the podium and announced Kirk Cousins would be the Washington Redskins' starter in 2015, it was only a matter of time.
At some point an NFL source somewhere was going to put two and two together and surmise Chip Kelly would be interested in acquiring the talented but enigmatic Robert Griffin III.
Freeman reported  the Eagles, along with the Cleveland Browns and Dallas Cowboys, would consider bringing the former NFL Offensive Rookie of the year into the mix.
"The most important thing you need to know about Robert Griffin III —  it's THE thing — the most important thing is that there are a lot of teams interested in him," Freeman wrote. They don't necessarily want to trade for him. They want to see if Washington cuts him. And if they cut him, you will see teams go after him. And from what I hear from around the league, teams around the league, look for three big teams to emerge if that happens. [...] The second team, Philadelphia Eagles. Chip Kelly thinks he can make any quarterback into Joe Montana. [Philadelphia] is a natural fit there as well."
We've been through this before and people assume Kelly is intent on eventually getting a signal caller with movement skills, something RG3 certainly has, at least before he left FedEx Field on his shield after tearing his ACL and LCL in the postseason after his brilliant freshman campaign.
There are, however, other attributes Kelly wants just as much in his signal caller and it starts with accuracy and quick decision-making, things that supposedly define Sam Bradford and certainly did in Green Bay last week.
Kelly's well-publicized man crush on Marcus Mariota has as much to do with the Titans starter's head as his athleticism.
In a perfect world Kelly would like a QB with the running skills of Colin Kaepernick, the quick release of Dan Marino, the accuracy of Aaron Rodgers, and the personal life of Tim Tebow but there has never been any intimation that he favors one of those traits over the others despite the flawed assumption that he wants mobility first and foremost.
His quarterbacks in Philadelphia to this point have been Michael Vick, Nick Foles, Mark Sanchez and now Bradford. Only the aging Vick was perceived to have the running skills Kelly desires and even he wasn't well-versed in the zone-read mechanics Kelly wants in his offense.
Griffin excels at only one of the skills Kelly desires and his troubles inside the Beltway don't exactly project well in the coach's culture-based ideology.
That's not to say Kelly doesn't have the monster ego and it's fair to say he believes he could turn just about anyone (not into Montana) but a competent NFL signal caller so there is little doubt Kelly believes he can do more with RG3 than either Mike Shanahan or Gruden.
And until Bradford is extended, the long-term plan at the game's most important position is in flux for the Eagles so bringing a reclamation project with talent on board is always an option.
But, the perception of Chip Kelly and the mobile quarterback is as lazy as it gets.
-John McMullen covers the Eagles and the NFL for 973espn.com. You can reach him at jmcmullen@phanaticmag,com or on Twitter @JFMcmullen