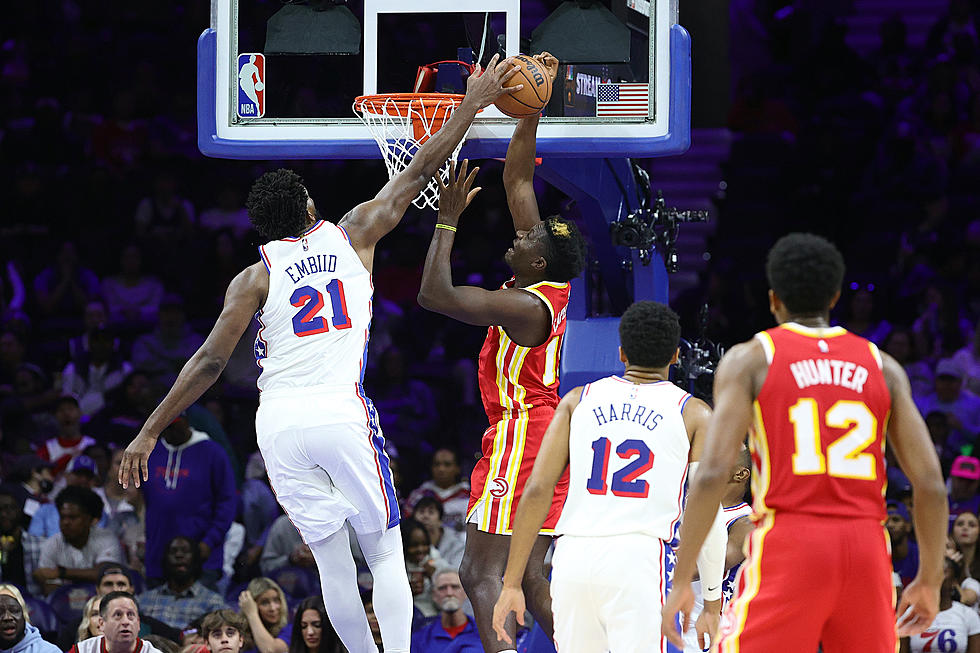 Melton, Embiid, and Maxey shine in preseason finale vs Hawks: Likes and dislikes
Photo by Tim Nwachukwu/Getty Images
The Sixers (1-2) hosted the Atlanta Hawks (3-1) in their preseason finale on Friday. Joel Embiid made his lone appearance of the preseason in a 120-106 victory over the Hawks.
Before we get to what I saw, some notes.
Contextual Notes
Quin Snyder started Trae Young, Dejounte Murray, Saddiq Bey, De'Andre Hunter, and Clint Capela.
The Sixers were without the services of James Harden, who is away from the team due to personal reasons.
Filip Petrusev missed the game with a left quad strain. Terquavion Smtih was out with a right knee sprain.
Nick Nurse started Tyrese Maxey, De'Anthony Melton, Tobias Harris, PJ Tucker, and Embiid.
Likes
The most meaningful change we've seen between the Sixers' offense under Doc Rivers and the offense under Nurse this early in the new regime is pace. But, most of that improvement has been derived from creating live-ball turnovers and getting out in transition. In other words, their halfcourt offense hasn't been ground-breaking by any stretch of the imagination. But, there is one tangible difference that is unmistakable right now. They're taking shots earlier in the clock.
Whereas under Rivers the Sixers were constantly operating against the shot clock because of how slow they were to get into sets, the players are making an extremely genuine effort to make decisions earlier in the shot clock. That doesn't necessarily mean they're making the first pass in snappy fashion. Rather, they're literally just shooting earlier. And you're seeing some guys struggle to adjust with that style of play. Harris is a poster child for the ball sticking on offense. To accommodate what Nurse wants to do, he's taking some shots without first getting into his desired play-to-play rhythm. It's not comfortable yet. But, you can see the effort to adjust his style to what the coach wants.
Same thing went for Embiid in this game. Fresh off an MVP campaign, Embiid bought in on offense pretty much right away. He was quick to spin, quick to go to his jumper, quick to his first step. It wasn't pretty by any stretch of the imagination. He shot 0-for-6 with two turnovers in 17 first-half minutes in his first real game since the Game 7 beatdown many months ago. It's an adjustment, and he's trying. If only the first test run hadn't come in the final rehearsal before things get real.
It's hard to understate just how much better Jaden Springer has looked on offense this preseason compared to how he looked on that end in Summer League just a few months ago. And that isn't to say that he's suddenly changing the calculus for Philadelphia on offense, either. Rather, it just speaks to the level of valid concern that existed just a short while ago. In the midst of his second NBA summer, Springer stood out in a bad way. He was painfully unimpressive in the areas that needed the most improvement.
While you felt like his defense made him a worthy candidate for legitimate rotation minutes in now his third NBA season, you just weren't sure how long he could stay on the court due to offensive concerns. And even amongst incoming rookies and guys desperate for a chance to get to training camp with any team, Springer just didn't inspire any positive feelings on offense despite the advantages he should've had.
Fast forward to October, and you feel like you're watching a different player. Perhaps that's just as much a commentary on the guys he was playing with in Summer League as it is a measure of his own growth. Whatever the case, the fact that he looks like a totally serviceable offensive player is a significant development for Philadelphia's depth.
Springer is stepping into his three-point attempts with confidence, and it's shown in his success rate. He's canned seven of his eight attempts from beyond the arc in the preseason. But, the biggest plot twist of all is that he's shown flashes of being a legitimate threat as a stationary playmaker.
I'm tempted to throw him into an ultra small lineup, licensing Springer to defend fours and play out of the high post on offense. No, you're not running the offense through him a la Nikola Jokic. Rather, you're using him to connect one side of the floor to the other with his sneaky good passing.
Hell, I think it's worth experimenting with small-small pick-and-rolls. Defenses will sell out on the ball-handler because, in pretty much every scenario, they'll be perceived as a bigger offensive threat than Springer is. Let him catch in space and evaluate what the defense is giving. Someone say Embiid-Springer inverted pick-and-roll?
Why not? Mad science is what the regular season is for.
Dislikes
If the Sixers get off to a slow start in the regular season, the Harden conversation is going to be front and center because it's low-hanging fruit. But, the bigger reason, I would bet (if I were a betting man), will be that Embiid is going to be well behind the eight ball on offense.
To be clear, that isn't an acceptable excuse. He played just one preseason game. That's not nearly enough time to start getting comfortable with real situations. He should've played more than one game to give himself a running start on Nurse's system in a zero-stakes environment. But, the milk has already been spilled. And the Sixers might have to pay for it early on in the regular season.
The Sixers will visit the Milwaukee Bucks on Thursday for their first game of the regular season. Tip-off is 7:30 p.m., Eastern time. You can catch the game on TNT.
Where to watch Phillies Playoff games during Red October in Atlantic and Cape May Counties
The Phillies are back in the MLB Playoffs for the second straight year and you want to cheer on your team with your fellow Philly Fans! Here are places in Atlantic and Cape May Counties you can watch the game at
Gallery Credit: Josh Hennig/Townsquare Media