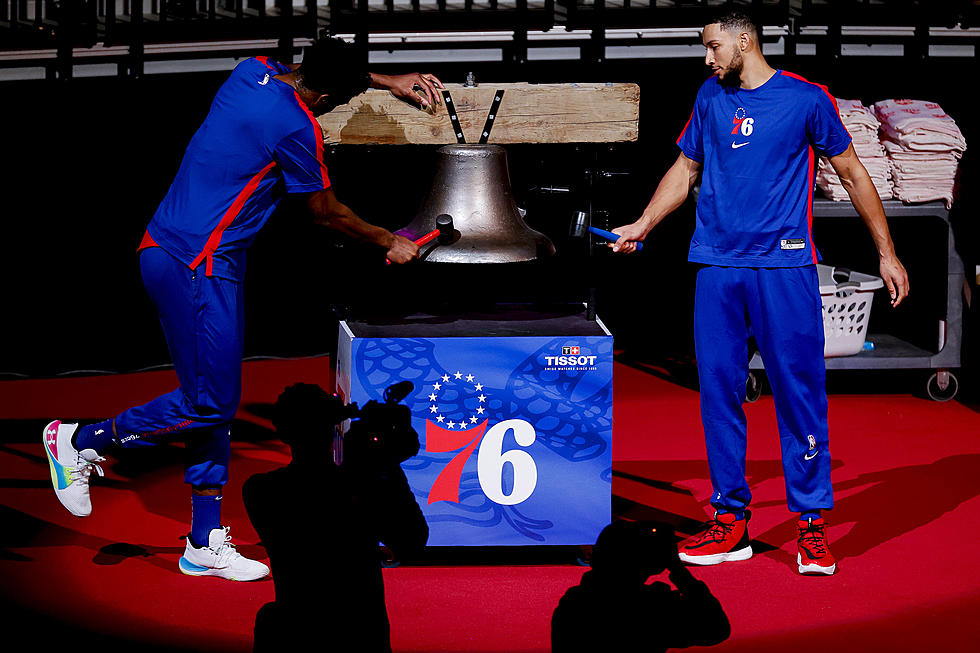 NBA GM Survey: Sixers to Take a Step Back, Ben Simmons a Top Defender
Getty Images
NBA.com's annual preseason general manager survey gives an overview of how quickly things can change in the National Basketball Association.
For the Philadelphia Sixers coming off a disappointing ending to last season, coupled with the extreme uncertainty with Ben Simmons, those perceptions have certainly moved from a season ago.
Last year, expectation were low for e team that was coming off a first-round sweep at the hands of the Boston Celtics in the Orlando bubble. The Sixers surpassed most expectations, by being the No. 1 seed in the east, before failing in Game 7 against the Atlanta Hawks.
Now those polled in this year's GM survey see the Sixers being the No. 4 seed in the Eastern Conference.
However, Philadelphia wasn't picked by anyone to win the NBA Finals. The Brooklyn Nets (72%), Los Angeles Lakers (17%) and Milwaukee Bucks (10%) were the only teams that league GM's see winning this years Larry O'Brien Trophy.
But while the team might not have high expectations from league GM's, some of their players and coach Doc Rivers did receive some respect.
Sixers center Joel Embiid, who finished No. 2 in the MVP voting last season received 7% of the vote to win the award this season, while getting consideration as a player who makes coaches make the most adjustments and got 23% of the vote as the leagues best summer, second to Denver's Nikola Jokic who got 63% of the votes.
The move to sign Andre Drummond got consideration as one of the underrated offseason additions.  Ben Simmons not reporting to camp was given consideration as the most surprising move of the offseason.
When it comes to defense, Ben Simmons got plenty of recognition. The Sixers point guard was fourth in votes for best defender (7%) and also was voted as the second best perimeter defender (17%) behind only Jrue Holiday. He was second as most versatile defender (27%) behind Giannis Antetokounmpo. Simmons also received votes as one of the most athletic players in the game.
Seth Curry was considered behind his brother Steph as one of the top shooters in the league and for moving without the ball in his hands.
Head coach Doc Rivers was under consideration as one of the best manager/motivator in the league, for making in-game adjustments and for his defensive scheme.
Additionally his assistant Sam Cassell was recognized as one of the top assistants in the game.
As a team, the Sixers were considered as one of the best defensive teams in the league and as having one of the top home-court advantages.
50 Easy Men's & Women's Halloween Costume ideas You'll love
Here are the 2021 top-rated Halloween costumes for men and women this year at Spirit Halloween stores and online. Some of the men's costumes are available online only. All of the women's costumes are for sale in-store.