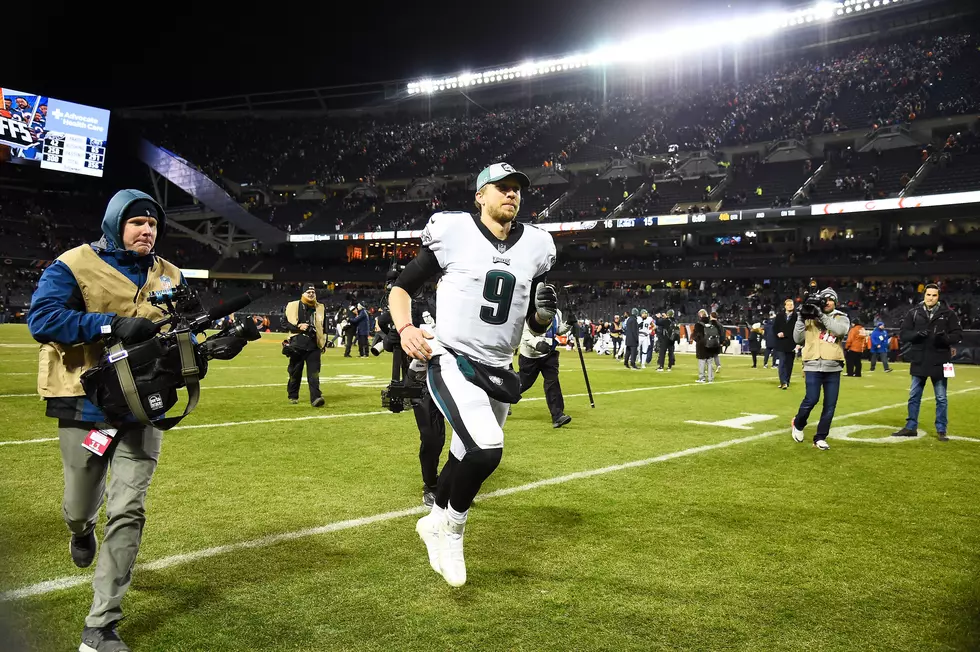 No Franchise Tag for Nick Foles
(Photo by Stacy Revere/Getty Images)
PHILADELPHIA (973espn.com) - In the end, there were just too many hurdles for the Eagles when it came to a potential sign-and-trade with pending free agent Nick Foles.
While Philadelphia had until March 5 to decide whether to place the franchise tag on Foles, Howie Roseman wasted little time announcing at the NFC Scouting Combine on Wednesday that the organization will allow their backup quarterback to reach the open market with no strings attached.
"We've been so fortunate the over the last couple of years to have to have two top 15 quarterbacks in Carson (Wentz) and Nick," Roseman said. "We've spent a lot of time discussing this internally and with him and we have decided to let Nick become a free-agent."
The Foles machinations began earlier this month when the Eagles informed the veteran quarterback they would be picking up their side of a $20 million mutual option. Foles and his camp technically had five days to volley back but needed just hours as they informed the Birds that Foles would indeed by paying back $2M to the organization to gain a path toward unrestricted free agency.
As expected the franchise number was $25M and a trade would have to come after Foles signed the tag meaning Philadelphia would have had to be very sure of a potential deal because once Foles put pen to paper on a potential tag, all of that money would have been guaranteed.
The large number for one season must have also fit under the top-51 salary-cap rule in the offseason for the Eagles before a deal could be made and would have also affected trade value and lessened any potential compensation coming back, although an NFL source told 973espn.com ultimately Philadelphia's biggest goal was steering Foles away from the NFC East where both the New York Giants and Washington Redskins could be in the market.
Foles is now free to go anywhere and up the Jersey Turnpike could be an option as competent QB play coupled with the presence of Saquon Barkley and Odell Beckham Jr. could quickly turn the New York Giants a legitimate contender.
Ironically Giants coach Pat Shurmur and GM Dave Gettleman spoke before Roseman in Indy and both gave votes of confidence to embattled veteran Eli Manning, although Gettleman particularly left the door option to other avenues for improvement at the game's most important position.
The Eagles would prefer Foles land outside the conference in Jacksonville where a reunion with John DeFilippo, Foles' former QB coach in Philadelphia and now the OC with Jaguars, would make some sense.
Depending on the size of the contract Foles ultimately signs and what the Eagles do in free agency, Philadelphia would be in line for a 2020 compensatory pick for losing Foles which could reach into the third round.
"We've had incredible success with him when he's had to play," Roseman said of Foles. "Four playoff wins over the last two years, great teammate... But at the same time, he deserves an opportunity to lead a team. It's a goal of his to lead another team and lead another locker room."
-John McMullen covers the Eagles and the NFL for 973espn.com. You can reach him at jmcmullen44@gmail.com or on Twitter @JFMcMullen