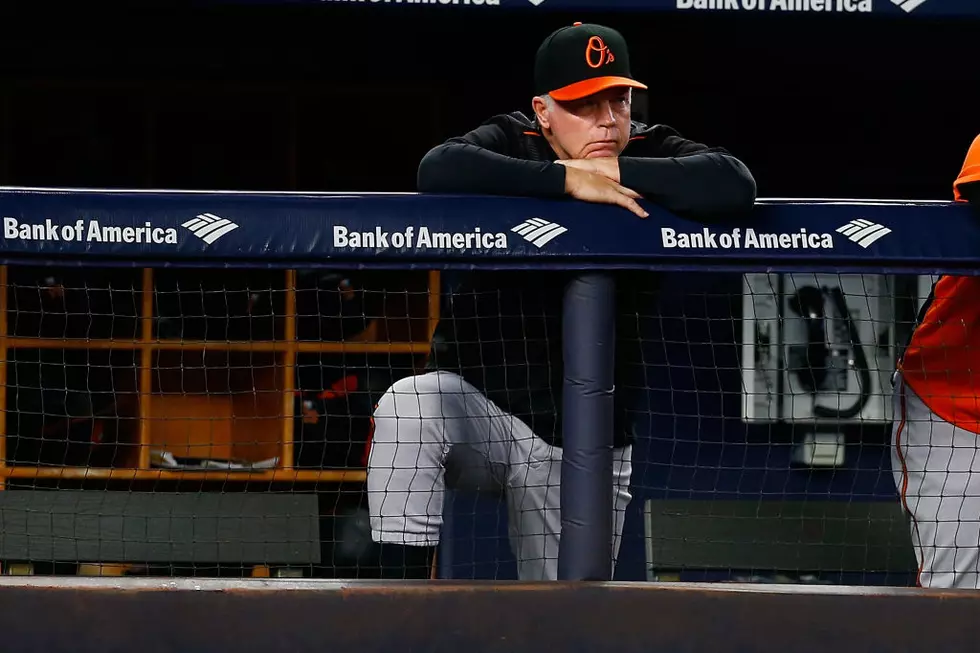 Orioles Writer: Showalter Potential for a "Nightmarish Ending"
Would Buck Showalter be a good fit for the Phillies? (Mike Stobe/Getty Images)
Interviews are reportedly underway for the Phillies.  The club is said to have interviewed both Buck Showalter and Joe Girardi in New York.  Dusty Baker is set for an interview, too.  As the Phillies move towards a decision, a long-time Orioles columnist has a word of caution should the Phillies hire a manager he has covered for many years with the Orioles.
Dan Connolly was a long-time writer for the Baltimore Sun, before founding his own site, baltimorebaseball.com.  He knows all about Showalter's tenure with the Baltimore Orioles, covering the team on a daily basis, including covering Showalter's hire.  Now with The Athletic, Connelly wrote about why Buck Showalter might be a good fit for the Phillies.,..and how it could go horribly wrong.
...Showalter and his camp for years had continually turned up their noses at the Orioles' analytics department — as limited as it was — and also railed about how the game was mutating adept baseball men into button-pushers for the Ivy Leaguers above them. Showalter lamented on multiple occasions how "the feel" was being taken out of the game by the fresh wave of MLB executives.
In the last month of his tenure, Showalter openly spoke about how he applied analytics to in-game decisions. Maybe he knew his time was up (his contract was up) and he needed to move forward if he hoped to stay in the game.
Would the Phillies consider a Showalter whose track record is resistance to analytics? The front office presumably knows Showalter very well; Phillies president Andy MacPhail was president when the club hired Showalter in 2010 and Matt Klentak worked as director of baseball operations under MacPhail.  But was Showalter his hire?
For years, people have reported that the hire of Showalter came from owner Peter Angelos, not MacPhail.  Andy Martino of SNY reiterated this sentiment just a week ago: MacPhail wanted someone else, but Showalter got hired at the request of Angelos.  That sounds typical of the relationship Angelos has with his front office.
Oriole insiders say that MacPhail, like all the others, operated under the severe handicap of an intractable, clueless owner and an equally incompetent holdover player development department that owes its perpetuity to telling Angelos what he what he wants to hear.
MacPhail ended up leaving the Orioles when his contract expired, just as Pat Gillick did before him.
...that's gonna come at a price and not simply a financial one. Because, as much as he would deny it, Showalter is a polarizing figure. You're either in Camp Buck or you're not. And he often makes the call as to who resides where.

 

...if Middleton is already the chief decision-maker and not just the primary check-signer, and if he selects the next manager, well, that opens up the same potential scenario that occurred in Baltimore. A situation that worked great when the Orioles were winning — and they did have three playoff appearances and the best record in the AL from 2012 to 2016 — and bred organizational-wide dysfunction when they were losing.
But the news is not all bad.
Connolly hails Showalter for his in-game decisions, and places him ahead of both Baker and Girardi.  Showalter will have defined roles for relievers (something the likes of Pat Neshek openly complained about). That could be good news for the Phillies.   Will Showalter be the choice, though?  We should find out soon.