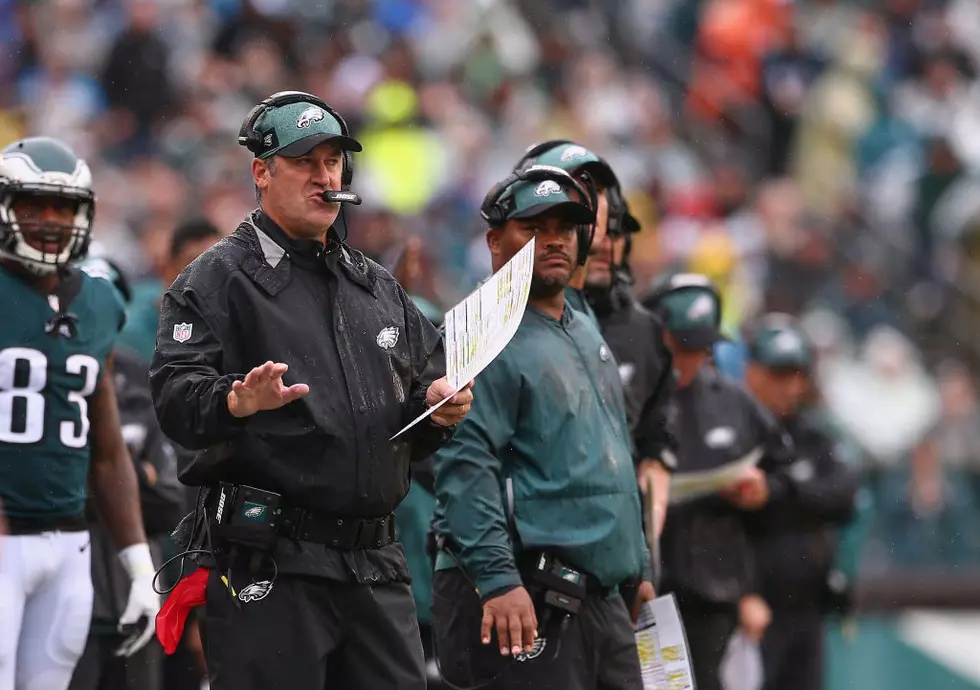 Pederson Denies Disconnect
Photo by Mitchell Leff/Getty Images
PHILADELPHIA (973espn.com) - Typically when a player is as unproductive as Mack Hollins the inevitable trip to the waiver wire is a footnote but for a Philadelphia Eagles team that has released a number of players used in a consistent fashion by the coaching staff it has sparked questions.
General manager Howie Roseman is in charge of personnel in Philadelphia and has the final say in such decisions but the goal is always to provide the coaches with players they want for the schemes they want to implement.
For the most part, things have gone well for the Eagles since the current setup was installed before the 2016 season with the apex being a Super Bowl LII championship in February of 2018.
With Philadelphia a disappointing 5-7 this season heading into Monday's game against the New York Giants, however, questions have started to arise on who is responsible for some decisions that have gone awry,
"Ultimately it goes down Howie's path," Pederson admitted Wednesday when discussing the release of Hollins earlier this week and earlier roster decisions. "But, again, we talk and agree and we make those decisions together."
When pressed on a potential disconnect, the coach was firm in his denial.
"No, no I don't feel that way at all," Pederson insisted. "... we're making decisions in the best interest of the Philadelphia Eagles."
A boilerplate deflection, however, isn't going to lessen the microscope of the relationship, especially after the glowing way the staff, from Pederson to offensive coordinator Mike Groh and receivers coach Carson Walch, spoke of Hollins in the weeks prior to his dismissal.
Groh, in fact, continued the back-patting on Wednesday at his weekly press conference, the day Hollins was claimed off waivers by the Miami Dolphins.
"I think that Mack did an outstanding job while he was here and I wish him all the best," Groh said.
In a vacuum, the move made all the sense in the world because Greg Ward had outplayed Hollins dating back to the offseason and through the summer while 2019 second-round pick J.J. Arcega-Whiteside is part of the Eagles future despite his slow acclimation to the NFL game.
"We have a lot of confidence in Greg and JJ moving forward. ... And we're going to continue trying to go out there and improve each and every day," Groh said, a thought seconded by Pederson.
"We also feel like that some of our younger players, J.J., Greg, have earned or deserved an opportunity and again you gotta make some tough decisions," the coach explained.
The larger narrative Pederson pushed, however, was that there is no issue between himself and Roseman.
"There is not a decision that is made with this roster that Howie and I don't discuss first obviously, whether it's practice squad or it's active roster. Whether it's to bring in a guy for a workout or whatever," Pederson insisted.
-John McMullen covers the Eagles and the NFL for 973espn.com. You can reach him at jmcmullen44@gmail.com or on Twitter @JFMcMullen