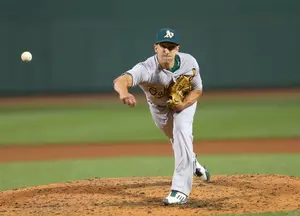 Phillies Acquire Ambidextrous Pitcher Pat Venditte
Pat Venditte is a switch-throwing pitcher (Jim Rogash/Getty Images)
The Phillies added more bullpen depth by adding a player that literally changed baseball's rule book.  Since Seattle Mariners general manager Jerry Dipoto made 14 trades this offseason, it was only a matter of time before the Phillies had a turn.   The Phillies and Mariners finalized a trade Sunday that sent ambidextrous relief pitcher Pat Venditte to Philadelphia in exchange for minor league outfielder Joey Curetta.
Venditte was originally drafted by the New York Yankees in 2008 and immediately caused a stir in baseball.  As a reliever who can go back and forth between pitching left-handed and right-handed from batter to batter, how might the game resolve when a switch-hitter comes to the plate?  Will the pitcher and batter find themselves in an endless game of back-and-forth switching from side to side?  Baseball added to the rule book that which has been called the "Pat Venditte Rule".
An ambidextrous pitcher must first indicate to the umpire, batter, and manager which arm he will use first.  Then, the pitcher and batter each have an opportunity to make one switch throughout the at bat, discussed by visually indicating the switch.  The pitcher may not warm up the other arm after switching.  If an injury occurs (presumably one that requires time to be called), the pitcher may pitch with the other arm for the rest of the game.
Venditte was not on the Mariners 40-man roster, so the Phillies will not need to make a corresponding move.  Venditte was a non-roster invitee to Mariners Spring Training, and presumably he will join Phillies Spring Training upon completing the World Baseball Classic.  Venditte is pitching for Team Italy.
Curetta was only briefly in the Phillies organization.  An outfielder, the Phillies received Curetta in exchange for catcher Carlos Ruiz.  However, he was a player-to-be-named, and that naming did not take place until after the conclusion of the minor league season.  Curetta hit .251 between Los Angeles Dodgers affiliates Class-A Tulsa and Double-A Rancho Cucamonga in 2016.
Venditte has pitched in 41 Major League games with the Oakland Athletics, Toronto Blue Jays, and Seattle Mariners, going 2-2 with a 4.97 earned run average.