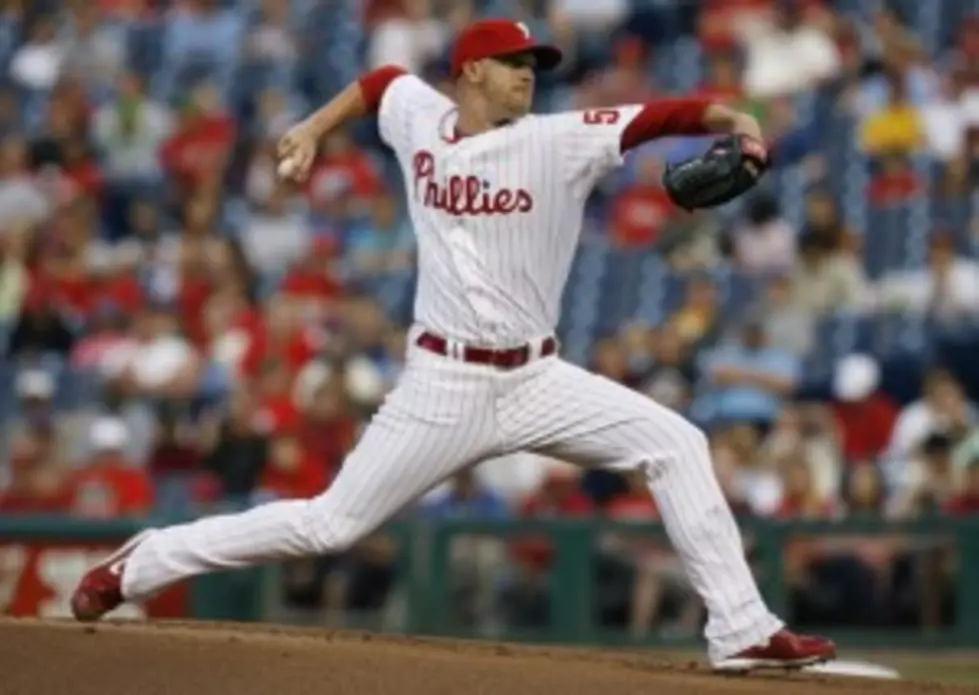 Twice is Nice: Phillies Sweep, Now 6 Out of Wild Card
Staring down a three-run hole as early as the third inning in the latter part of Sunday's day/night doubleheader, the Phillies (69-71) strung together six runs over three innings for a 7-4 winner over the Rockies (56-83).
That capped the Phils fourth series sweep of the season and third of the second half.
They're now working a four-game win streak, and runs of 8-2 and 15-6.
The last time the Phillies were within two games of .500? June 8.
Just 23 games remain on the slate, with just six between the Phillies and October.
You could call Sunday night regression for Tyler Cloyd (1-1, 4.24 ERA). Or reality.
Cloyd allowed four runs in four innings in easily his shakiest outing of his career, which, I'm obligated to note, consists of a whole three games.
Still, as iffy and uncomfortable and, at times, outmatched as he's been, it's never smudged the score card in Cloyd's performance like it did tonight.
He buckled for four runs in the fourth, all on back-to-back hits, three off a Chris Nelson bomb. Cloyd's allowed homers in all three starts this season.
Ryan Howard and Ty Wigginton whited it out with a 2 RBI double in the fifth and a solo shot in the sixth, for Cloyd's first-ever no-decision.
Made for all at once a very Cliff Lee and Bizarro Cliff Lee start, seeing as he should've lost but didn't. (Which Lee you reference depends on the day.)
Offense, Any Way You Want It
Small ball. Long ball. Gimmes from the other guys.
The Phillies had it all Sunday night.
With Cloyd needing TARP-sized generosity, the Phils strung together two runs in each of the fifth, sixth and seventh innings to bail him out.
After Howard and Wigginton came Kevin Frandsen and Carlos Ruiz, both making their first appearances since season-jeopardizing injury diagnoses.
Ruiz knocked a pinch-hit single in the fifth in his first at-bat since being activated Saturday off the DL for an injury (plantar fasciitis) that kept him out since Aug. 2. He added an RBI single in the seventh.
Frandsen slapped an infield single for the go-ahead run in the sixth in his first plate-appearance since being diagnosed with a stress fracture in his fibula Saturday.
Colorado committed two, two-out errors in the seventh (five total), though Philly only capitalized on one.
Relief, Lots (AND LOTS) Of Relief
The Rockies bumping Cloyd after four put Philly in a position that, with that four-man rotation thing limited at 75 pitches per start, Colorado's cozied up to since August.
Of 138 starts by Phillies pitchers this season, only five have gone fewer than Cloyd did tonight. Five more have gone 4.0 exactly in 2012.
The Phillies bullpen logged five scoreless innings Sunday night.
Justin DeFratus tossed a clean fifth, even logged his first strikeout of the season.
B.J. Rosenberg (1-2, 11.37 ERA), who'd allowed five runs and two homers in his last three outings entering Sunday, fanned two to get through the sixth. His fastball topped out at 97 m.p.h. He earned his first win of the season.
Josh Lindblom tripped up a bit to start the seventh, dishing walks to the first two batters he faced, letting Dexter Fowler advance to second on a wild pitch, Lindblom's second this season and fifth of his career. He logged two outs before being pulled.
Jake Diekman retired the only batter he faced to wrap the seventh.
Philippe Aumont needed just nine pitches to log three straight outs in the eighth, for his first-ever big-league two-a-day.
Jonathan Papelbon logged his 32nd save of the season in the ninth, and 14th in his last 16 opportunities.