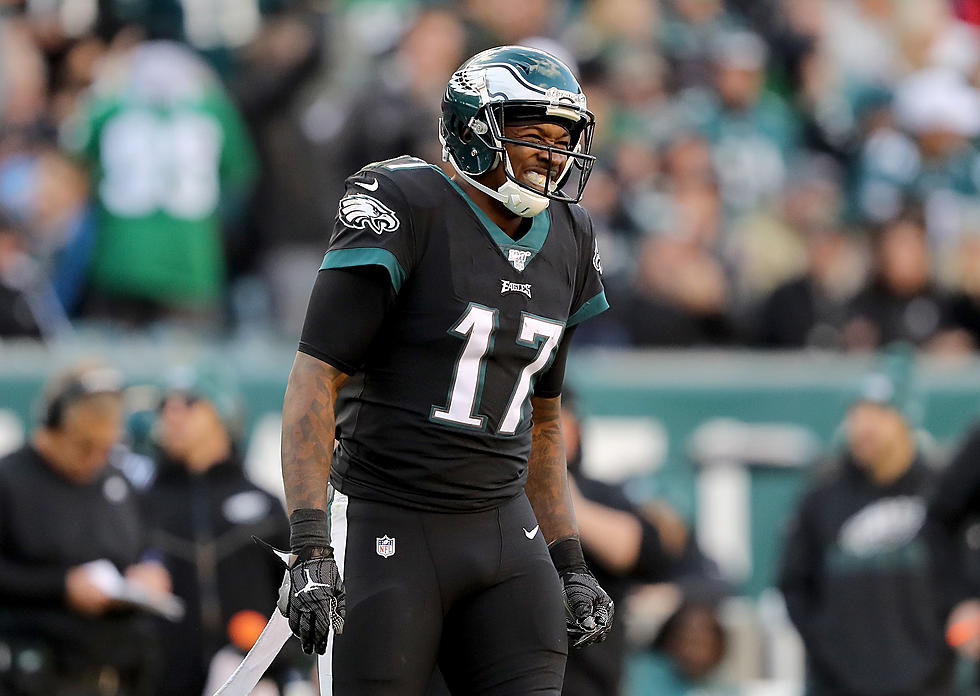 Report: Eagles Attempted to Trade Alshon Jeffery Last Season
Getty Images
When the Eagles reconstructed Alshon Jeffery's deal before last season, it took $11.75 million and turned most of it into a signing bonus. What it also did was make $11.5 million for 2020 fully guaranteed, he previously had no guaranteed money for 2020.
"They thought he was locked in and would be a part of the team for at least two season, and you add J.J. Arcega-Whiteside, and he is ready to replace him in 2021, that was the Eagles plan," said 973espn.com Eagles insider John McMullen on The Sports Bash.
Now the Eagles are trying to get out from under that deal, and have been almost since he signed it last season.
"I still think that he is not going to be here, they want a young receiver to grow with Carson Wentz from day one.  That's why they weren't aggressive on the free agent market.  I think they are going to pick a receiver in the first-round of the draft," McMullen explained.
According to Jeff McLane from the Philadelphia Inquire, the Eagles attempted to trade Jeffery last season, about a month after he signed his new deal.
The Eagles general manager began actively shopping Jeffery about a month later, NFL sources told The Inquirer, as the wide receiver's production waned, his injuries mounted, and he became implicated as the anonymous source behind disparaging comments about the team to ESPN.
Jeffery had become aware that he was on the market and was troubled by the mixed messages he had received from the team, a source close to the receiver said.
Coming off Lisfranc surgery, the Eagles picked up the option on the 30-year-old Jeffery's deal, due in large part that they would have taken a $26.1 dead money hit to move on from him.
Jeffery is questionable for the start of training camp with the foot injury, and will likely miss the start of the season, if the NFL season actually does begin on time.
"There is always a chance he has a good rehab and he is ready to go for Week 1, but the best case scenario is he is ready for Week 1, but more likely he is ready around mid-season," McMullen said.
KEEP READING: See 25 natural ways to boost your immune system
Enter your number to get our free mobile app