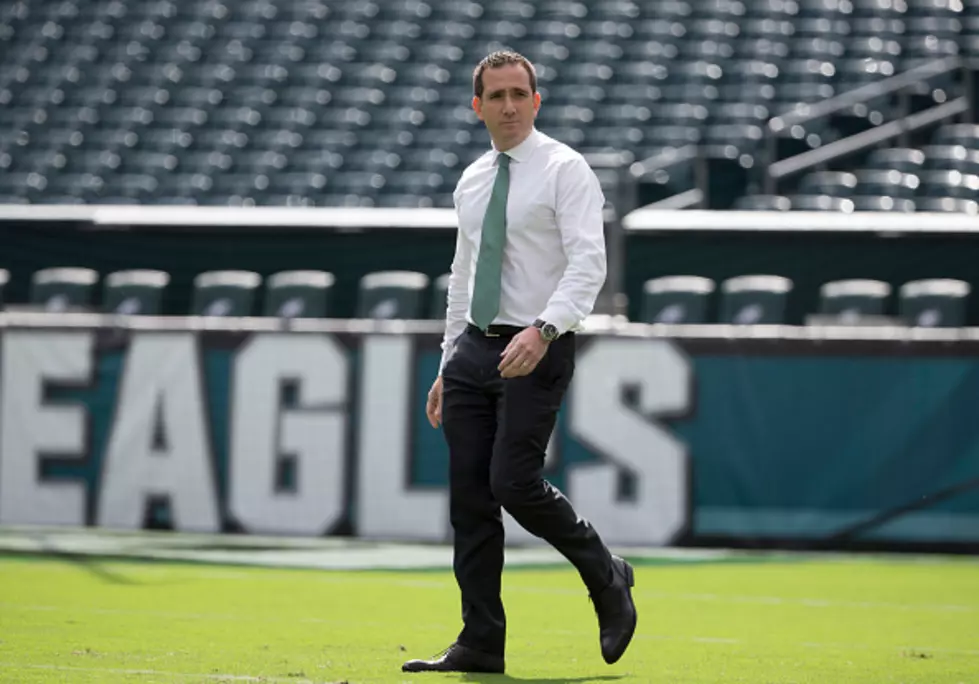 Roseman Gets GM Title, Weidl Promoted
Photo by Mitchell Leff/Getty Images
PHILADELPHIA (973espn.com) — In the wake of Joe Douglas' move to the New York Jets, the Eagles have reshaped their football operations department with the most notable move being Douglas' right-hand man, Andy Weidl, being promoted to vice president of player personnel.
Howie Roseman remains in charge but has shifted titles from executive vice president of football operations to executive/vice president/general manager.
The other significant moves were Ian Cunningham being promoted from director of college scouting to Weidl's right-hand man as assistant director of player personnel and the official announcement of Brandon Brown being promoted to director of pro scouting as the replacement for Dwayne Joseph, who left to take a job with Mike Mayock and the Oakland Raiders.
"This is an exciting time for our front office," Roseman said. "We are fortunate to have so many talented people in the building."
The Eagles seem to be taking a two-pronged approach to replacing Douglas, now the GM of the Jets.
"It's like losing a good player," Roseman said of Douglas' exit. "I'm happy for him that he got the opportunity, but why does anyone have to take our talent? But I'm happy for him. We've had so many conversations about this. He's going to do a great job."
Andrew Berry, the VP of football operations hired from Cleveland in February, and Weidl, Douglas' most trusted advisor, are going to fill the vacuum.
Weidl had already been put in charge of the scouts since Douglas' exit, perhaps a necessary uptick because that's the first name Douglas would have liked to poach to go up the Jersey Turnpike. The other obvious Douglas targets were Cunningham, who was also moved up the ladder, and Casey Weidl, Andy's younger brother who was promoted to director of scouting operations.
Former league executive Mike Lombardi discussed the Eagles' succession plan before Douglas made the move to the Jets on his GM Shuffle Podcast
"The Eagles are going really extensively — they hired Andrew Berry. They're going to go really with the analytics," Lombardi said.
Jeffrey Lurie's recent visit with The Athletic also hinted at that direction.
"It's about batting average," Lurie told Sheil Kapadia. "If the NFL hits on 50 percent of its first-round picks, and you can hit on 55 percent, you have an advantage. If you're gonna hit on 35 percent, you have a disadvantage, or whatever the numbers are for all of this."
Berry, a former Sashi Brown lieutenant in Cleveland, was brought in by the Eagles earlier this year in a newly-minted position at the feet of Roseman.
Berry's reputation from a source in Cleveland takes on an analytic bent and he had a significant role when it comes to that part of the equation with the Eagles. However, Berry also spent three seasons in Cleveland when Brown brought him in to oversee their personnel department, with his job described "as helps lead all talent evaluation efforts for the club, including college prospects and NFL free agents," according to the Browns media guide.
Before arriving in Cleveland, Berry, a Harvard grad with a bachelor's degree in economics and a master's degree in computer science, worked for the Indianapolis Colts for seven years, starting as a scouting assistant before being promoted to a pro scout and ultimately pro scouting coordinator for his final four years there. On the field, Berry started all four years for the Crimson at cornerback and was All-Ivy League three times.
Now, listen to Lombardi's take on what's going on:
"I think [the Eagles are] going to do both. I think they're going to have an analytic department and have an old school personnel department and see if they can bridge the two gaps," Lombardi explained.
A better description would be two branches reporting to Roseman with Berry and Weidl, the new leader of the "old-school" scouting department Douglas set up.
"Much like our approach to constructing our football team, we pride ourselves on building a deep and talented front office and we strive to create an environment that emphasizes growth opportunity," Roseman said. "We are confident that providing increased responsibilities to Andy Weidl, who will lead our personnel staff, and Andrew Berry, who we recently brought to Philadelphia as our Vice President of Football Operations, will allow us to continue to build upon our culture and add to the leadership that exists across the entire football operations department."
Here's the full list of title changes, promotions, and hires today:
-Howie Roseman named Executive Vice President/General Manager
-Andy Weidl promoted to Vice President of Player Personnel
-Ian Cunningham promoted to Assistant Director of Player Personnel
-Brandon Brown promoted to Director of Pro Scouting
-Bryce Johnston promoted to Director of Football Administration
-Katie David promoted to Football Operations Director
-Casey Weidl promoted to Director of Scouting Operations
-Max Gruder hired as Assistant Director of Pro Scouting
-Matt Holland promoted to Senior Pro Scout
-Chris Nolan promoted to Player Personnel Scout
-Ameena Soliman hired as Player Personnel Coordinator
-James Gilman hired as Quantitative Analyst
-Ed Miller promoted to Assistant Equipment Manager
-Craig Blake promoted to Assistant Equipment Manager
-John McMullen covers the Eagles and the NFL for 973espn.com. You can reach him at jmcmullen44@gmail.com or on Twitter @JFMcMullen