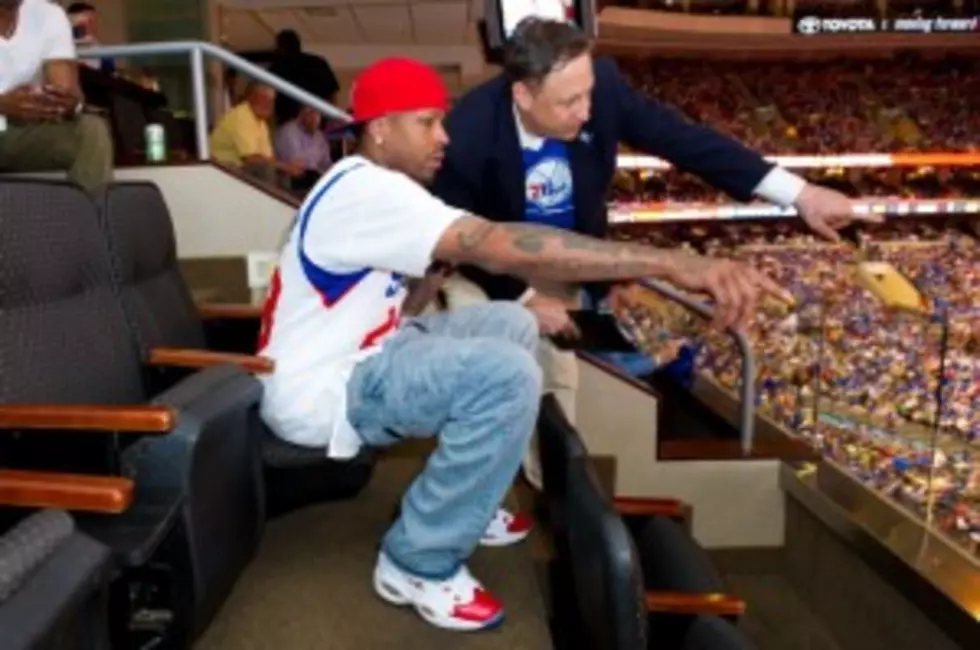 Sixers Have Re-Shaped Their Image With Bynum
While you were scratching your heads in fury, Adam Aron was thumbing his fingers in waiting.
That's the theme of this offseason. This is the prize.
Patience is why the Sixers let walk Lou Williams, for the sum of Dorell Wright and Nick Young's parts. Why they re-upped Spencer Hawes (two years, $13 million) and Lavoy Allen (one year, $6 million) to itty deals of seemingly bitty significance. Why they took a flyer on Kwame Brown. (Though the whole "top 5 center" bit was a bit much.)
Those were the only moves they could make at the time. There wasn't anything better on the free agent market, nothing that could better address their voids down low and along the perimeter.
In lieu of something better, they didn't stand pat. They made a push, farther toward financial flexibility, to make sure they could make a move when the time was right.
Kind of like a futures contract, they did it for the right to be patient.
Then came Thursday, when Adrian Wojnarowski reported a four-team deal that would bring Andrew Bynum (and Jason Richardson) to Philadelphia and ship Andre Iguodala to Denver was being intensely discussed.
They exercised that option. Hard.
Now? They have a viable product. They have legitimate playoff aspirations.
They have a year to size up Bynum's knee, and head.
Bynum's due $16 million in the final year of his contract, and can potentially walk as a free agent in 2013-14. And, even if the Sixers offer him a max contract -- despite the fact that they'll be able to offer him more money and years than anyone else -- there's nothing saying Bynum would have to take it.
Still, maybe most of all, they have a follow-up for their following. However much a victory last year's second-round playoff run was, landing Bynum is the end-all of PR glory. He's a star. He's sellable.
Now, the team doesn't have to worry about their fan base losing interest. Save for a disaster extension (that would, for record, effectively 86 the franchise for 10 years or more), Bynum is as good as ADHD meds for the next three years, at least.
There's always been something smart about Adam Aron, socially. He tweets. He Facebooks. He rallies. He connects.
Simply, Aron seems to get the fan base. Maybe more so than his Philadelphia sports exec peers.
But that was never going to be enough. What he needed to prove is that he understood basketball.
Over the past few weeks, when these talks reportedly began and got a head of steam, he did.
Consider that Aron's immediate legacy.