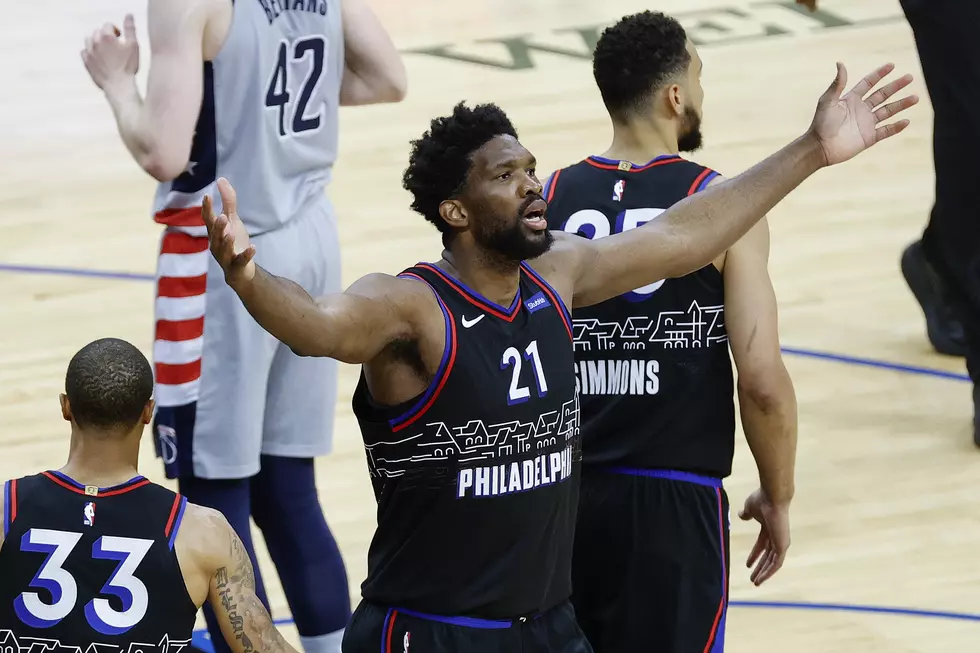 Sixers' Joel Embiid Named All-NBA Second Team
Tim Nwachukwu, Getty Images
Just a week removed from finishing No. 2 in the NBA MVP race and one day after being named to the NBA Second Team All-Defensive team, Joel Embiid was left off the 2020-'21 All-NBA First Team, but was named to the All-NBA Second Team on Tuesday night.
Embiid, who garnered 28 First Team and 70 Second Team votes, joins Phoenix Suns guard Chris Paul, New York Knicks forward Julius Randle and Los Angeles Lakers forward LeBron James on the Second Team.
With 352 total points, Embiid finished seventh overall, with former two-time MVP Giannis Antetokounmpo of the Milwaukee Bucks getting the most points with 500.
Denver's Nikola Jokic received the second most points with 498, averaging career highs in points (26.4), rebounds (10.8) and assists (8.3) and minutes played (34.6).
The First Team includes Giannis Antetokounmpo of the Milwaukee Bucks, Denver's Nikola Jokic, Stephen Curry of the Golden State Warriors, Dallas Mavericks guard Luka Dončić and Los Angeles Clippers forward Kawhi Leonard.
The honor does have a financial impact on both Embiid and the Sixers as ESPN's Bobby Marks points out.
Top 10 Winningest Sixers Head Coaches
Here is a look at the Sixers coaches with the most wins in franchise history.