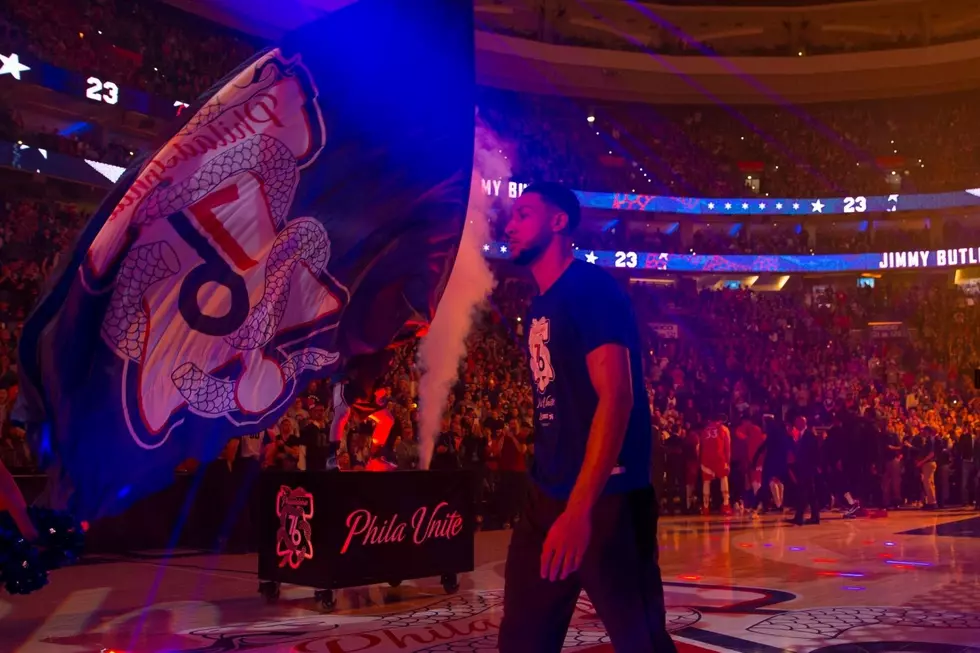 Sixers Next Home Game Could See 20,000 Fans In Attendance
(Photo by Mitchell Leff/Getty Images)
The Philadelphia 76ers won their first two home games of the 2021 NBA Playoffs with almost 11,000 fans in attendance as the Philly fans made their presence known.  The Sixers Home Court Advantage will receive a boost the next time they play a home game thanks to the latest decision by the City of Philadelphia:
The last home game for the Sixers with a full capacity was March 11, 2020 versus the Detroit Pistons when the announced attendance was 20,172 at the Wells Fargo Center.
The City of Philadelphia is lifting their maximum capacity limits and distancing rules on June 2nd for all businesses and public places.  Even though the city's indoor mask mandate is still in place, this is great news for all sports fans who want to attend games or watch games at local establishments in Philadelphia.  The City of Philadelphia Health Department said it would continue to review all aspects of the pandemic in the city and may consider dropping those restrictions on Friday, June 11, as long as everything continues to trend in the right direction.
This decision follows previous decisions to allow increased attendance at Phillies Home Games at Citizens Bank Park and the loosing of Mask mandates in public places.  The Northeastern cities and states have waited longer than many other parts of the United States lifting restrictions on indoor capacity and mask mandates.  We have seen arenas in other parts of the country with full buildings for sporting events and there have been no "Super Spreader Events" as a result, a clear signal to many that the worst of the COVID-19 pandemic is over and we are progress another step closer to Normacly.
The Sixers 29-7 record at home was best in the Eastern Conference this season and the only team with a better home court record in the NBA is the Utah Jazz (31-5). Over the last three seasons, the Sixers have an 80.9 Winning Percentage at Home Court during the regular season (89-21) along with a 63.6 Percent Winning Percent in the postseason at home (7-4) over the two seasons (2018 and 2019 NBA Playoffs) before last year's NBA Bubble Playoffs.
Sixers First-Round Picks Since 2000
KEEP READING: South Jersey Boardwalks & Promenades We Love