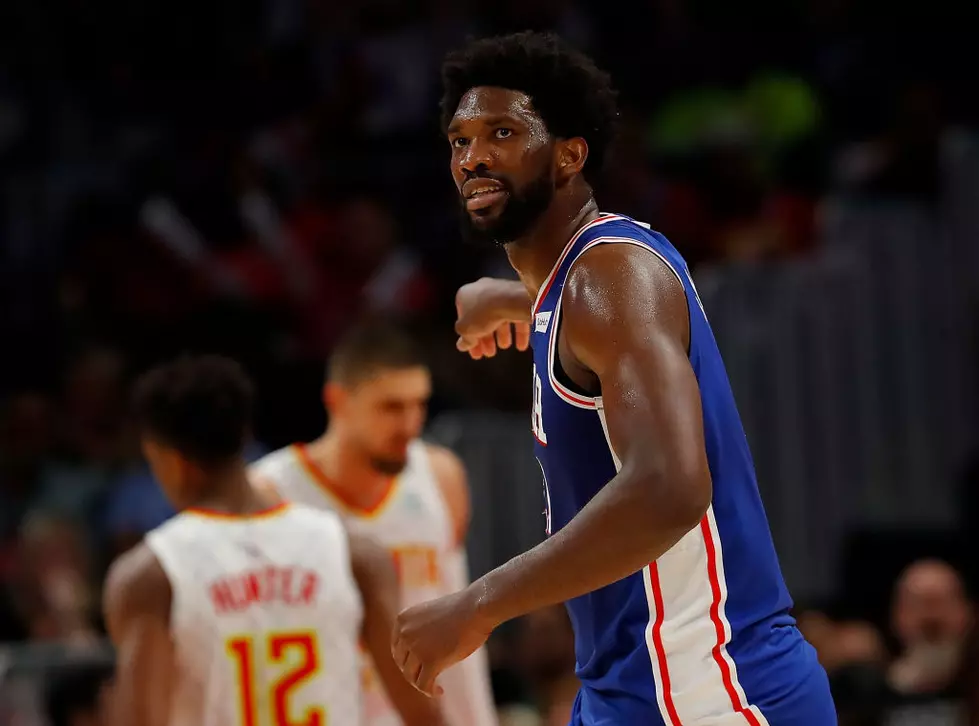 Sixers Rally Behind Joel Embiid in Win Over Hawks
Kevin Cox, Getty Images
The Philadelphia 76ers remain the only team without a loss on their record within the Eastern Conference through the first three matchups. While all three wins could be considered sloppy in a way, the Sixers are taking victories any way they can get them in 2019.
An undefeated record to start the season is already promising -- but that wasn't the most impressive takeaway from the Sixers' Monday night win over the Atlanta Hawks. Rather, it was the performance put on by the Sixers' "unicorn" Joel Embiid.
While Embiid wasn't scorching hot all night long, his performance down the stretch was nothing short of impressive. And Embiid's peers believed that without him on Monday, there's no undefeated start through the first few games of the year.
"He was great," said Sixers' veteran forward Tobias Harris on Monday night following the victory. "He willed us to that win. Just his play all around. At the end, he was a beast down there. He was able to make plays too, knowing that they were double-teaming. He's unstoppable down there."
Embiid clocked in the game for 33 minutes and managed to drain a game-high of 36 points. On the defensive side of the ball, Embiid forced three steals, a block, and collected ten of his 13 total rebounds, which helped him secure yet, another double-double on the year already.
Ben Simmons agreed with Tobias Harris' statement regarding Embiid's greatness late in the game. And to no surprise, Sixers' head coach Brett Brown acknowledged just how much they "needed" Embiid not only in crunch time -- but throughout the entire 33 minutes the center appeared on the court.
"He was our crown jewel in a blatant way tonight," says Brett Brown. "He emerged in significant ways throughout the game. I thought that we did a pretty good job of executing plays at the end of the game, trying to find ways to get him straight up or on a high-low." Brown continued, "Joel Embiid carried us tonight, and we needed him particularly offensively."
Hours before tipoff, Embiid's playing status was in question. After missing Saturday's matchup against the Detroit Pistons due to a sprained ankle, Embiid was in danger of missing Monday night's game as well. After testing his ankle during the pregame shootaround, though, Embiid was cleared to play.
Clearly, his ankle injury couldn't hold him back. And even if he did feel any discomfort, Embiid wasn't going to let it affect him. At a point during the game, the Sixers' star recognized they needed somebody to step up and take over -- and he became that player the team could rely on late in the game.
"That's something you work on all summer," an exhausted Embiid said following the game. "You gotta be ready for it. Being in that position, especially after we lost Jimmy [Butler] who was our guy in the fourth, someone else gotta step it up and I feel like that's me."
Last year, the Sixers relied heavily on veteran guard, Jimmy Butler late in the game, as he established himself as a bonafide closer. With Butler out of the picture, though, the Sixers would soon have to find out which one of their current players can take on that role moving forward. It never really was discussed before, but it looks like the team might've found their guy after Monday's victory.
 Justin Grasso is the Philadelphia 76ers insider for South Jersey's 97.3 ESPN. You can follow Justin on Twitter: @JGrasso_