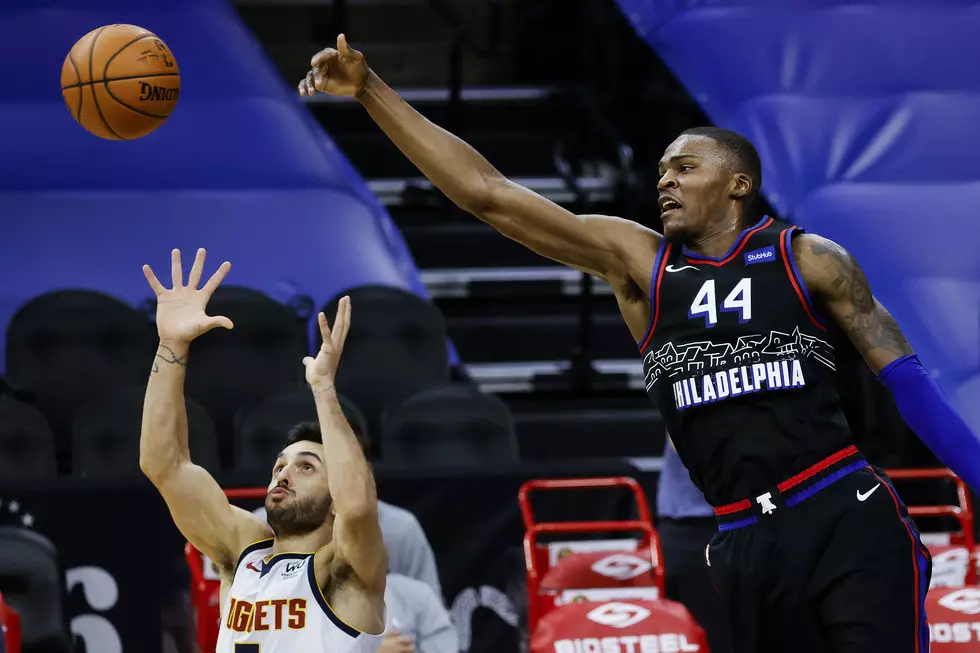 Sixers Rookie Paul Reed Powers Blue Coats into the G-League Playoffs
(Tim Nwachukwu, Getty Images)
The Delaware Blue Coats, lead by third-year Head Coach Connor Johnson have been quietly surging this winter. Sixers rookie Paul Reed has been dominant in Orlando's bubble, averaging 22 points and 11 rebounds per game for a Delaware Blue Coats team that has qualified for its first-ever postseason.
Saturday night after a 93-83 win, when asked what he credits his dominant play, Reed said, "Working on myself in every area, mentally, physically." Reed's play has been a revelation as a small-ball big. Reed's ability to put the ball on the floor, attack opposing teams from a wide-open and well-spaced Blue Coats scheme has been key in their winning ways.
"I'm supposed to be doing this"
When asked about his ability to put up big numbers this season, Reed articulated just how high his expectations are for himself.
"Oh, supposed to be doing this." Said Reed "If I wasn't doing this, being a leader in the G League, it would be a problem." echoing a sentiment that his head coach Connor Johnson has said in the past. But Reed went on to show what he expects from his future in the NBA. "I'm just grateful for sure, but I got plans on leading the NBA, so I'm supposed to be doing this."
When asked about Reed, Head Coach Connor Johnson had this to say "He [Reed] has the kind of the versatility on both offensively he can score in a variety of ways. He can score from a variety of distances; he shoots at a high percentage. He's got great touch around the basket." Said Johnson, who is consistently looking for ways to improve the players under his stewardship. "I think that's a skill that helps any player, and so I think that really makes him tough to guard and tough to match up with. I think defensively, his athleticism and his ability to move and cover space has been impressive thus far, and those are two great pillars for a young player to have. I think he's got a lot of room to grow."
The Blue Coats, who played as the Delaware 87ers until 2019, earned their first playoff birth this season. In his third season as head coach, Connor Johnson has long had the dual responsibility of trying to develop young talent while trying to win games.
With a philosophy of Defend, Run, Share, Johnson has consistently brought energy to the team, often having a roster in flux on any given night. When asked to reflect on the state of the program, Johnson said it "In 
a
really
good
spot. 
I
think
we
got
to
be
happy
about
it. You
know
Matt [Lilly],
and
I
spearheaded
this
thing.
I
think
we're
very
happy
with
the
progress
we've
made
over
the
last
three
years,
I
think
the
playoffs
are
a
great
culmination
to
that.
 In our 
first
year,
we
 s
truggled
to 
kind
of
build
the
foundation.
 O
ur
second
year (we were)
close
to
making
the
playoffs.
I
think
it
is
really
good
and
something
that
we're
proud
of." Said Johnson says the organization is "R
eally
happy
about
where
the
program
is,
what
it's
doing
on
its
own
and
what it's doing
to
help
the
Sixers."
Johnson takes the stewardship and player development side of his job very seriously. When speaking about rookie Paul Reed, he focused less on what Reed is doing at the current G - League level and more on what he can do in the future. "The goal for us is for Paul to have a successful career in the NBA and be a successful guy that really helps a team and makes a lot of money." Said Johnson when asked if Reed should be the G-League MVP. "Whatever happens here is a small step in building a foundation for a successful career." Said Johnson.
"So does he deserve it? [League MVP] is he one of the most valuable players here, if not the most? I think I think he definitely is. But we try to keep this larger picture of what we're really trying to build for, and while it would be a nice accolade for him to receive, the bigger picture is what can we do to make sure he can help the Sixers in the next couple of years, and he can have a great career." Said a focused Johnson
"I think," Johnson continued, "he's shown the foundation of what that can be. I think that should be really exciting for him, for us as coaches for the Sixers program and the city of Philadelphia."
But for the next few days, at least, Johnson is focused on the post-season in Orlando. He finished his reflection by saying, "T
his
has
been
a
great
experience
for
 us. O
ur
guys
are
really
excited
to
play
in
the
playoffs
I
think
Matt
 [GM Matt Lilly] has 
done
a
great
job
of
getting
us
the
right
guys
who
could
get
us
here
to
this
point,
and
then
now
It's
on
us
to
go
see
what
we
can
do
in
the
next,
next
week."
The Blue Coats begin a single-elimination tournament Monday, March 8th. They will need to win three straight to be crowned champions.
When the G-League season ends, Both Reed and Isaiah Joe are expected to return to the 76ers, and according to reports, both will likely be playoff eligible.