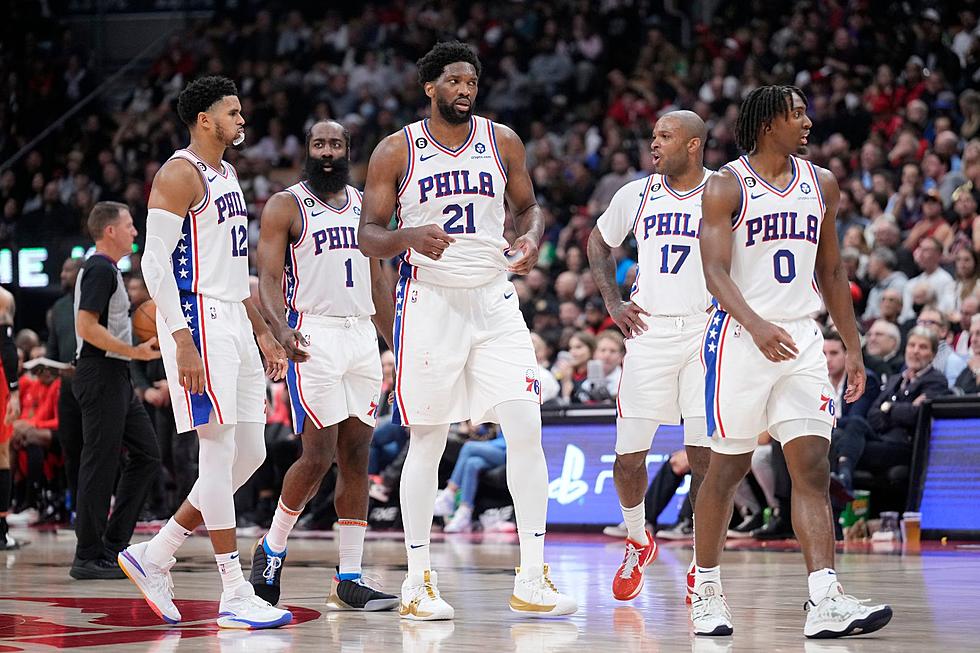 Sixers Start 2023 NBA Postseason Run This Weekend
(Photo by Mark Blinch/Getty Images)
The Philadelphia 76ers start their 2023 Postseason run against the Brooklyn Nets on Saturday at 1pm in the first round of the NBA Playoffs.  All Philadelphia Sports fans hope the Sixers can continue the recent playoff success that the Eagles and Phillies achieved over the last several months.  The Sixers players are aware of the atmosphere the Phillies and Eagles created during their playoff runs and now it's the Sixers' turn to carry the city on a championship run.  The Sixers won 54 games this year, the most by any 76ers team since the 2000-01 season and this group is led by Joel Embiid who is arguably playing the best basketball of his career.  Embiid led the league in scoring by averaging 33.1 points per game while his teammate James Harden, who is playing a more team-oriented brand of basketball in Philadelphia, led the league in assists with 10.7 per game.  Will this impressive regular season translate into a deep run in this season's edition of the NBA Playoffs?  We will see.
The Phillies are off to another slow start to this season. The Phillies have lost their last three games, striking out 34 times during that span, and are 4-9 so far in April.  While they are a couple of bright spots to start this year like Trea Turner with a .316 Batting Average and Nick Castellanos leads the National League in Doubles, the team as a whole looks like they are still in Clearwater working on things.  The Phillies are in the middle of a seven-game road trip starting in Cincinnati this weekend and we will cover all the action in The Locker Room with Billy Schweim this weekend!
On Saturday's show, Mike Carlin joins me in the studio as we preview the Sixers versus Nets in game one of the first round of the NBA Playoffs.  The Sports Book Consigliere Dave Sharapan will check in from Las Vegas with the latest odds on the Sixers and the rest of the 2023 NBA playoffs.  We will recap the first two games of the Phillies series in Cincinnati.  The Eagles are preparing for the 2023 NFL draft and we will examine some of the potential picks for the Birds. 
On Sunday's show, The Locker Room youth movement is back with me in the studio. Producer Danny Ryan and "The Intern" Andrew Leeds bring their perspective on the week in Philly sports.  Every Sunday we go "On the Mound with Tommy Greene" brought to you by the John R. Elliott Hero Campaign for Designated Drivers.  Tommy reflects on the Phillies rough week and previews Sunday's game in Cincinnati.  We will recap the Sixers Game One results and look at Monday night's game two versus the Brooklyn Nets.
All that and more this weekend in The Locker Room with Billy Schweim, heard every Saturday and Sunday from 10am to Noon on 97.3 ESPN Radio. 
Learn about Cape May County's Breweries (Alphabetical Order)