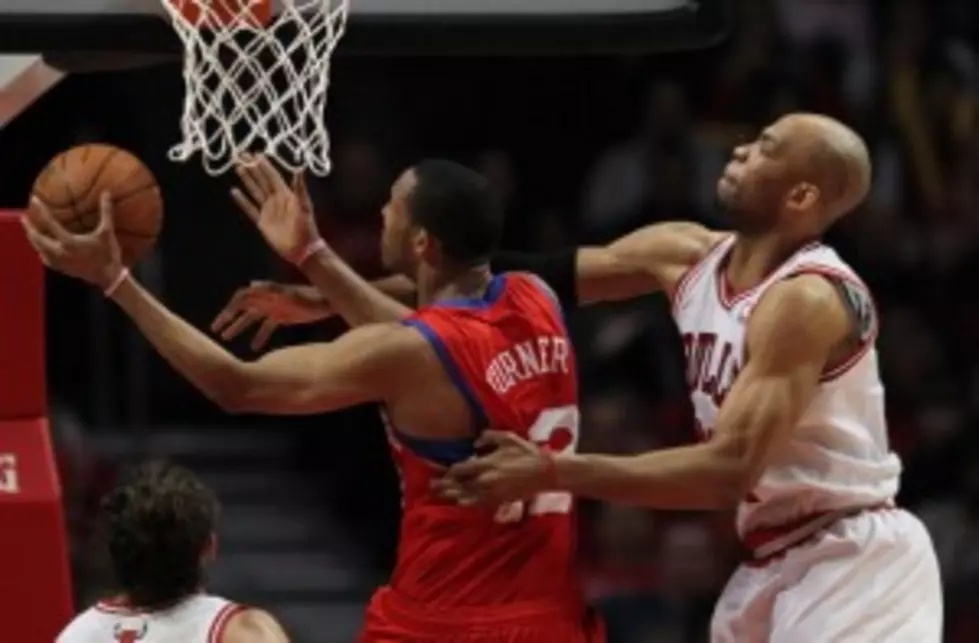 Source: 76ers Are Exploring Trading Evan Turner
Evan Turner could be on the move. (Photo by Jonathan Daniel/Getty Images)
Sources tell ESPN's Marc Stein that the 76ers are exploring trading swingman Evan Turner.  Sixers GM Tony DeLeo would not comment on the rumors before the Sixers game against the Bobcats tonight, telling reporters: "I don't comment on any trade rumors."
Here is the report from Stein:
The Sixers, sources say, are open to a shakeup as they continue to wait for the return of Andrew Bynum to give All-Star point guard Jrue Holiday some badly needed help. And I'm told Philly, as such, is shopping (or at least making calls to gauge the value of) swingman Evan Turner.
Trading Turner would not be much of a surprise, he really has never turned into the player Sixers brass had hoped he would become when they selected him with the second overall pick in the draft.  Turner is a man without an NBA position, he seems to work better with the ball in his hands, and isn't really quick and athletic enough to play the off-guard position
The question really is what could the Sixers get for a guy who has no position, doesn't shoot the ball particularly well and doesn't get to the line all that often?
My initial thought is the Sixers would be looking for a big man in return to try to take some of the pressure off of Spencer Hawes, Lavoy Allen and Arnett Moultrie while Andrew Bynum continues to be out.  However, what team in is willing to give up a qualified big man to get a very mediocre player?
Utah has a few trade candidates; soon-to-be free agents Al Jefferson and Paul Millsap.  The Sixers could try to unload Turner on the Jazz and either let Jefferson or Millsap walk in the off-season or try to re-sign whichever one they acquired them long-tern and pair him with Bynum (if he returns).
A team with Holiday, Jefferson and Bynum could be pretty formidable in the eastern Conference.
The Sixers would have to add another player to make the deal work, but I assume the Jazz would have better options on the table then Turner - who has pretty much been a bust as the no. two overall pick.
It doesnt help that Turner's recent play isn't exactly lending itself to teams knocking down the Sixers door for his services.  A recent three-game stretch in which he's averaging just 4.7 points and shooting 25 percent from the field but even with that, Turner has reached career highs across the board this season.
"He can't let the little things bother him," Sixers head coach Collins said. "He's got to play. Evan gets hard on himself, too hard. There's no perfect game, there's not a perfect player. We're going to make mistakes. You just got to play. For him, it's the all-around game."
Turner is a hard-working guard who could probably help a team that can utilize his talents better then the Sixers.  Jrue Holiday handles the ball a majority of the time, making Turner play off-the-ball something that doesn't showcase what he can do best.
While I was never a fan of drafting Turner, I do think he could fit into another teams plans, it would probably be best at this time for the SIxers to move on from Turner and try to get something in return for him that they could use to build around Holiday.