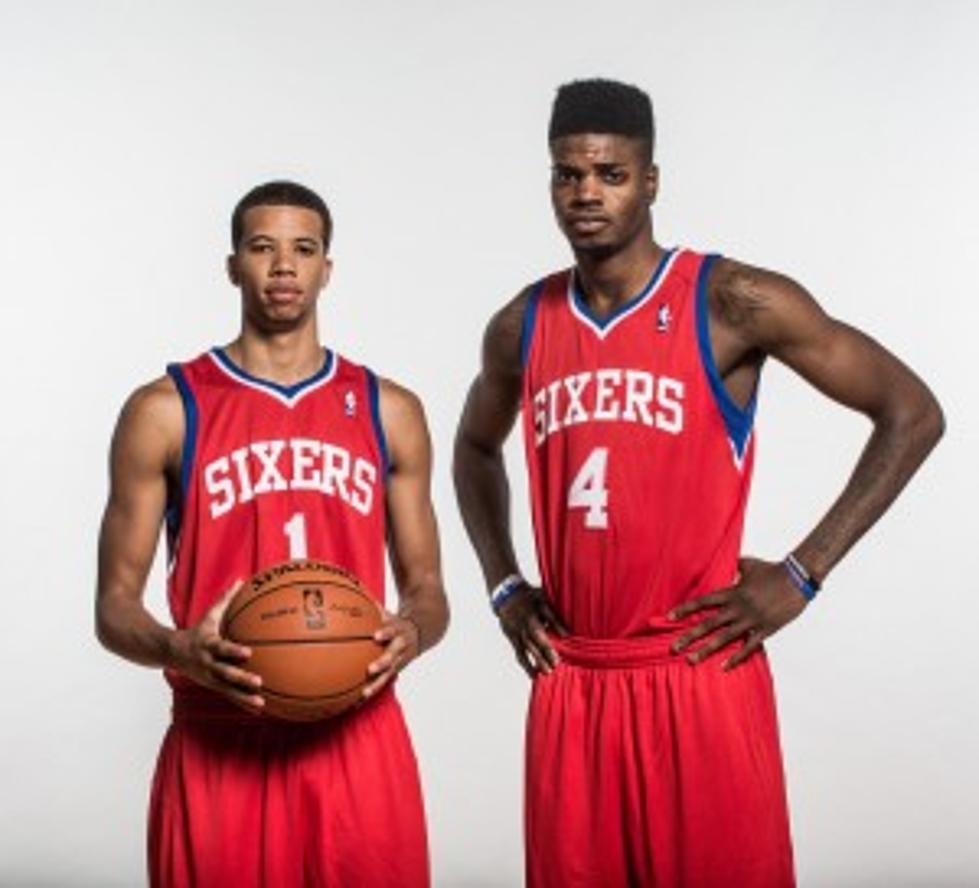 The Relationship Between Michael Carter-Williams and Nerlens Noel
Derek Bodner discussed Michael Carter-Williams and Nerlens Noel's friendship with their former AAU coach, Leo Papile, who coached the pair for three seasons at the Boston Amateur Basketball Club. (Photo by Nick Laham/Getty Images)
"How could you think of something like that? To have two players that played AAU together [and] already have a great relationship," Noel continued.
The story became a popular one: two long time friends reunited on the night of the 2013 draft to resuscitate one of the NBA's storied franchises. It became a story so often told that we took it for granted, which made the reports of a potential feud between the two all the more shocking.
The alleged conflict all started on January 13th when the Sixers were dismantled by the Atlanta Hawks at the Wells Fargo Center. The loss to the Hawks wasn't surprising, as the Hawks had won 24 of their 27 games heading into their matchup with the Sixers. The comments from Nerlens Noel, however, were surprising.
"I love to pass the ball myself. We have to make sure that's contagious," Noel told reporters after the loss to the Hawks. "Hopefully we can start to build it as a habit, [an] every game habit, so guys can be able to have fun playing this game."
The comment was subtle, but a noteworthy exception to what has been an otherwise amazingly intact and harmonious locker room. It was especially weird since Noel and Carter-Williams had just celebrated their first home win of the season by dancing together at mid-court not even 10 days earlier.
The next day, ESPN's Chad Ford reported that some in the Sixers organization didn't consider Michael Carter-Williams a long-term piece. A Syracuse blog called DYST Now then piled on, reporting that the Sixers blamed Michael Carter-Williams for creating a toxic environment in the locker room, and that Michael Carter-Williams and Nerlens Noel had been engaged in multiple confrontations over the last week, including at least one that nearly resulted in blows. DYST Now has since deleted the article, but luckily a cached version still exists.
And the controversy just wouldn't die, as Noel once again complained about the a lack of ball movement after the Sixers were thumped by the Wizards.
"It's two friends trying to figure it out," Sixers head coach Brett Brown said before the Sixers played the Knicks. "It's healthy. It's team.
"These guys, they get along amazingly and co-exist on buses and locker rooms. It's just sometimes they don't pass to each other because they're so tunnel visioned," Brown elaborated. "it's not like they're selfish, they just don't know what they don't know."
So which is it? Was the bond that Carter-Williams and Noel developed in AAU perhaps overstated? Was there maybe a rift between them that wasn't dug up or reported? Or is Brett Brown correct in saying that it was just two friends trying to work out what would be an admittedly tough situation for any competitor, a situation where tensions can get the better of even two close friends, sort of in the way that brothers can argue and bicker but still come back to each other at the end of the day.