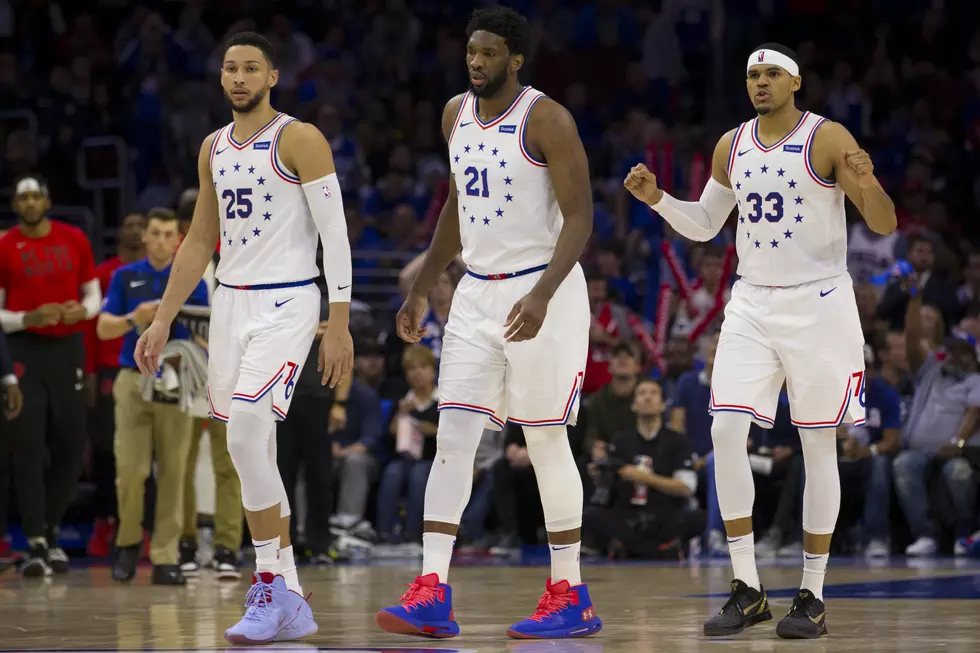 The Ringer: 3 Sixers Earning NBA Season Honors
Getty Images
After a disappointing end to the 2019-2020 season, the Sixers are just two wins away from clinching the top seed in the Eastern Conference.
With the success, there has been plenty of individual recognition, and three Sixers were named as top candidates for the NBA's regular season awards and teams.
Over at The Ringer, Kevin O'Connor filled out his ballot for the 2020-21 regular season honors, which includes three Sixers. Center Joel Embiid (No. 2 for NBA MVP, All-NBA Second Team, All-Defensive Second Team), guard Ben Simmons (All-Defensive First Team) and forward Matisse Thybulle (All-Defensive Second Team) earned recognition from O'Connor.
Embiid has etched his name into the MVP race, posting eye-popping 29.2 points, 10.7 points, 1.4 blocks per game this season in 31.4 minutes per game. He made the cut as a top-five player in the MVP debate, entering that list as the No. 2 player in the MVP chase, behind Denver's Nikola Jokic.
Embiid's injury diminished his chances of winning MVP, but his second-place finish serves to emphasize the value of bigs in the league today. For a while, people thought bigs were a dying breed, but Embiid's rookie season five years ago hinted that a rise like this was possible. It's a testament to the Sixers center's work ethic that he's actually reached this level, though. Embiid added layer after layer to his game, adding post moves, improving as a passer, extending his range, and mastering the intricacies of the paint. As long as Embiid can stay healthy he should only keep getting better, and maybe someday he will win his first MVP.
On the All-Defensive Teams, both Embiid and Simmons made the list, plus second-year player Matisse Tybulle. O'Connor has Simmons as an All-Defensive First Team member in the backcourt, plus Embiid and Thybulle made his All-Defensive Second team.
The inclusion of Thybulle shows what kind of player he is on that end of the floor, and what kind of player he can be overall if he can fine-tune his offensive game.
Thybulle averages only 20 minutes per game, yet in that time he logs 1.6 steals, 1.1 blocks, and 3.1 deflections per game. No defender has blocked more jump shots than him, per Second Spectrum. There is no one better at recovering off-ball to get back into a play. He has outlier-level instincts and reaction time. He is one of the best defenders I've ever watched in my life and if he someday becomes a 30-minute-per-game player, he'll be in the conversation to win Defensive Player of the Year.
Simmons also came in second in the race for Defensive Player of the Year, finishing No. 2, behind Utah's Rudy Gobert.
Simmons is the best at what he does, serving as an on-ball stopper against the league's best scorers and an active off-ball nuisance who fully belongs in the conversation for this award. The energy he brings on defense is contagious. When he's on, it lights a fire in his team. Simmons was once an apathetic defender at LSU and he's turned himself into one of the league's best. We'll touch more on him later.
O'Connor notes that the difference between Simmons and Gobert is that "Gobert defines how the West-leading Jazz operate, while Simmons is one of several major parts that power the East-leading Sixers."
Sixers First-Round Picks Since 2000
Sixers Head Coaches With Most Wins In Franchise History