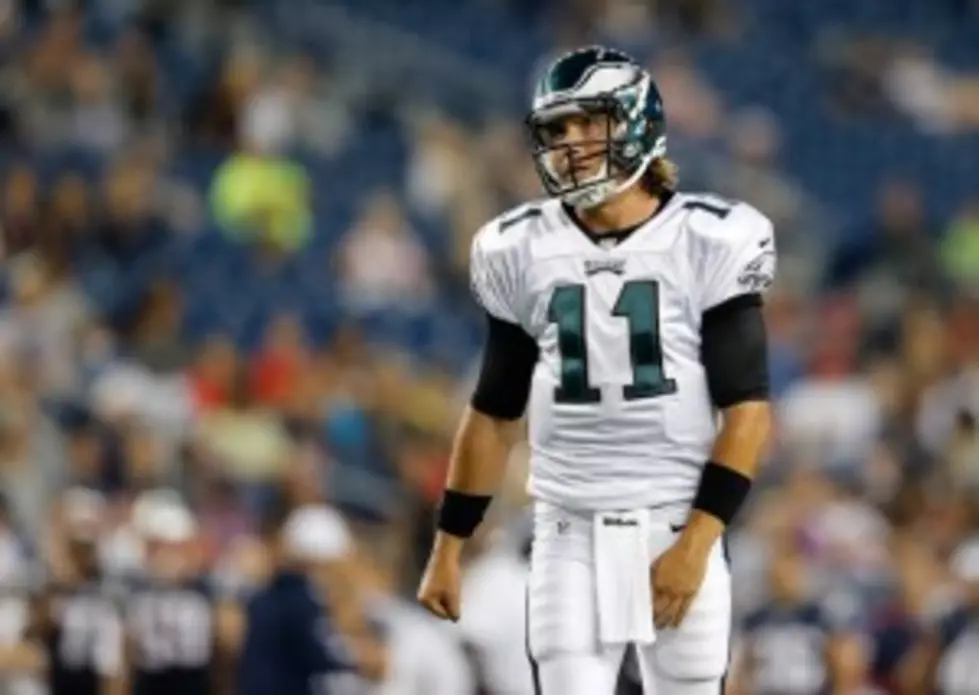 Trent Edwards Guides Eagles to 28-10 Win Over Jets
PHILADELPHIA, Pa. -- Trent Edwards made a strong case to be the Eagles third quarterback, completing 22-of-32 passes for 197 yards, two touchdowns and no interceptions in a 28-10 win over the New York Jets.  Mike Kafka, who has been cleared to take snaps with his broken left hand, did not play and now must wait to find out his fate.
"I want to be here, this is the team I want to play for," Edwards said. "Just getting the chances to play and perform I feel a lot more reinvigorated with the place I'm at with football."
"I want it to be hard, that's what I want it to be," said Reid. "I thought he played well, I thought he did a nice job, so we'll go back - Howie and I will go back and look at it tomorrow and see what we think."
The win took the Eagles preseason record to 4-0 for the first time under head coach Andy Reid and the first since 1995, when the Eagles went on to a 10-6 season. The Jets fell to 0-4 in the preseason with the loss.
Nick Foles made the start and completed 4-of-6 passes for 46 yards before his night came to an early end.  Foles entered the night as the Eagles backup quarterback and appears likely to hold that job, while the extended look at Edwards meant the Birds were either auditioning him to beat out Kafka or giving him a chance to show his skills for other suitors.
The Jets got on the board first, scoring their first touchdown of the preseason on a 6-yard pass from Greg McElroy to Terrance Ganaway.  It capped a 14-play, 77-yard drive highlighted by an 18-yard run by Joe McKnight to start the drive and give the Jets momentum.
The Eagles answered when Bryce Brown punched it in from two yards out to tie the game after an 11-play, 84-yard drive on the following possession. Edwards went 6-for-7 on the drive for 69 yards.
After forcing a Jets punt, the Eagles went back to work and Edwards threw a deep ball up as he was hit, but the wobbling pass was hauled in by Mardy Gilyard, who adjusted nicely for a 31-yard touchdown. That put the Eagles on top by a touchdown late in the half, but the Jets drove into range and Nick Folk hit a 58-yard field goal as time expired for a halftime score of 14-10.
As the game headed into the fourth quarter, Edwards continued to impress, even breaking lose to scramble for a 26-yard gain on third-and-24, moving the ball deep into Jets territory. Two plays later, Edwards rolled out of the pocket and found Brett Brackett in the end zone for a 7-yard touchdown and 21-10 lead.
The Eagles added a late score after a poor punt gave them the ball at the Jets' 39-yardline and Edwards led a methodical drive.  Chris Polk punched it in when he spun off a hit inside the 5-yardline and darted into the end zone for a 3-yard score and a 28-10 lead.
Polk finished with 13 carries for 62 yards and the score, and also caught a pass for 10 yards. The undrafted rookie is another Eagle facing an uphill climb in the numbers game to make the roster, but he's had a strong preseason.
"[It'll be] nerve wracking, you never know," Polk said of the wait to find out if he makes the team tomorrow. "Hopefully I'm still here in the morning, still to be a part of this great organization. If I'm not I'm just really blessed to be in this organization."
If he doesn't manage to stick with the Eagles, does Polk think he's done enough to prove his worth and be picked up by another NFL team after rushing for 113 yards and a touchdown on 26 preseason carries and catching six passes for 52 yards through four games.
"I certainly hope so, but, you know, God has a plan for me," Polk said. "If they don't want me, then no hard feelings. I learned a lot from them, they made me a better football player."
The same goes for Edwards, trying to overtake Mike Kafka for the third and final roster spot at quarterback along with Michael Vick and Nick Foles. Edwards ended his preseason with 489 yards, four touchdowns and no interceptions on 54-of-80 passing (68%), good for a quarterback rating of 100.5.
Kafka has missed most of the preseason with a broken left hand and completed just 5-of-9 passes in his lone action against the Steelers for 31 yards and an interception. Kafka said he's not even considering the numbers at quarterback.
"Not going to think about that," Kafka said. "Just approach [the cutdown day] just any way I would."
Eagles head coach Andy Reid and general manager Howie Roseman now have under 24 hours to make some tough decisions, as they must cut the roster down from 75 players to 53 by 9 p.m. tomorrow night.  The Eagles open the regular season on September 9th at the Cleveland Browns.
Eagles safety Oshiomogho Atogwe left the game with a hamstring strain and will have an MRI in the morning. Other than that, the Eagles did not sustain any new injuries.