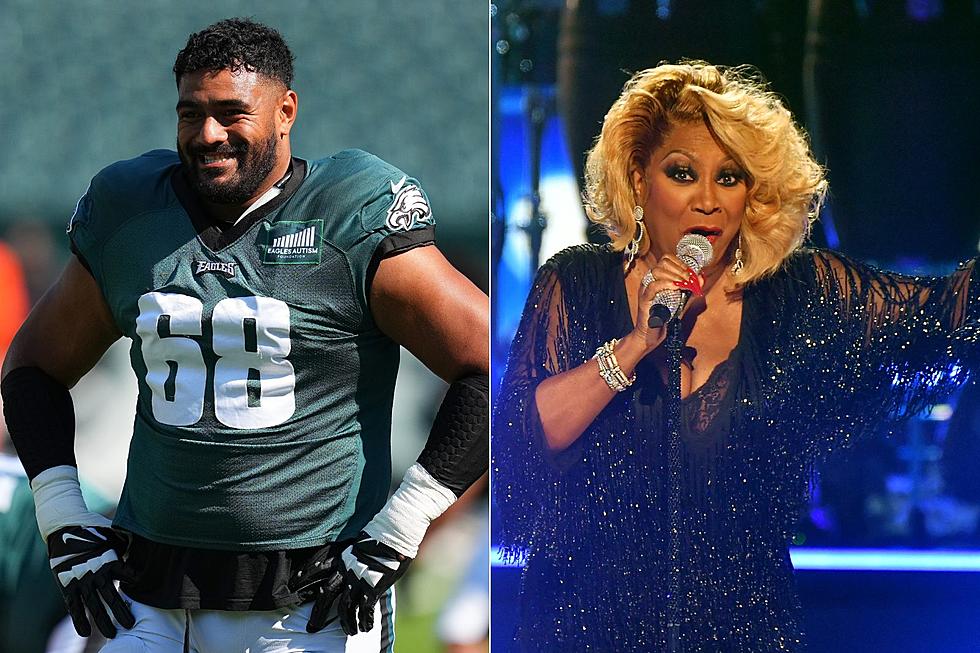 WATCH: Eagles Jordan Mailata Star-Struck By Godmother Of Soul
Jordan Mailata and Patti LaBelle Photos from Getty Images
Even though Professional Athletes are Public Figures who have their own "Celebrity Status", they are still regular people who have other Celebrities they admired when they were growing up.  Just like the "Average Joe', a Philadelphia Eagles player was recently star-struck by a music Superstar.
After the success of last year's A Philly Special Christmas, Jason Kelce and his collaborators decided to produce another Christmas Album for the 2023 Holiday season. Last year, Kelce was joined by his fellow Offensive Lineman Lane Johnson and Jordan Mailata on the album that raised $1.25 Million that was distributed to 25 Local Charities in the Philadelphia region.
For this year's Christmas Album, the guys wanted to go next level for the 2023 Holiday season. While the initial headlines were about how Jason's brother/Podcasting Co-Host Travis would be a guest singer on a track for the 10-song project, a bigger superstar was in the studio with the Eagles Players. Grammy Award Winner and "The Godmother of Soul" Patti LaBelle joined Mailata for a new rendition of the classic This Christmas song.
Despite Jordan Mailata singing at his own wedding and his incredible vocal talents, as you can see below he got "stage fright" while in the studio with the musical legend LaBelle:
Proceeds from the second Christmas Album produced by Jason Kelce, former Eagles Linebacker Conor Barwin, and Charlie Hall of the rock band The War On Drugs (a Philadelphia-based group) will go to the Children's Hospital of Philadelphia's drive to make sure sick children receive presents during the Christmas holiday season.  Also, for the second straight year, money raised from album sales will go to the Children's Crisis Treatment Center in support of their annual toy drive.
You can order your copy of the 2023 Christmas Album and support local charities at the project's official website.
See The Lights, Decorations and Beauty of Cape May at Christmas
Gallery Credit: Eddie Davis