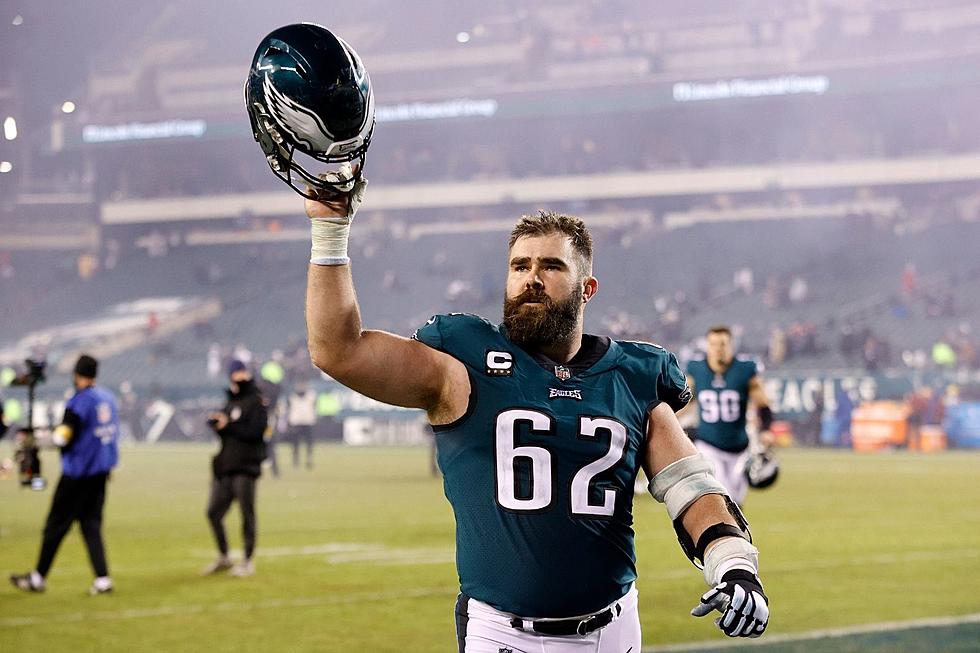 Will Super Bowl LVII be Jason Kelce's final Eagles game?
(Photo by Tim Nwachukwu/Getty Images)
With the 191st pick in the 2011 NFL Draft, the Philadelphia Eagles selected, Jason Kelce.
12 seasons later, he is still the man in the middle for the team, as they get ready to face the Kansas City Chiefs in Super Bowl LVII.
Could this game, which also features his brother Travis for the Chiefs, be his last NFL game? It's certainly a possibility.
Just like the past few offseasons, Kelce's decision to play next season or retire is up in the air.
He will take some time when this game is over to think about whether he wants to return for a 13th season or call it a career.
The 35-year old center, has played 12 NFL seasons, which has taken a toll on his body.  However, he is still playing at an extremely high level, making it possible he might still would want to play again in 2023.
"I would think by the start of the league year, about a month from now, he will be able to tell the Eagles whether he wants to continue to play and man that center position or call it a career," ESPN's Adam Schefter said on SportsCenter.
The team took some of Kelce input to select, second-round pick Cam Jurgens, in the 2022 draft. Like Kelce, he is an athletic center, who could be the next long-term center for the team, once Kelce steps away.
In the meantime, Kelce will be thinking about his future with the team and playing in the league. He is a free agent, so would need to work out a new deal with the Eagles to return for this 13th season. Before the 2022 season, Kelce signed a one-year deal worth $14 million, which made him the highest paid center in the NFL
Or this could be his final game with the Eagles.
Either way it has been a tremendous career for the former sixth-round pick, one that could end up in his home state of Canton, Ohio.
10 Best Atlantic City Area Sports Bars to Watch the Super Bowl
So you're looking for a place to watch the game. But where? There are plenty of options in the Atlantic City area to watch football with a few drinks.