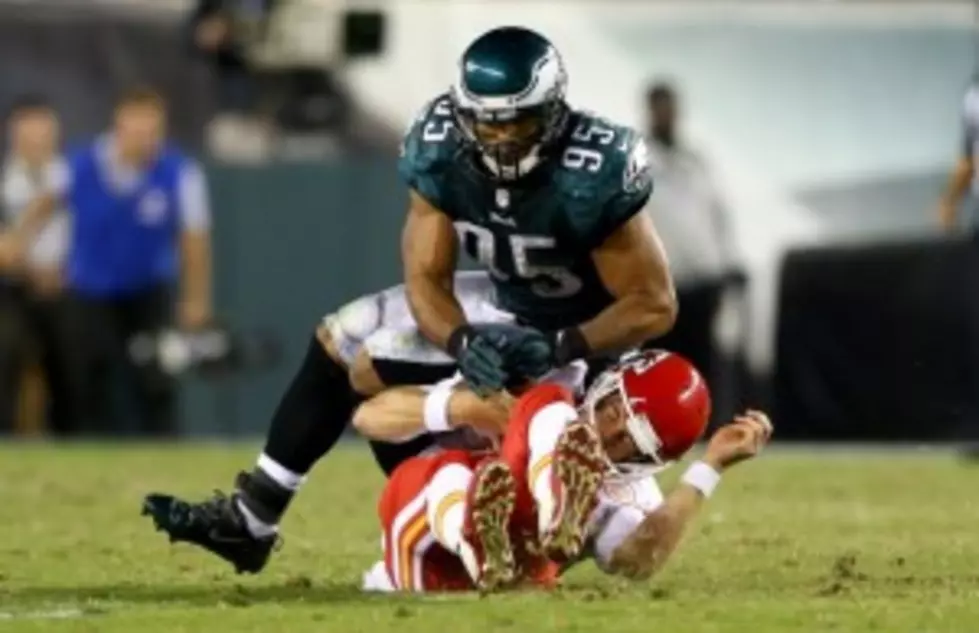 'Write it in Ink,' Mychal Kendricks Staying in Philly
Eagles signed ILB Mychal Kendricks to a four-year, $29 million contract extension through 2019. (Photo by Elsa/Getty Images)
PHILADELPHIA - The head coach told you to get out a pen.
"Mike Kendricks is not going anywhere," Chip Kelly said at the beginning of training camp. "I can tell you that right now. Write that down in ink."
Mychal Kendricks needed his own Bic Monday night in order to sign a four-year contract extension with the Eagles that will keep him in Philadelphia through the 2019 season.
The deal is worth around $30 million with $16.4 million of that guaranteed, an NFL source confirmed to 973espn.com.
Trade rumors surrounded Kendricks through the offseason after a series of moves that bolstered the ILB position, including the trade for Kiko Alonso, the extension offered to DeMeco Ryans and the drafting of Jordan Hicks.
Health issues remain a major concern, though, for Alonso, who is coming off an ACL injury and has been hampered by a concussion in the preseason, as well as Ryans, who has been held back a bit as he rehabs from a torn Achilles suffered last season. Meanwhile, the team lacks depth between starting outside linebackers Connor Barwin and Brandon Graham, and Kendricks is athletic enough to play on the outside as well.
So far the Cal product has been rotating with Ryans and Alonso on the inside with the first team, as all three have missed some practice time this summer.
"We're just rotating," Kendricks said. "I don't even know if there is a one, two or three."
Originally a second-round draft selection in 2012, Kendricks, 24, has been a starter since his rookie campaign, appearing in 42 games with 40 starts over his three seasons with the Eagles. He has amassed 333 tackles, 15 tackles for loss, nine sacks, three interceptions, four forced fumbles and four fumble recoveries.
-John McMullen covers the Eagles and the NFL for 973espn.com. Reach him at jmcmullen@phanaticmag.com or on Twitter @JFMcMullen