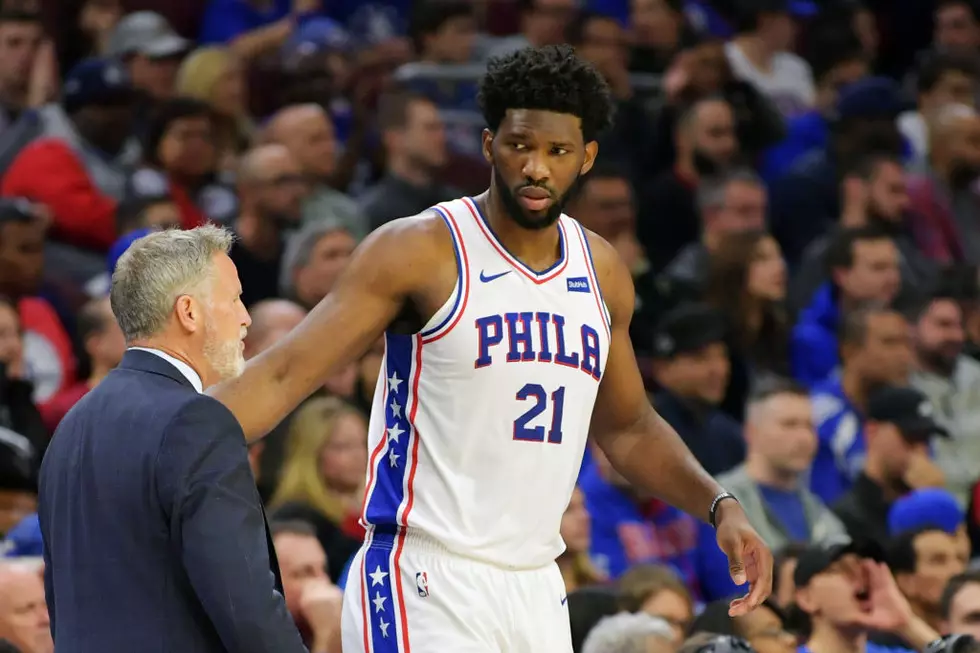 Brett Brown on Why a Healthy Joel Embiid Will Sit Out Friday
Drew Hallowell, Getty Images
CAMDEN, NJ (973espn.com) -- For the first time since last May, the Philadelphia 76ers will hit the road for a game to continue their preseason action against the Hornets on Friday. Just this past Tuesday, the Sixers started off their preseason on a high note, with a blowout over their non-NBA opponents.
We saw some great things -- and perhaps some things that could use work. All in all, though, the most significant positive coming away from the first matchup was the fact that the Sixers went in healthy and came out of that game in the same condition... healthy.
Heading into the second matchup of the preseason, the Sixers are once again healthy -- but they won't have all hands on deck against the Hornets. After practice on Thursday, the Sixers had nothing to report on the injury front, according to their Vice President of Communications, Dave Sholler. However, they do plan on not playing their big man, Joel Embiid.
As we know, Embiid hasn't been the healthiest player to lace up his sneakers in the last couple of years. With physical concerns, sickness, and poor conditioning, Embiid has had his fair share of issues trying to remain healthy. In the past, the Sixers have attempted to prevent those issues with 'load management,' and it's helped out a bit.
This season, they intend to do the same thing. So at the start of training camp, the Sixers elected to make Embiid a limited participant for the first couple of days. Eventually, he was eased into a full role.
Now, he was able to get some action in the Blue and White Scrimmage, and in the matchup against Guangzhou Loong-Lions, but Embiid will rest up on Friday and avoid further action for the time being. Some may feel like this is frustrating already. Meanwhile, head coach Brett Brown is "excited," and believes this is a good thing.
"I am [excited]," Brown said on Thursday, immediately following the announcement regarding Embiid. "I'm excited because it's coming." At this point in Embiid's career, we've all come to realize he will never manage to play an entire 82 game season, Brown and Embiid himself has accepted that at this point.
So without Embiid on Friday, Brown will have the opportunity to see what the lineup will look like on those nights the resident big man will miss. With Embiid out, we can expect Al Horford to get the start at center, which would potentially shift Tobias Harris in his spot, bringing on somebody like Mike Scott as a starter to fill in.
Brown doesn't have a plan set in stone just yet, but the idea to simulate a situation where Embiid may miss time is a smart move here by the head coach and the Sixers. "To be able to take this opportunity and knowing it's coming, [knowing that] Joel will be out some games this year, I am excited." Well, that's what preseason is all about -- finding out what works and what doesn't without repercussions.
Justin Grasso covers the Philadelphia 76ers for South Jersey's 97.3 ESPN. You can follow Justin on Twitter: @JGrasso_