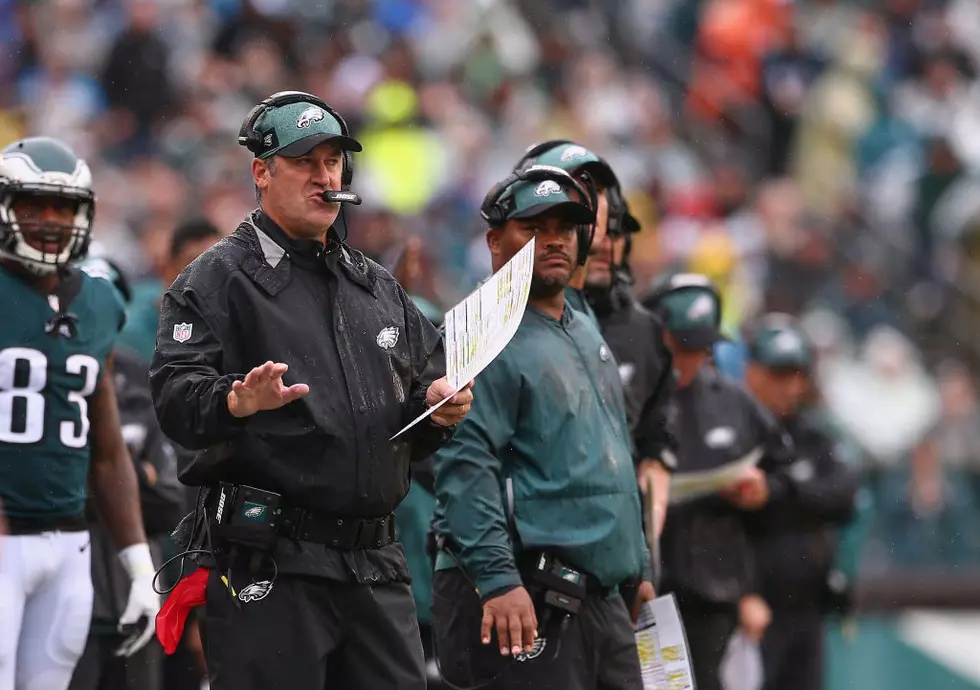 Does Doug Pederson Trust Wentz More Than Eagles Running Backs?
Photo by Mitchell Leff/Getty Images
The Eagles Offense has looked different in their wins compared to their losses this season as the 3-4 Eagles prepare to travel to London to take on the Jaguars in NFL Week 8.  In their wins this season, Eagles are averaging 24 Points Per Game while running the ball 31 times per game; on the flip side, in their losses the Eagles are scoring 20.5 PPG while averaging only 21.75 Carries Per Game.  At Monday's Press Conference, Eagles Head Coach Doug Pederson insisted that he has not lost any confidence in the Eagles Running Game or players to execute.
Emory Hunt of The Athletic joined Josh Hennig on Monday discussing his perspective on why the Eagles only ran the ball once in the 4th Quarter of Sunday's loss to the Panthers:
"(Pederson) probably feels more comfortable with the ball in the hands of Carson Wentz then he does in the belly of those (Running Backs) Clement, Smallwood and Adams. So, I think, until they get a premier player, a guy that they could trust, (Eagles) had one last year in LeGarrette Blount, and maybe this is a different story or a conversation we are having - In order to be a threat in the backfield you can't run the football for the sake of running the football. If they beat you to the spot, you are dead in the water....I think by Pederson's approach he's saying 'hey Carson Wentz is our quarterback, he's been great the last three weeks, he's making smart decisions with the football, he's throwing the football accurately and he still has the element of escapability because he's getting healthier and healthier so why not keep the ball in his hands and allow him to make the decisions and make the plays - I don't blame (Pederson) for not going to those backs, I like the way he's trusting the better player with the football"
Hear what Hunt had to say about the Eagles standing in the NFC East after NFL Week 7, perspective on Cowboys trading for Amari Cooper, how the Redskins are leading the division at 4-2, and more