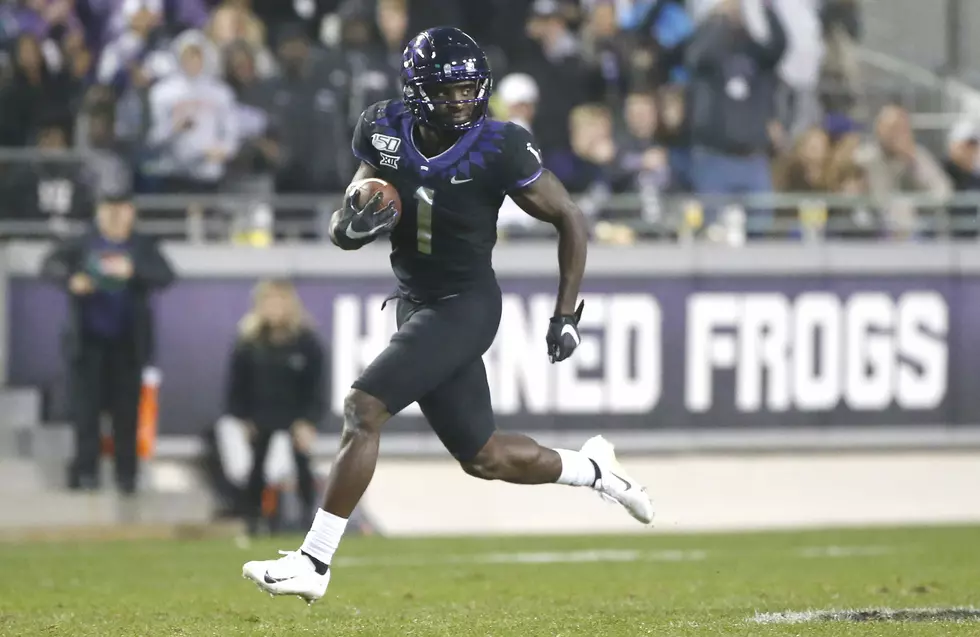 Extra Points: Eagles Added Much-Needed Speed in Draft
Getty Images
The Eagles' offense should not have any trouble stretching the field this season.
They came away from the NFL draft with four wide receivers who are fast enough to form a speedy 400-meter relay squad that could've competed in the Penn Relays this weekend if they hadn't been canceled.
The Eagles added deep threats by drafting TCU's Jalen Reagor in the first round, Boise State's John Hightower in the fifth and Southern Miss's Quez Watkins in the sixth. They also acquired wide receier Marquise Goodwin, who actually was an Olympic long jumper, via a trade with San Francisco.
And that group of speed demons doesn't include veteran wide receiver DeSean Jackson, who at 33 years old is still among the fastest players in the NFL.
"We wanted to get more explosive and faster," Eagles general manager Howie Roseman said on a teleconference Saturday. "Marquise is one of the fastest men in the world. But they're not just track guys. They can also play the game. We feel passionate about these guys."
Last season, the Eagles offense provided a taste of what would be possible, but were unable to sustain it for more than one game. Jackson caught two touchdown passes of over 50 yards, but was soon on the sideline with a core injury that kept him out for the rest of the season.
Clearly, Roseman had to take some wideouts.
"The dynamic of the offense is going to be different," Eagles coach Doug Pederson said Saturday. "Against some teams, we had trouble pushing the ball up the field. Our speed now will allow us the ability to do that."
On paper, the Eagles made good on their promise to add more offensive firepower. Before the draft, the Eagles only Jackson, Alshon Jeffery, J.J. Arcega-Whiteside and Greg Ward as wide receivers. Jackson missed most of the season with a core muscle injury, Jeffery has a foot injury and does not have the best relationship with quarterback Carson Wentz and Arcega-Whiteside was underwhelming as a rookie in 2019.
But there are questions. Like Jackson, Goodwin has had trouble staying healthy. He's averaged 16.6 yards per catch for his career, but lasted only nine games last season before going on injured reserve with knee and ankle problems. The 29-year-old hasn't played a full season since 2017.
Reagor has game-breaking ability as both a receiver and punt returner, but he's been known to drop passes, which was a major problem for the Eagles last season. Hightower's scouting report indicates difficulty tracking the ball, a trait that contributed to Nelson Agholor's downfall and eventual exit. Watkins can run past anyone, but reportedly came up short against elite competition, which is what NFL wide receivers face every game.
The Eagles also used to the draft to address some other glaring needs, taking Colorado linebacker Davion Taylor, Clemson safety K'Von Wallace, Auburn offensive linemen John Driscoll and Prince Wanogho, Temple linebacker Shaun Bradley - no not that Shawn Bradley - and Stanford edge rusher Casey Toohill.
Of those players, look for Wallace to make the biggest immediate impact. The 5-foot-11, 206-pounder is a smart, aggressive defensive back who should challenge converted cornerback Jalen Mills for the starting job alongside Rodney McLeod.
"We loved the physicality and the mentality he plays with," Eagles vice president of player personnel Andy Weidl said Saturday. "This is a guy who likes contact and gets to the ball. We really thought he fit with what we're doing."
The Eagles have not had the best luck drafting safeties since taking Nate Allen and Kurt Coleman in 2010. Jaiquawn Jarrett (2011), Earl Wolff (2013), Ed Reynolds (2014) and Blake Countess (2016) were all busts. But Wallace has the right tools and pedigree to make it. The last time the Eagles drafted a safety from Clemson was in 1996, when they took a kid named Brian Dawkins in the second round.
That worked out pretty well.
Last 10 Picks at No. 21 in NFL Draft