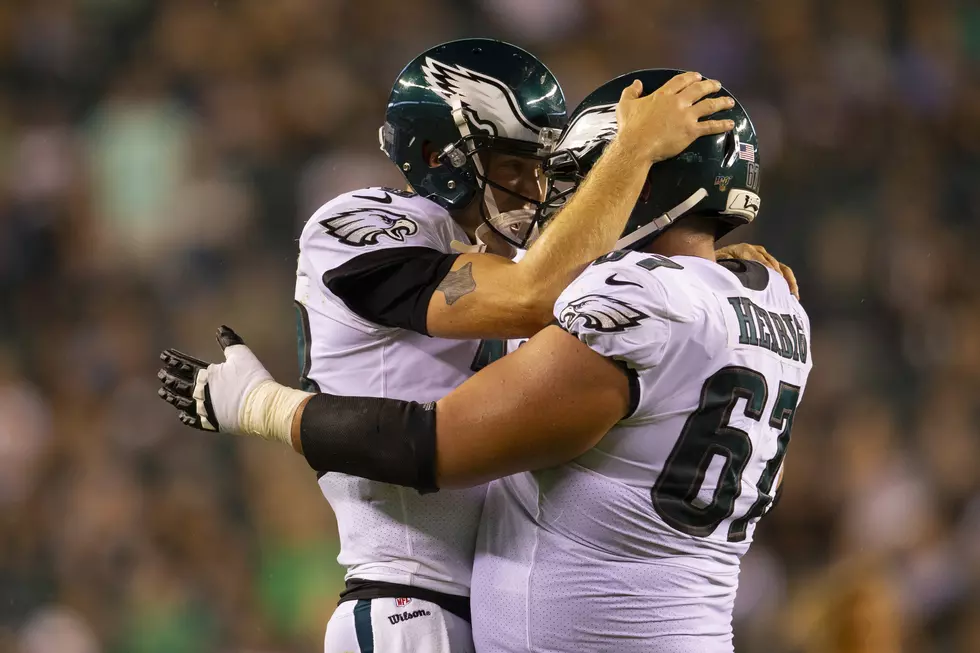 Eagles' Hoping Nate Herbig Learns from First NFL Experience
Getty Images
The Eagles made a surprise decision to go with second-year player Nate Herbig at right guard in Sunday's opener in Washington.
The second-year player from Stanford, appeared in just two games last season, getting a total of three snaps. However when Jason Peters moved back to left tackle, the Eagles called on Herbig, not Matt Pryor to get the start at right guard. Next to Herbig, was rookie Jack Driscoll, who was also making his first NFL start at right tackle
"The right side didn't have any business being out there," said former Eagles offensive lineman and current pre-and-post game analyst Barrett Brooks from NBC Sports Philadelphia on The Sports Bash, Monday.
"They just weren't ready to play." Brooks continued. Breaking down the film, they didn't understand what it was like being in a game against a true NFL defensive end and defensive tackle.
Enter your number to get our free mobile app
"I thought Nate did well," Eagles head coach Doug Pederson said on Monday. "Wasn't perfect, but for his first start, he's a smart guy, and he graded well."
The Eagles offensive line struggled all day, giving up eight sacks, and pressure on 34% of plays according to Next Gen Stats. However even with the struggles, it doesn't sound like Pederson is making any knee-jerk changes up front.
"As of right now as we move forward, we're going to continue to work him in there at right guard, and I think he'll get more and more comfortable the more reps he gets in there, and you know, works with Kelce more and so again, it wasn't perfect, but really felt comfortable coming away with his performance," Pederson said.
The line hopes to get some help back this Sunday, with the return of Lane Johnson, who missed Sunday's game with an ankle injury.
"We are going to increase their practice time this week," Pederson said about Johnson, defensive end Derek Barnett and running back Miles Sanders. "We are going to see as the week goes on where they are and hopefully they will be available for the game on Sunday."
With Johnson back, it should help Herbig, but it won't fix all the teams problems up front.
"When Lane come back a lot of this will be alleviated," Brooks said. He comes back and tells the right guard what to do, he will be able to handle the right guard in that situation, you can game plan and send protection that way."