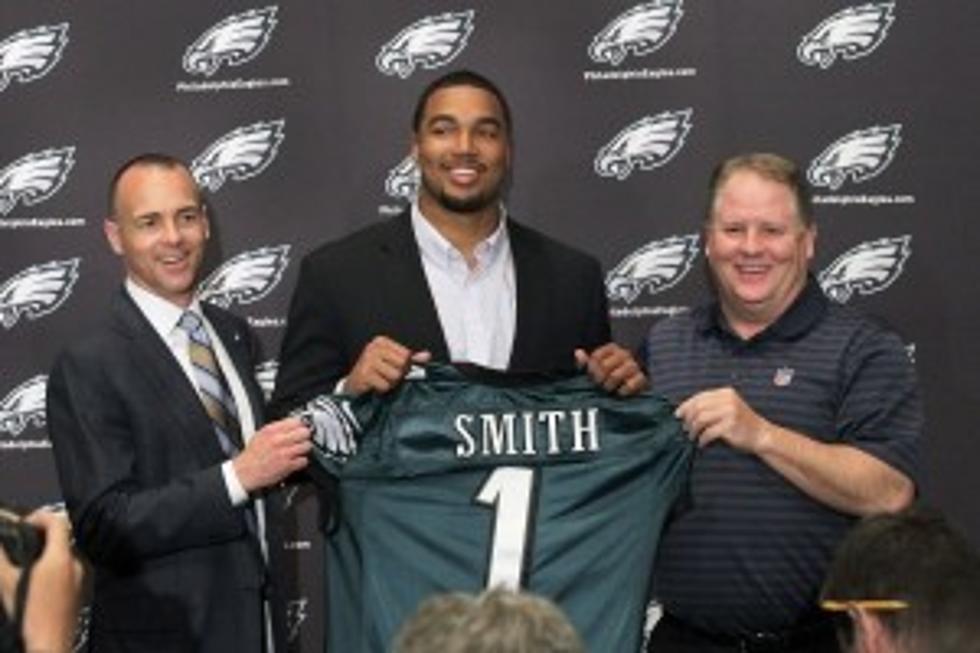 Eagles Rookie Roundup: Only Marcus Smith Remains Unsigned
Getty Images
The Philadelphia Eagles have all but completed their obligations in getting their rookie players under contract.
The team announced today that they have signed second round pick Jordan Matthews, Vanderbilt, to a four year contract. According to the draft selection slot, it will be for a four-year deal worth $4,949,317 with a $1,919,468 signing bonus.
Add Matthews to 5 other players signed to four year contracts including: S Ed Reynolds, WR Josh Huff, NT Beau Allen, DE Taylor Hart and CB Jaylen Watkins.
The Eagles traded up 12 selections to draft Matthews with the 42nd overall pick in the second round of the NFL Draft this month. The 6-foot-3 Matthews left Vanderbilt as the all-time SEC leader in career receptions (262) and yards (3,759).
Only first round draft pick OLB Marcus Smith remains unsigned.
In fact, Smith is one of 22 first round selections that remain unsigned. Khalil Mack, Jake Matthews and Anthony Barr are the only rookies selected in the top-10 that have signed with their respective teams.
Under the new NFL collective bargaining agreement, all first round picks can have four year contracts, with a non-negotiable fifth year option.