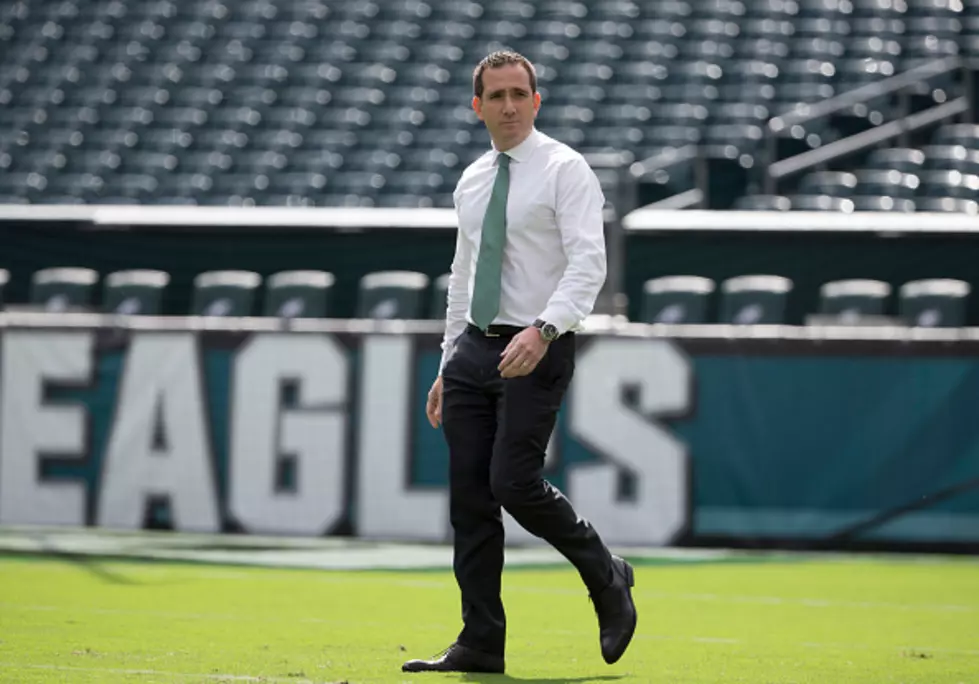 Eagles Weigh Options with Trade Deadline Approaching
Photo by Mitchell Leff/Getty Images
PHILADELPHIA (973espn.com) - Much is made of the Eagles' aggressiveness as an organization, both on and off the field.
It's been an undeniable strength in the Doug Pederson/Howie Roseman era. In a copycat league, however, others are always paying attention and if the perception is that something works, the minute a breath is taken to look in the rear-view mirror objects are closer than they appear.
Roseman has the reputation as a gambler but if Kenny Rogers taught us anything there are always two options: hold em' or fold 'em.
The one constant in the cottage industry that is the NFL trade rumor mill is that the Eagles' name is going to be thrown against the wall when news breaks that any player of any consequence might be available.
Sometimes the interest is serious -- think Jalen Ramsey or Minkah Fitzpatrick -- and sometimes it's more cursory where Roseman essentially says 'if you really don't want the player, we will take him' (Jadeveon Clowney, Melvin Gordon).
The league as a whole is changing rapidly with a new breed of personnel people more open to moving parts and with the trade deadline set for next Tuesday at 4 p.m ET, the movement has already been significant.
In addition to names like Ramsey (Jaguars to Rams), Fitzpatrick (Dolphins to Steelers), and Clowney (Texans to Seahawks), other names at positions of need for the Eagles have already filed change of address forms like receivers Mohamed Sanu (Falcons to Patriots) and Emmanuel Sanders (Broncos to 49ers) and defensive backs Marcus Peters (Rams to Ravens, Gareon Conley (Raiders to Texans) and Quandre Diggs (Lions to Seahawks).
Roseman, meanwhile, has stayed quiet but that perceived calm is like seeing a duck at the local lake. What you can see is serene. What you can't is paddling furiously underneath the surface.
Behind the scenes, the Eagles have been trying to add a reinforcement or two through a disappointing 3-4 start with consecutive blowout losses to Minnesota and Dallas.
Injuries have shifted the Eagles focus, however, with defensive tackle, a perceived position of strength on paper entering the season, turning into a mess opposite Fletcher Cox inside.
Attrition has already cost the Eagles Malik Jackson, Tim Jernigan and Hassan Ridgeway for significant periods and Akeem Spence, a late addition was released earlier this week after spending too much time on skates against the Cowboys.
That had Roseman and vice president of player personnel Andy Weidl culling the practice squads of other teams for the best available options before landing on Anthony Rush (Raiders) and Albert Huggins (Texans), who are both expected to have significant roles in Buffalo on Sunday.
Former first-round pick Leonard Williams, who is likely playing out the string with the New York Jets and old friend Joe Douglas, has been a focus, according to an NFL source.
"We're always going to look to add value and talent and depth," coach Doug Pederson acknowledged Wednesday. "We understand our injury situation, especially at defensive line. So if we just start there, let's say, and look and see what's available, see what we can do."
Another fly in the ointment that wasn't expected to be there, though, is the harsh reality that the Eagles may not be the kind of contender they thought they were back in September. In a best-case scenario, the Eagles could wait for the next four-game stretch against difficult opponents before weighing where they are for what figures to be a very tenable final five contests.
That luxury isn't available, though, so decisions have to be made.
The return of Jalen Mills, the impending return of Ronald Darby this weekend, and the likelihood Avonte Maddox and Cre'Von LeBlanc will be back over the next few weeks calm down the need at cornerback a bit while DeSean Jackson was out working on a side field again Wednesday and Pederson insists the deep threat is "close" to returning from a core-muscle injury, something that could turn the team away from that position. Even Jernigan's impending return from a broken bone in his foot could change the landscape at DT especially if either Rush or Huggins can gain some traction.
"The thing Howie and I are on the same page about is he sees the same injuries that we see, and he knows the bind that we're in at certain positions," Pederson explained.
The ultimate goal remains simple.
"We're going to do what's best for the Philadelphia Eagles. I think that's where we start," the coach said.
-John McMullen covers the Eagles and the NFL for 973espn.com. You can reach him at jmcmullen44@gmail.com or on Twitter @JFMcMullen