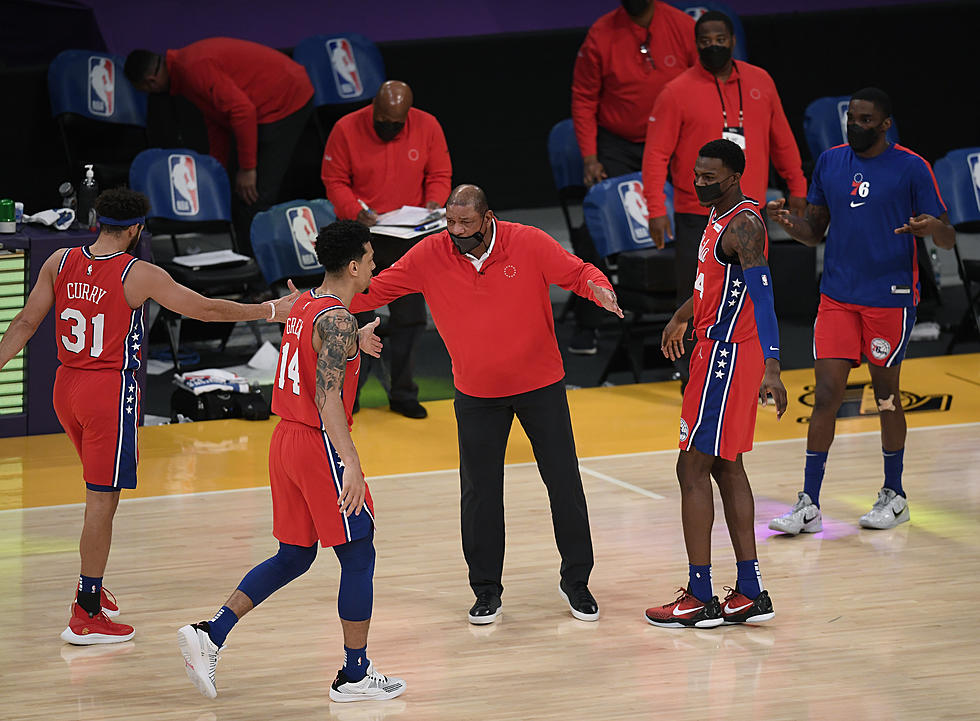 Embiid's Return? Hill's Debut? That and More Ahead of Sixers-Nuggets
Harry How, Getty Images
The Sixers continue their season-long six-game road trip in Denver against MVP candidate Nikola Jokic and the Nuggets Tuesday night.
They're still without fellow MVP candidate Joel Embiid (left knee bone bruise) and the newly acquired George Hill (right thumb surgery). Denver got a reinforcement at the deadline as well, trading for the Magic's Aaron Gordon.
Here are some news and notes ahead of Tuesday's matchup:
When will Embiid return? Hill debut?
After practice Monday, head coach Doc Rivers seemed optimistic that Embiid would make his return to the lineup when the team returns home Saturday to play the Timberwolves. That would put Embiid at three full weeks of recovery.
The team initially said Embiid would be re-evaluated in two weeks. With the Sixers playing so well in Embiid's absence, there was no need to rush their All-Star center back. Embiid has been back in Philadelphia rehabbing with the team's medical staff during the road trip.
As for Hill, Rivers didn't have as clear of a timeline. The veteran guard hasn't played since Jan. 24 after suffering a mallet injury to his right shooting thumb that required surgery. Hill will join the team when it returns home, but he won't be ready to play at that time.
Hill is expected to resume basketball activities this week but will need time to get his conditioning up. Rivers said he is hoping for at least 10 games out of Hill ahead of the postseason.
Rivers is confident Hill will be able to integrate smoothly.
"George Hill doesn't have to do a rehearsal for us to find out if he can play or not," Rivers said. "We know exactly what he does, and he's one of those guys that I believe you can throw in and he'll figure it out for us. Hopefully we have a 10-game window or more that he can get acclimated with the team. But I'm very confident that he can fit in."
Paul 'Alley' Reed
Paul Reed has made quite the impression on the city and on his teammates. The rookie dominated the G League, winning the league's MVP and Rookie of the Year while leading the Blue Coats to the finals.
The Orlando native made quite the impression on Dwight Howard from his first day at training camp. Reed attended one of Howard's basketball camps – "I feel like I'm ancient," Howard said – and the 21-year-old was ready from day one with the Sixers.
"The first day he came into training camp, the first thing he said was, 'Call me alley. Throw me alley-oops,'" Howard said. "And I'm like, 'Who in their right mind comes in and says call me alley?' You at least say your first and last name and where you're from."
It's that confidence and energy that has endeared Reed to his teammates and coaches.
"He's saying some of the craziest things, but it's Paul. That's how we look at it," Howard said. "He's always saying something crazy. But we all love him. His work ethic is great, his energy is always amazing, especially when he's playing. I'm really happy for young fella and just want him to keep going."
As for Howard, who has been ejected the last two games, he knows he must maintain his discipline – especially while the team is short on bigs.
Howard's leadership has been evident throughout the season and he's displayed a team-first attitude. A veteran of 17 years, Howard knows he has to do better.
"I know it might seem like I've been selfish or I'm not thinking about the team," Howard said, "but my first thought, my second thought, my third thought is about this team. I want us to win and I don't want people to get it twisted as though if I'm getting the technical fouls that I want to go against the team."
Thybulle going Green
Now in his second NBA season, it's clear that Matisse Thybulle has the chance to be one of the toughest and most disruptive perimeter defenders in the NBA. While Thybulle doesn't possess above-average offensive skills, improving his three-point shooting is the easiest way to make sure he's contributing on both ends.
The 24-year-old doesn't have to look too far to find the archetype of player he wants to be. Danny Green has made a successful NBA career – and won three championships – out of that style of play.
"Danny's one of those guys, coming into the NBA and being very aware of what I bring to the table, that I wanted my career to emulate, in a sense," Thybulle said. "Being able to play with him and play with a player who has a very similar skillset but just a little more refined than myself is huge — being able to pick up on his tendencies from watching, and also just as a mentor, giving me advice and helping me through the things that I've struggled with because he's seen it all."
Green has been on quite a tear recently and is now shooting over 40 percent on 6.4 three-point attempts a game this season. Thybulle has shot the ball better recently (35.8 percent from three since February) and a more consistent three-point shot would make it very difficult to take him off the floor.
Sixers First-Round Picks Since 2000