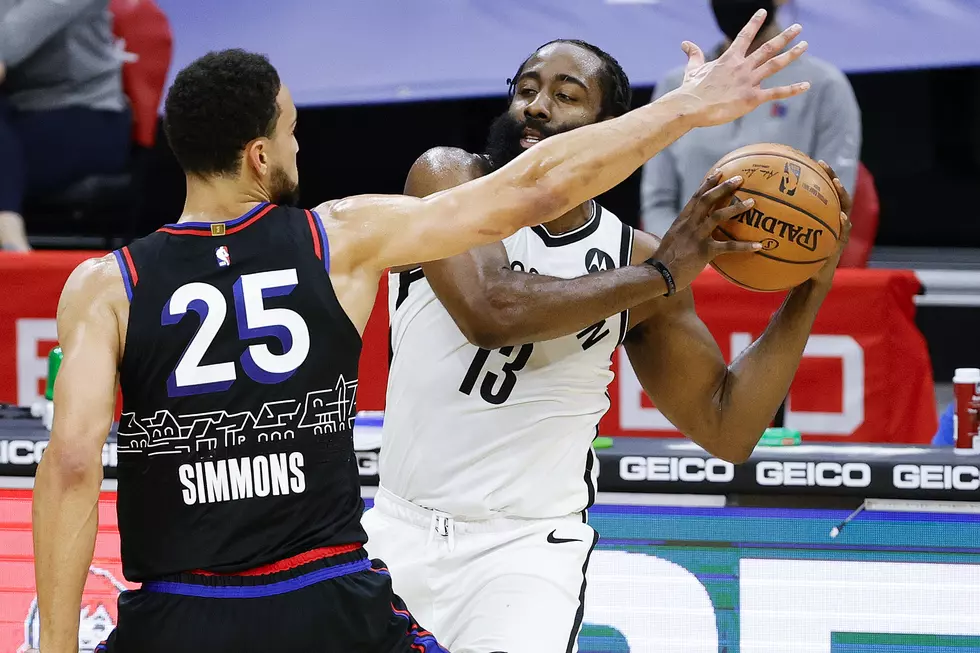 ESPN's Kevin Pelton Gives Sixers C- Grade for Ben Simmons Trade
(Tim Nwachukwu, Getty Images)
Well the trade that had been talked about for week, finally happened on Thursday.
Future hall of fame guard James Harden is heading to Philadelphia to join the Sixers the team announced on Thursday before the NBA trade deadline.
The Sixers sent Ben Simmons, Seth Curry, Andre Drummond and two first-round picks to Brooklyn for James Harden and Paul Milsap.
ESPN's Kevin Pelton gave the Sixers a C-plus grade while giving Brooklyn a B+ in the deal.
Given star center Joel Embiid is in the middle of his prime (he'll turn 28 next month) and as healthy as he's ever been, having played 42 of a possible 54 games thus far, Philly had urgency to get him the help necessary to compete for a championship. From an offensive standpoint, Harden is the best teammate Embiid has ever had, although it will be interesting to see how the two players fit together.

How Harden fits defensively is more of a concern. The best defenses featuring Harden, both with the Rockets and the Nets, have relied heavily on switching. He's effective using his strength to counter bigger opponents and struggles in space. Often, that's meant an initial defensive assignment against big men for Harden, but that now means asking Philadelphia forward Tobias Harris to defend on a perimeter. Switching in lineups with Embiid doesn't make much sense, so Harden will surely be asked to play conventional pick-and-roll defense, a challenge for him.

In a vacuum, I'd probably rather have Simmons on his current contract than Harden on his next one, which could make everything else Philadelphia gave up painful. Curry was an important role player for the Sixers, who now find themselves relying on weaker shooters to fill out their wing rotation.
The Sixers were able to keep both Tyrese Maxey and Mattise Thybulle and instead traded away a pair of first-round picks.
Pelton writes that he would rather make this trade then gamble with trying to move Simmons in the offseason, but said he thinks there might have been other options available to upgrade the team without the risk of Harden's next contract.
So far the Sixers are just 2.5 games behind the No. 1 seed, Miami and haven't had Simmons's services all season long. Now they will move forward with Harden, who hopefully will get back to the Harden that we all remember quick.
15 Places to watch the game in South Jersey