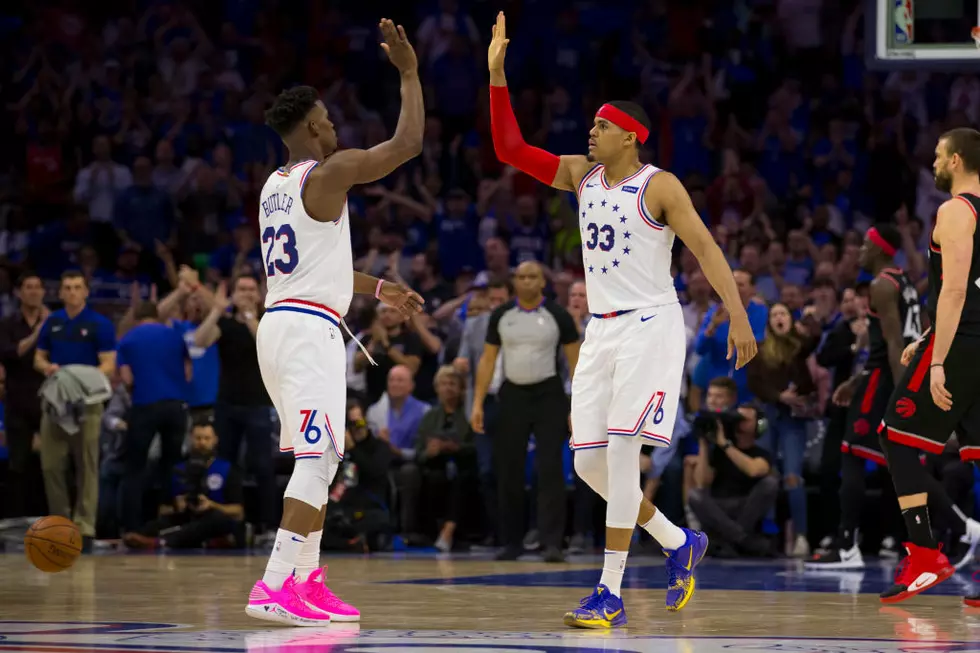 Experts Predict Sixers Land Tobias Harris, Jimmy Butler Again
Mitchell Leff, Getty Images
Will the Sixers get their playoff leader Jimmy Butler back for 2019 and beyond? How about their midseason acquisition, Tobias Harris? What about both? That's been the ongoing questions ever since the Sixers were defeated in a thrilling Game Seven against the Toronto Raptors. Many want the Sixers to 'run it back' with the squad that they had so little time to work with. But as we know, the NBA is a business first.
Sixers General Manager Elton Brand had one plan in mind when he made his moves during the 2018-2019 season. His plan was to win a championship. When that's the case, contract length doesn't hold too much weight. Knowing that crucial guys like Jimmy Butler, Tobias Harris, Boban Marjanovic, and Mike Scott were on the final years of their deals didn't matter. It was win today, worry about the future tomorrow.
Well, the future is here, and now the Sixers have to come away from the 2019 offseason with a few big names on board. Preferably, Harris and Butler. It won't be easy, though. While the Sixers are in the best position to land both guys, multiple reports indicate that Harris and Butler will test the open market. And it sure sounds like they are gaining some notable interest from select teams.
For Butler, he could find himself getting some interest from the Los Angeles Lakers, Los Angeles Clippers, and the Houston Rockets. Harris, on the other hand, has been linked to the Brooklyn Nets, Sacramento Kings, Dallas Mavericks, and the Indiana Pacers. We won't know what will happen for sure until free agency begins this weekend, but so far, the experts at ESPN believe there's a good chance they both return to Philly.
"In February, keeping Tobias Harris but losing Jimmy Butler was the top choice at 63.9%. Since then, Butler's clutch showing in the postseason has made him look crucial to the Philadelphia 76ers' offense."

 

"The Houston Rockets will make a run at recruiting Butler for a sign-and-trade, according to a report by ESPN's Adrian Wojnarowski, though even if Butler is interested the cap mechanics there are complex."
Recently, ESPN had a handful of experts make their predictions on where some of the NBA's top free agents would land, and Butler and Harris found themselves linked together on the list. Assuming the Sixers want to try and retain as many of their starters as possible (it has been confirmed that they do) then ESPN believes there's a good chance of that happening.
According to their involved experts, 46.7-percent of the panel voted for Harris and Butler returning to the 76ers next season. The second-favorite happened to be the Sixers getting Harris back but losing Butler at 26.7-percent.
Although more believed there's a better chance that Harris stays by himself, rather than Butler staying by himself -- the results weren't too lopsided in that case. 23.3-percent voted for Butler remaining in Philly without Harris. What're the chances they both find a new home? Apparently slim. Only 3.3-percent of the experts voted that both guys would leave.
Justin Grasso covers the Philadelphia 76ers for South Jersey's 97.3 ESPN. You can follow Justin on Twitter: @JGrasso_