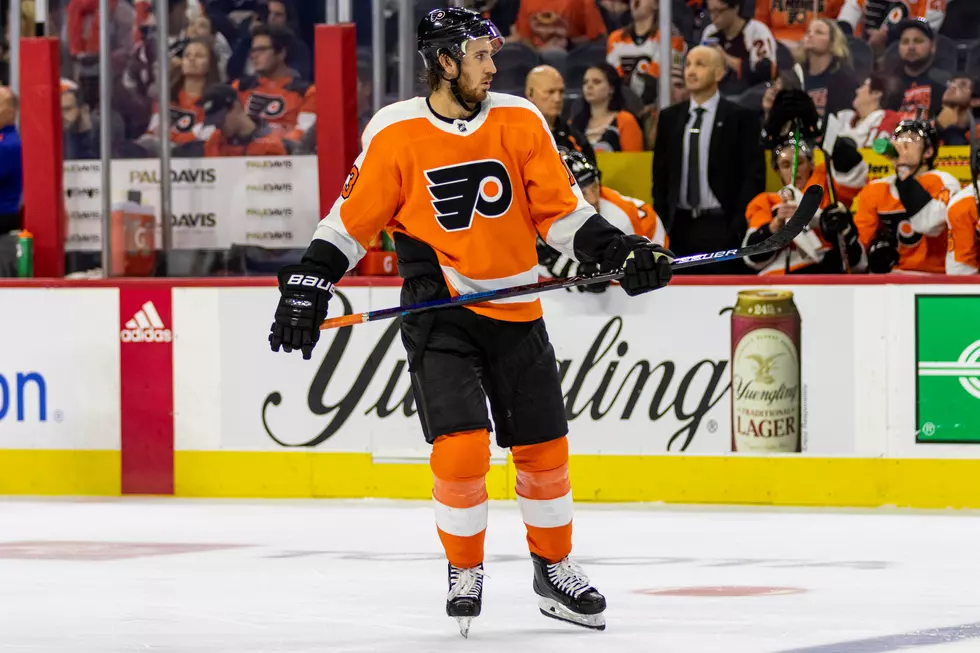 Flyers-Islanders Observations: Teachable Moments for Flyers
(Mike Kruce/97.3 ESPN)
There were certainly some blemishes in the Flyers first game of the preseason, a 3-1 loss to the Islanders on Monday night. They gave up the first goal early in the game. They struggled to generate chances on the power play, getting two first-period opportunities and two late third-period opportunities. They allowed the Islanders to have four power plays, including a 1:55 5-on-3.
It's all part of the growing pains that are expected at this time of year. Remember, it's the preseason.
After three solid skates at practice, the Flyers did appear to put some of that work into action, but for Alain Vigneault, there was more of an opportunity to learn and grow from this first game experience.
"I have got quite a few teachable moments from this game," Vigneault said. "I really like that our second. I thought we played a better tempo, a better North-South type of game. We made their defense turn a little bit more and used our size down low. In exhibition, you're going to get some of this where the execution is a little off. It's quite normal. It's the first game. Players have to get their timing. Players have to get their execution."
Here are a few observations from the Flyers preseason-opening loss to the Islanders.
Vigneault had said during camp that he liked the look of Kevin Hayes' line and it delivered a solid debut on Monday. Hayes showcased his puck protection skills well and used it to help set up the Flyers only goal.
"That is what I pride myself on," Hayes said. "I am not a horrible skater, but I'm not the best skater. So, I need to get an upper hand somehow and that is the stuff I work on in the summer. It is a little different when you're practicing compared to game time, but like I said, it was a sloppy first game but as the game got going, I thought both teams got better."
Hayes got an assist on the only goal, feeding a pass through the slot to Jake Voracek, who corralled it and went back across to James van Riemsdyk. It was a glimpse of some of the offense the Flyers depth could be capable of.
During the preseason, you don't see many veterans play, but this line, for their first game action, was very good.
It was not the best game for Phil Myers, taking two penalties, but outside of that, he continued to show how smooth a skater he is.
There were a few games in previous preseasons where Myers looked outmatched against NHL talent. With 21 games of NHL experience, Myers certainly looks the part now.
A notable moment that showed this came in the third period. Myers took a shot from the blue line that was blocked. In many cases last season, this was a spot where the opposition would gain control and go the other way with an odd-man rush, and it had all the makings of one. Myers used big strides to get back and disrupt the play in the neutral zone. No harm done.
Myers figures to be a key part of the Flyers defense this season, even with the limited NHL experience. His first game wasn't perfect, but he was solid.
It's not ideal to take so many penalties that allow the opponent to have four power-play chances, including a 1:55 5-on-3, but the Flyers penalty kill answered the call.
In particular, the additions of Hayes and Justin Braun appear to have helped the penalty kill, at least in the early going. Braun is very good at using his stick to disrupt plays. Hayes had some effective plays on the puck to regain possession and get clears.
It's still early, but getting some PK work in during a game setting, especially after not working on it much during the early practices, was a benefit.
"You haven't killed a penalty in a few months now. Just getting out there and getting the feel of it again, get the general system down," Braun said. "I think that's the hardest thing in PK, you have to get the system down. If one guy screws up, the whole thing falls apart. I thought the guys did a good job of keeping it in the system."
If there were any prospects that everyone was watching, it was Joel Farabee and Isaac Ratcliffe. Farabee's first game was not the best, but he had some moments and didn't look out of place. Vigneault credited the Islanders defense for effectively keeping Farabee quiet at times during the game.
"I was pretty nervous heading in, so I thought I was fumbling the pucks a bit but when I got it," Farabee said. "I was a little nervous with the puck and I got to be better but we'll go from there, watch some video and go from there."
"I think everyone can see the skill set. I didn't think he was as good tonight as what I've seen, but some of that comes from the opposition," Vigneault said. "I like that kid. I like his skill level. I like that he can play in tight. I think we got a good young player there."
Ratcliffe blended in a lot more and wasn't nearly as noticeable. At times, he was easily overpowered by the opposition or a step too slow in certain plays. He also took two penalties in the game, which certainly limited his ice time.
There were a few players that had solid games that don't have the same kind of probability of making the team, but made a good impression. The guy at the top of that list was Egor Zamula.
Zamula is a lot like Myers, an undrafted free agent who even plays a similar game from the left side. Zamula has a smooth skating stride, was decent in tight quarters and did well in battles.
Other players that had a solid night were German Rubtsov, who was heavily involved on the forecheck and made a few really good reads. Kyle Criscuolo and Cal O'Reilly also had decent games, as they figure to be solid veteran additions to the Phantoms this season.