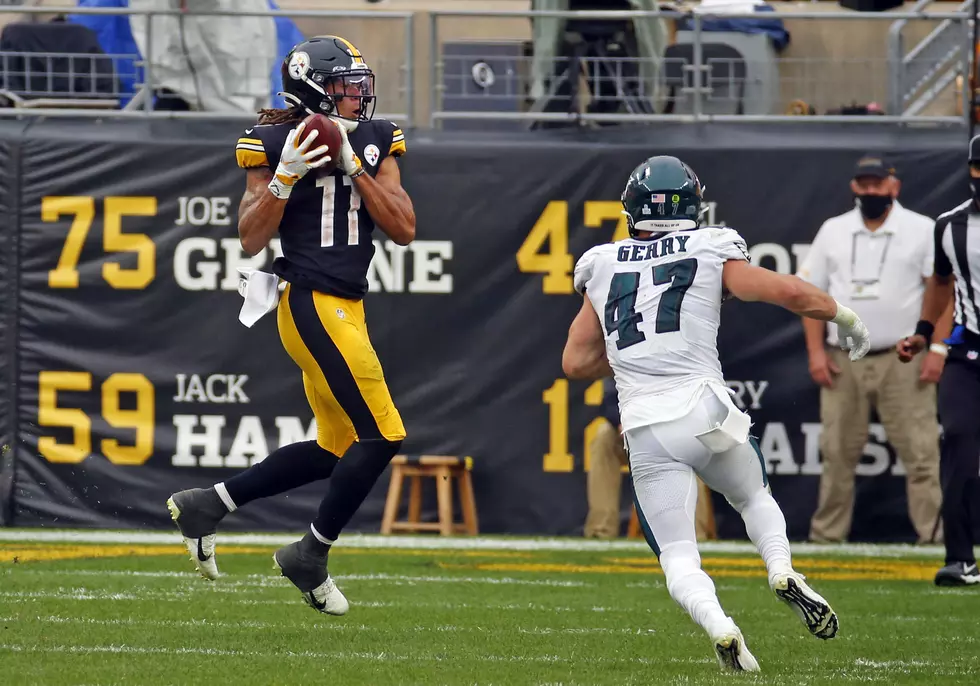 Grayson's Grades: Eagles at Steelers
Getty Images
The Philadelphia Eagles nearly handed the Pittsburgh Steelers their first loss of the season, but a rookie named Chase Claypool ultimately did them in. His four touchdowns were a big part of the 38-29 loss to the Steelers.
One bright spot in the loss was clearly the emergence of Travis Fulgham as a household name. He was the Eagles leading receiver and appears to be gaining the confidence of his Quarterback.
It's time to take a look at this week's report card before we close the book on week five.
Travis Fulgham - In two games Fulgham has emerged as Wentz' primary threat at receiver. Fulgham made some great catches in this game and had a career day. He caught ten passes for 152 yards and a touchdown. Barring a surprising fall from grace, it would appear Fulgham is taking a roster spot from someone once Alshon Jefferey, DeSean Jackson and Jalen Reagor return. Some would say Fulgham should take J.J. Arcega-Whiteside's spot. Others would say he should take Greg Ward's spot. I would argue that Fulgham is making it easier for the Eagles to try and trade Jefferey once he gets healthy. One thing is for sure, Fulgham has been fun to watch.
Miles Sanders - Sanders showed his speed and ability to hit a homerun when he racked up 74 yards on a huge touchdown run. However, he managed to gain just six yards on his ten other carries in the game. He had little running room as holes either did not appear or closed very quickly. I would like to see Sanders used more out of the backfield as a receiver. His speed clearly is a big asset and it seems he should get a couple of chances on screen passes. Sanders finished the game with 80 rush yards on 11 carries and two touchdowns. He added two receptions for 19 yards.
Duke Riley - I thought Riley did a nice job making some plays. He forced a crucial fumble that the Eagles recovered. He also led the team in tackles with 13. Riley did a nice job in this game of having a nose for the ball and the ball carrier. He needs to continue to build on that in the coming weeks for this defense to find more success. On top of his 13 tackles, Riley also had a tackle for a loss.
Offensive Line - The Offensive Line allowed five sacks, but don't deserve all of the blame for those five sacks. Wentz held onto the ball too long and could have avoided some of them. The O-Line did not do a good job of trying to create holes for the running attack. They did block well on the 74-yard touchdown run by Miles Sanders, but other than that there were not many holes for the Running Backs to run through. If you take the long touchdown run away, the Eagles managed just 20 rushing yards on 15 carries.
Carson Wentz - Wentz played yet another game without his top three receivers and a patchwork offensive line. Despite that, he failed to connect on deep passes where his receiver had a step or two. Wentz also once again held onto the ball too long and took sacks that could have been prevented by throwing the ball away. He also added to his interception total for the season. On the bright side, Wentz is starting to develop some chemistry and confidence in Travis Fulgham. Wentz finished the game completing 20 of 35 passes for 258 yards and two touchdowns with two interceptions.
Doug Pederson - Pederson nearly stole another win due to his aggressive nature. Had Jake Elliott made the 57-yard field goal attempt late in the fourth quarter, the Eagles would have had a one-point lead because of a successful two-point conversion attempt. While that decision was a good one, his play-calling was once again suspect. Pederson called a balanced attack last week against San Francisco and won. He seemed to abandon the run later in the game going with just 16 running plays compared to 36 pass plays. Pederson did manage to score 29 points which sadly was not enough points to win. His offense again turned it over and needs to do a better job of protecting the ball. Ultimately, Pederson's job would be a lot easier by getting some of his weapons healthier. He also needs to find a way to get Zach Ertz more than one catch.
Defensive Line - The defensive line will be such a key part in wins and losses this season. When this team wins, it will be because the D-Line gets to the Quarterback and stuffs the run. Many times when this team loses it will be because the D-Line fails to pressure the Quarterback and stop the run. That was the case this time as the Steelers found themselves in a lot of third and manageable situations leading to plenty of third down conversions. The Eagles gave up 136 yards on the ground and allowed Roethlisberger time to throw. He completed 27 of 34 passes for 239 yards and three touchdowns.
Jalen Mills - Mills did not have a good game. He struggled in coverage and was beat multiple times. He recently returned to corner due to injuries at that position after playing safety the first few games. Mills struggled in coverage last season as well. With Darius Slay able to be a lockdown corner on one side, Mills should have help more often than not. He tied for second on the team with eight tackles.
Zach Ertz - Ertz is the focal point of the opposing defense and the player it seems the opponent wants to take away. Without Jeffery, Jackson and Reagor he is an easy option to focus on and take away. However, with Ertz demanding a contract extension earlier this season, he needs to find a way to get open. Ertz was targeted six times and recorded just one catch for six yards. I love Ertz and what he means to this team, but the Eagles are not going to win many games with him getting just one catch.
Jim Schwartz - Schwartz had his defense playing well the past two weeks recording 13 sacks in those two games. The thing that bothered me during this game was the lack of adjustments. Clearly the Steelers were looking to run the ball with end arounds. Also, Roethlisberger was settling on his rookie receiver Chase Claypool and there was no adjustment made to start taking him away from the Steelers offense. On the Steelers final touchdown, Claypool appeared to beat Nate Gerry for the score. How is it possible that Gerry is covering Claypool when Gerry has shown that he cannot cover anyone downfield. Another problem for the Eagles was getting off the field. The Steelers converted 11 of 15 third-down attempts. Sure, the Eagles were hurt by some questionable penalties called against them. They registered just one sack and did get one big turnover, but failed to get a stop when they needed it most.
Nate Gerry - I find it hard to blame Nate Gerry entirely for getting beat on a crucial touchdown late in the game. He has struggled heavily in coverage, especially downfield. Gerry has been beat by several opponents on those routes. For those reasons, it seems obvious that Jim Schwartz should do everything he can to avoid Gerry being forced into covering downfield. However, when the Steelers needed a touchdown to put the game away, they drew Gerry into coverage of Claypool and scored. Gerry has other strengths and managed seven tackles in the game.
Enter your number to get our free mobile app
Eagles First Round Draft Pick Busts