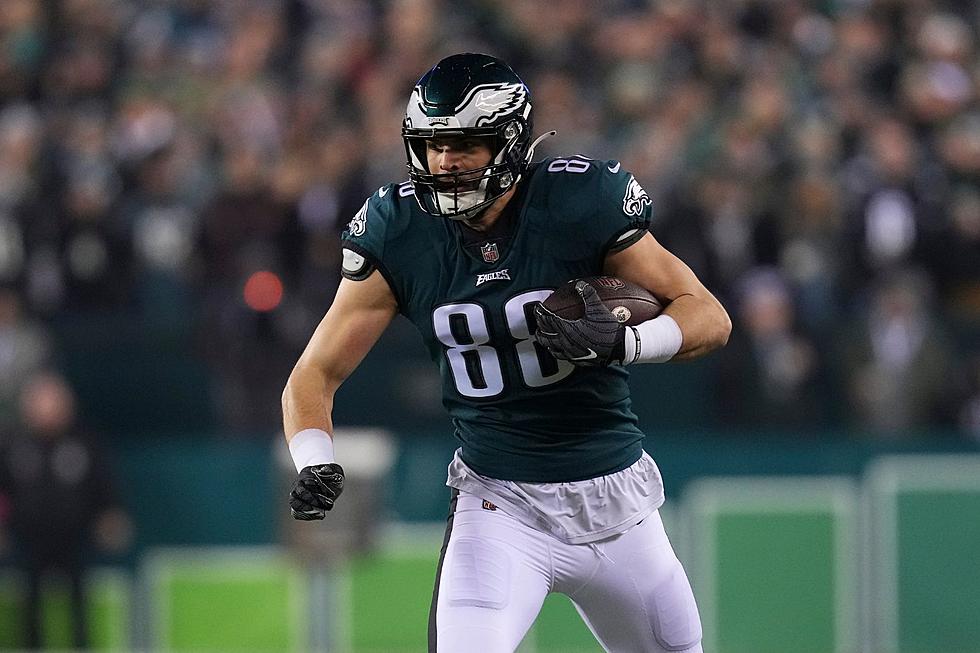 Is Dallas Goedert a Top Five Tight End in the NFL?
(Photo by Mitchell Leff/Getty Images)
Since being drafted by the Philadelphia Eagles in the second round of the 2018 NFL Draft, Dallas Goedert has been one of the most consistently productive Tight Ends in the NFL.  Goedert has four straight seasons of at least 45 catches and three of his five NFL seasons has compiled 600 Receiving Yards or more.
ESPN+ published their yearly survey results after speaking with NFL League Executives, Coaches, Scouts, and Players, totaling 80 voters who submit their ballots for the top ten players at every position group.  These voters ranked three Eagles Offensive Lineman in their top ten lists, recognized two Eagles Wide Receivers in their rankings, and one Eagles Cornerback was rated the fifth best CB in the NFL.  So what about the Eagles' Tight End entering his sixth season in the NFL?  The voters surveyed ranked Goedert as the fourth best in his position group:
Goedert has long been one of the game's most underrated tight ends, and his work with Jalen Hurts last year brings him closer to the forefront.  Last season, Goedert led all tight ends in yards after catch per reception (7.8). Hurts posted a 93 QBR with 10 yards per attempt when targeting Goedert, who is also known for his blocking prowess.
"Probably the most well-rounded of all the tight ends," an AFC scout said. "He's probably one of few guys who ranks highly in every phase -- size, athleticism, speed and blocking make him rare."
An NFC exec said: "He has developed into a real mismatch in the passing game. It's been fun to watch how [the Eagles] have used him the last two years."
Despite having not received any All-Pro Team or Pro Bowl Roster selections, it is clear that Goerdert is highly respected around the NFL.  Remember that most of the All-Pro voting involves Football Writers and Sports Journalists while Pro Bowl is basically a haphazard popularity contest.  So considering that NFL Executives, Coaches, and Scouts see Dallas Goedert as the fourth-best Tight End in the league should carry real significance as the Eagles get ready for the 2023 season.
Look Back at Past Philadelphia Eagles' Uniforms
We have your look back over the decades of Eagles' uniforms.