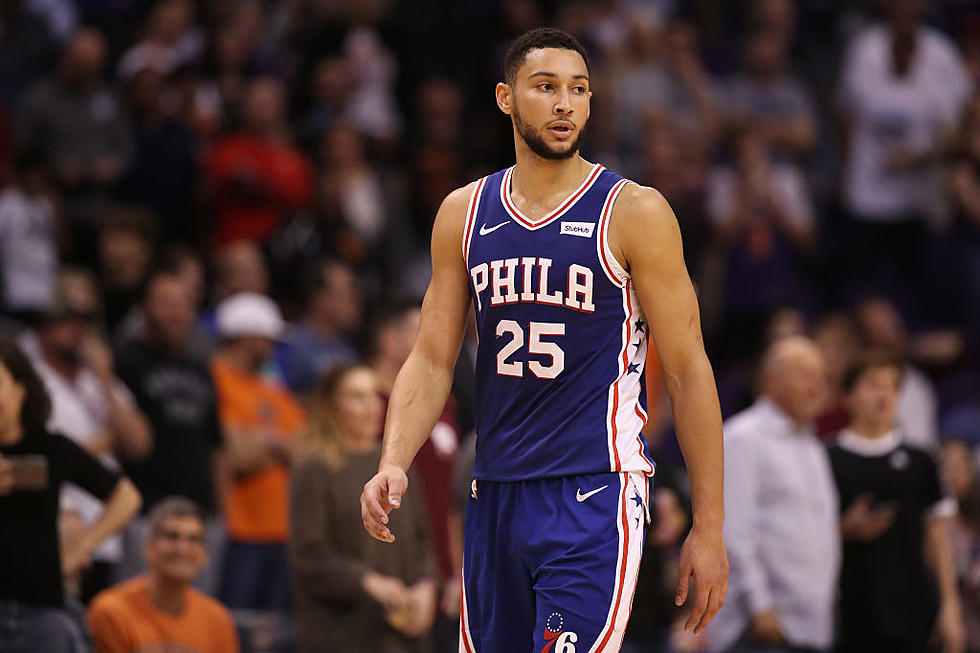 It's Time to Alter Expectations for Ben Simmons
Photo by Christian Petersen/Getty Images
When the Sixers didn't pull the trigger on a rumored deal that would have sent Ben Simmons to Houston in exchange for James Harden, Sixers fans all over the Delaware Valley who have become increasingly disenchanted with Simmons, let their frustrations be heard.
While it's understandable to be frustrated by Simmons, who has immense talent, its also okay to alter your expectations for him.
Enter your number to get our free mobile app
We live in a world where anyone with a pulpit, a twitter handle, YouTube channel, or some sort of social media outlet, can brand whatever message they want for as long as they want.
The more you push your message, the more people will believe you.
When Simmons entered the 2016 NBA Draft, after just one season at LSU, we were told by draft experts and people who cover the league that Simmons was the sure-fire franchise changing player with generational talent.
That message molded Sixers fans expectations, and Simmons has been unable to meet them.
These were his strengths from his NBA Draft profile from the website NBADraft.net:
An extremely unique talent, combining power forward size and strength, with point guard vision and passing skills … Has the size, physical gifts and skill to defend and play all five positions at the next level, ideal for the emphasis on "positionless basketball" … Highly unselfish, team oriented player
These were his weaknesses:
Despite being a good scorer, he lacks a reliable jumpshot … His form doesn't have any glaring mechanical flaws, but it's apparent that it's the one element of his game that he isn't completely confident in … Can have scoring droughts in games related to both his confidence in his shot, and unselfishness
They weren't wrong.
But its time to alter expectations, and that's fine.
Those same draft experts told fans not to expect Simmons to shoot much, but many fans didn't want to listen to that.  In the world we live in today, many fans only choose to consume the information they want to hear, not the full story.  Most fans heard Simmons was a game-changing player, ignoring the questions about his shooting.
In a world where fantasy stats mean more than real life wins and losses, Simmons points per game does't move the needle. This season he is scoring a career low 12.4 points per game, dropping from 16.4 in 2020.  And while it would be nice to see him score more, he still impacts a game on most nights in a positive way.
This season will be interesting to analyze with a full season of playing with guys like Seth Curry, Danny Green and the emerging Shake Milton and Tyrese Maxey.  Adding Curry and Green has given Simmons more of a clear path to the basket.  Defenders who used to be able to sag and form a wall in front of Simmons, not have to step out to the three-point line, for fear for Curry and Green knocking down open looks, something previous teammates were unable to do.
With Curry out the past few games, Simmons again has struggled to find the clear path to the rim, altering the way teams are choosing to defend the Sixers.  Without the spacing Curry and Green create together, Simmons is going to be frustrating to watch if you are expecting him to score a lot of points.
With Curry and Green together on the floor with Simmons, teams are forced to either step out and play the reputable 3-point shooters, or close the lane for Simmons.  What makes Simmons so hard to defend in these situations is he has such good vision, when the defense focus on him, he finds the right player, who often gets wide-open looks, looks guys like Josh Richardson, Al Horford and others could not consistently hit.
When the Chicago Bulls won the second of their three NBA titles, they did it with three Hall of Fame players. Michael Jordan, Scottie Pippen and Dennis Rodman.
During Rodman's three championship seasons with the Bulls he averaged 5.2 points per game. but a eye-popping 15.3 rebounds per night.
Simmons averages eight assists per night, and if all those assists resulted in two point buckets, he is accounting for another 16 points on top of the points her scores. His career scoring average is 16.2 points, which mean he accounts for at least 32 points per game.
Fans will cite that the Sixers lost a lot of games to get a player like Simmons, which is accurate, but they have a game-changing player - Joel Embiid. Now its time for fans to view Simmons as the Sixers version of Rodman, instead of waiting for him to become Jordan.
Many times draft status and contractual obligations help formulate what we think a player should be.  However, we have a large enough sample size to see that just because we were told Simmons was going to be great, he was drafted No. 1 overall and he signed a big contract, doesn't mean he is all the sudden going to start banging jumpers all over the court and score 25 points per night.
It's just not what we were told.
Those people had every right to tell us what they thought he might be, and they weren't really wrong.  Simmons is a player who can dominate games, without scoring the basketball.  It's just not how most basketball fans view their superstar players.  Players who don't score are generally viewed as role players, but in the NBA role players don't make All-Star games, they change games.  All-Star players don't always change franchises, but they can be a big reason why teams win.
Fans often don't like to hear about what Simmons brings with his defense, assists, rebounding, and yes even his ability to score.
They want points. Maybe Simmons is just a Rodmnan.
Now its time for them to find their Pippen for Embiid.
Sixers First-Round Picks Since 2000