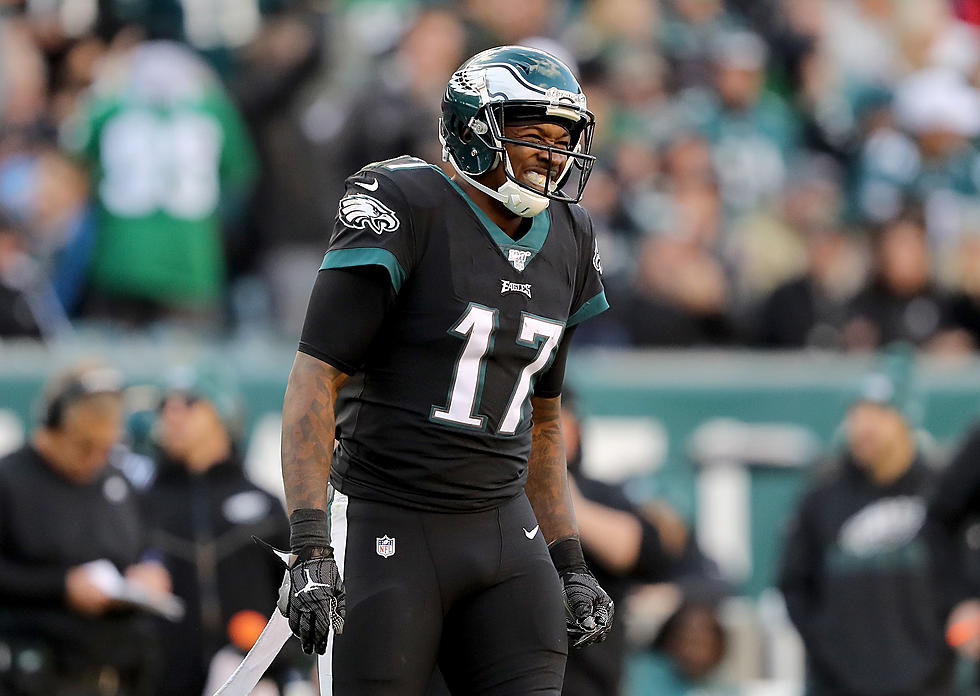 Jeffery to Have Surgery, Faces Extended Rehab
(Photo by Elsa/Getty Images)
PHILADELPHIA (973espn.com) - Eagles coach Doug Pederson confirmed Friday that Alshon Jeffery would need surgery for the Lisfranc injury he suffered in Monday night's win against the New York Giants.
Jeffery was injured coming off the line of scrimmage in a non-contact fashion and was officially shut down on Thursday when Philadelphia placed him on injured reserve and elevated Rob Davis from the practice squad.
Pederson intimated that Jeffery would have the procedure relatively quicky to start what is expected to be an extended rehab process.
"I think so," Pederson said when asked how quickly the surgery would come. "He would want to get it done quickly so he can get on the rehab schedule."
Pederson did not address any potential timetables but a medical source tells 973espn.com that the best case with this type of surgery is around nine months, especially for a player who is at an explosive position like receiver.
The Eagles have had a host of Lisfranc injuries this season, including defensive tackle Malik Jackson and cornerback Cre'Von LeBlanc. The former needed surgery after suffering a break in Week 1 and just recently graduated from a roll-about with Jackson telling 973espn.com that he hopes to be running again by later this month or early January. Jackson is still in a walking boot, however.
LeBlanc injured his foot in training camp and was placed on injured resreve to start the season but returned on Dec. 1 in Miami, incdicating his injury was a sprain, not a break.
-John McMullen covers the Eagles and the NFL for 973espn.com. You can reach him at jmcmullen44@gmail.com or on Twitter @JFMcMullen