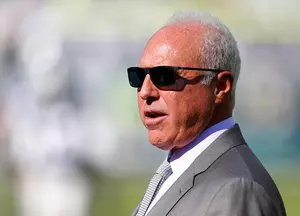 Jeffrey Lurie's 'Collaborative' Draft Universe Fuels Eagles Success
Rich Schultz /Getty Images
PHILADELPHIA (973espn.com) - Howie Roseman and Joe Douglas are at the top of the food chain when it comes to the Eagles and personnel matters but when discussing the NFL Draft, the organization's philosophy starts even farther up the flow chart at the NovaCare Complex.
Owner Jeffrey Lurie sets the tone for the Eagles in April, according to Roseman, Lurie's top lieutenant on the football side and the man ultimately responsible for the final decisions in Philadelphia's draft room.
"It starts with Jeffrey and Jeffrey is big on having collaboration and wanting to hear everyone's voice and their opinions," Roseman said at his annual pre-draft press conference with Douglas on Tuesday. "When you have an owner who fosters that kind of dynamic and gets everyone in a room and says 'I want to hear what you're saying' whether you're on the coaching staff, in the front office, personnel, whether you're in analytics. It's our job to follow [Lurie] and his lead."
The draft has become a year-round endeavor for all NFL teams and the heavy lifting in Philadelphia is left to the VP of player personnel, Douglas, and his department.
Typically teams can have six or more reports on certain players of interest and the final grade is a culmination of each report and each voice that made them.
"It's our responsibility to hire people who aren't afraid to have difference of opinions but at the same time when we make a decision to walk out of that room and all be aligned," Roseman explained.
A key aspect in getting to know a player are the top-30 visits which the Eagles completed this week.
"It's the difference between going out to dinner with someone and bringing them into your home," Roseman said of prospects visiting South Philadelphia.
If a consensus still isn't reached by the draft the buck has to stop somewhere and the de facto GM with the Eagles remains Roseman. However, his decisions are based on the information provided to him by the village who have offered up their particular opinions on a certain prospect in Lurie's collaborative universe.
"There are times that we make a decision and people had different opinions," Roseman admitted. "... There are times where we make a decision where maybe I'm the minority voice in doing something else but we have a lot of trust in each other and the reason for that is we've had success on the field.
"When you have success on the field people start feeling more confident about the process and the way you do things. It's fun."
Things rarely get heated according to Douglas but both Roseman and his veteran personnel man did admit things can get passionate, albeit with one common goal in mind.
"There's no doubt. When there is passion, there's passion," Roseman interjected before Douglas responded with laughter, "there's passion."
"I don't think any of these discussions have gotten crazy heated but there is a mutual respect because everyone has done the work, everybody has put their time in," Douglas insisted. "Everybody has been able to check their ego at the door and just come to the best solution for the Philadelphia Eagles."
-John McMullen covers the Eagles and the NFL for 973espn.com. You can reach him at jmcmullen44@gmail.com or on Twitter @JFMcMullen