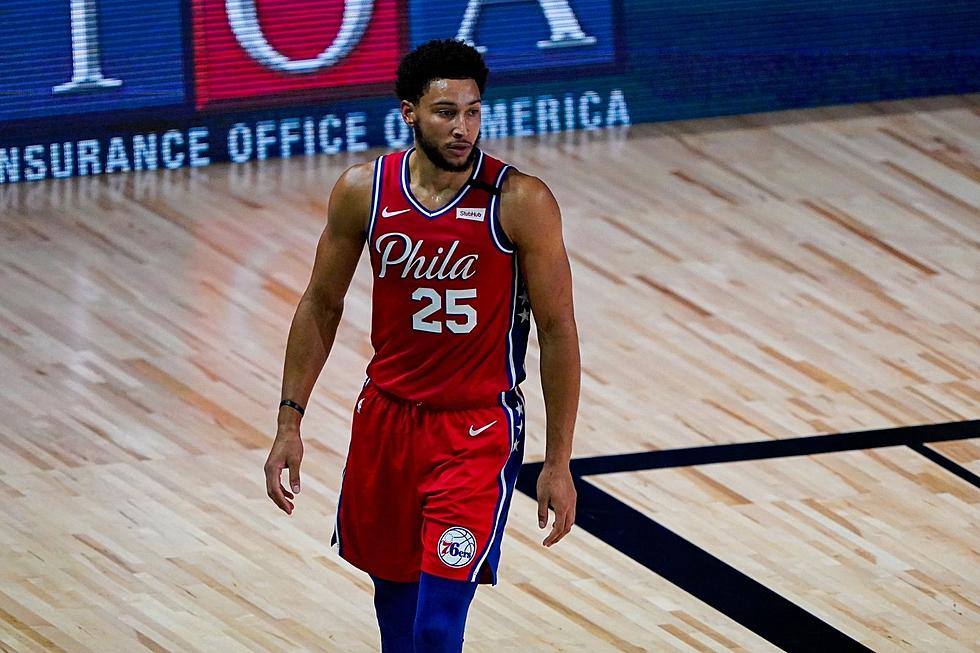 Latest on what teams could be interested in trading for Simmons
(Photo by Ashley Landis-Pool/Getty Images)
For many people, Christmas Day for the NBA is what Memorial Day Weekend is for MLB: the real start to the season when people get really serious about what the league and their teams are doing.  So it should be no surprise that ESPN NBA Insider Adrian Wojnarowski on Christmas Day had an update on the Sixers-Ben Simmons situation and he names teams that could be re-engaging Philadelphia in trade talks:
"Certainly all of the COVID-19 issues around (the NBA) has cooled a lot of the trade talk around the league but as player start to get back (and) teams get their rosters back, Ben Simmons (situation in) Philadelphia (is) I think you'll see the Sixers start to re-engage teams.  Certainly he is no closer to agreeing to come back to play with the Sixers this season and they don't have any real traction on a trade yet.  The (NBA) Trade Deadline is February 10th and you can expect teams who have been engaged with Philadelphia previously (for example)  Indiana, Sacramento, Minnesota, among them (to be involved).  But here's an interesting team to watch: the Cleveland Cavaliers who before they went on this really incredible start to the season had been engaged with Philadelphia on (Ben) Simmons.  (Cavs) have got some really intriguing assets either in a straight deal with Philly or perhaps a three-or-four team deal. - This is a team in Cleveland that is just a game out of third place (in the Eastern Conference standings), Philadelphia is a team right now in that bunch up East (standings) who could be out of the (NBA) Play-In (Tournament) with a couple of losses....So expect Philadelphia to start talking more with teams as we start getting closer to that February 10th (NBA Trade) Deadline and it will be interesting to see if Cleveland re-engages.  (Cleveland) is a team that is build for some long term success with all of their young players; Ben Simmons is only 25 years old (and) he does fit into the timeline of that team."
This is a very logical report because, as Woj points out, NBA teams have been more focused lately on having players on the floor to play games than making trades.  So with the changes in the NBA COVID-19 Protocols combined with more players returning from their COVID absences, the next several weeks should re-open the door for many trade conversations around the league.
After naming a few teams who have expressed interest in Ben Simmons, including the Minnesota Timberwolves which has been previously reported by Bally Sports NBA Insider Brandon "Scoop B" Robinson when he spoke to 973 ESPN, Woj zeros in on the Cleveland Cavaliers who are currently three games ahead of the Sixers in the Eastern Conference standings.  While Woj is right that the Cavs do have a roster full of young talent and interesting trade assets, there are two issues to consider:
1. None of the players on the Cavaliers roster fit into the mold of what has been previously reported that Sixers' President of Basketball Operations Daryl Morey wants: a top 25 type of player.  Kevin Love is past his prime, Darius Garland and Colin Sexton are All-Star Caliber but not elite talent-type players, while Jarrett Allen would be duplicitous with what the Sixers already have with Joel Embiid and Andre Drummond.
2. Aside from Kevin Love, no contracts on the Cavaliers are close to matching Ben Simmons, and even if Cleveland packaged Lauri Markkanen (15.69 Million), Darius Garland (7 Million), and Collin Sexton (6.35 Million) that is still about four million short of Ben Simmons Base Salary (just over 33 Million) for this season.
I have said this multiple times over the last couple months, I'm convinced that any trade that involves Ben Simmons leaving Philadelphia will take three to four teams getting involved in a larger transaction with numerous players being moved.  That's part of the reason when I wrote about Four Players the Sixers could trade not named Ben Simmons, these are all players on the current Philadelphia roster who could be used in the type of three or four-team deal that Woj and other NBA Insiders have mentioned when talking about the 76ers and Ben Simmons.
Top Ten Rebounders in Sixers Franchise History