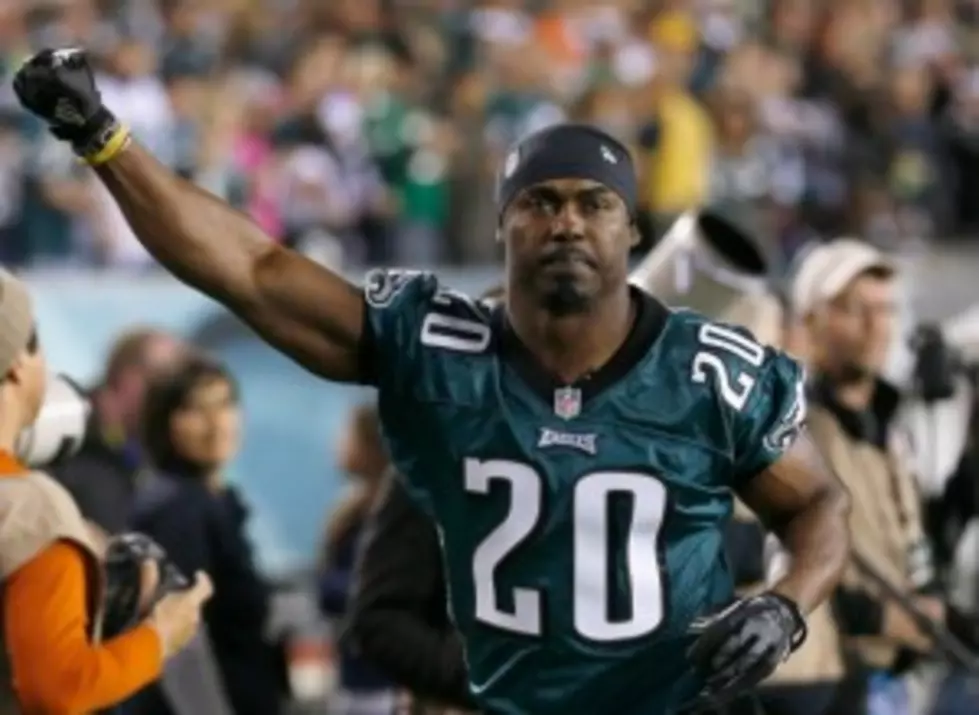 Messick's Monday Musings on Dawkins, Vick and More
Former Philadelphia Eagles safety Brian Dawkins acknowledges the crowd after being introduced before the start of the Eagles and New York Giants game at Lincoln Financial Field on September 30, 2012 in Philadelphia, Pennsylvania. (Photo by Rob Carr/Getty Images)
1. Idiot Man, Once More – Last night was one of those special nights to cover as the Eagles honored legendary safety Brian Dawkins by retiring his number 20. It's rare to be able to refer to someone as legendary the year after they've retired, but it's no stretch at all with Dawkins.
Given that I've only been covering the Eagles for three seasons, my experience watching Dawkins was during my time growing up as a fan. Many a Sunday's were spent yelling along with Dawkins after he made a big play, so it was a thrill to hear him fire up the crowd with his halftime speech and watch him come darting out of the tunnel during player introductions.
Dawkins donned his number 20 and his alter-ego as he was announced at the end of player introductions, shooting out of the tunnel in his recognizable part-crawl, part-sprint, part-dance, hands clawing at the grass and muscles still bulging from an Eagles jersey.
He looked like he could play.
I'm grateful that as a kid growing up outside of Philadelphia, I was blessed with the opportunity to watch a player who personifies everything that makes football the greatest sport in the world. The passion, the physicality, the ability to outwork an opponent and exert your will on a game. Dawkins embodied those things on the field and perhaps even more importantly, was a tremendous person off the field.
That is what separates Dawkins from other passionate, talented defenders like Ray Lewis. Whether or not Lewis was truly involved in the violence that occurred outside an Atlanta night club after a Super Bowl party in 2000, his reputation was tarnished.
I'd never want to go across the middle on Brian Dawkins, but if I were walking into a dark alley I'd be thrilled to run into him.  He put his class and passion on display last night, thanking the fans of Philadelphia.
"Thank you, thank you," Dawkins said. "I'd like to thank you from the rock bottom of my heart...I'd like to thank all of you fans, for allowing me to be me. To act a fool when I wanted to, to lose my mind when I wanted to, to go out and give everything that I got.
"I can retire now because I know I left everything I got on this doggone field."
Andy Reid said it last night as well as I could have.
"If he doesn't get into the Hall of Fame, I don't know who should."
Quite frankly, I don't know if I'd have ever developed my love affair with the game of football if not for Dawkins playing in Philadelphia.
So thank you, Brian, from the rock bottom of my heart.
2. Vick 2.0? 3.0? Regardless, he was very good – Michael Vick had his best game since at least the middle of last season, making strong decisions and taking care of the football.  That led to the Eagles first game without a turnover since Week 8 last year, when they beat the Cowboys 34-7.
Vick might have been most impressive in tacking a pair of sacks in the red zone, both on third downs and both to preserve field goal opportunities.  In the first three weeks, he had similar plays and took chances to try to put touchdowns on the board, risking (and committing) turnovers.
3. Eagles May Have a Special Team – This has the chance to be a special team for the Eagles, who are currently ranked seventh defensively in total yardage and are tied for 11th in scoring defense despite a pair of defensive touchdowns against.
The Eagles are the only team in the top 10 in both offensive yardage and defensive yardage, outgaining their opponents by an average of 119.6 yards per game.
4. But Not so Special Teams – The Eagles survived special teams issues to win last night, as the Giants had significantly better field position off of kickoffs – their own 33-yardline compared to the Eagles own 19.
The Birds were without two of their best special teamers due to injuries – Colt Anderson and Akeem Jordan – but still must find ways to improve, or they'll struggle to win games with such lopsided field position.
5. Will the Real Nnamdi Asomugha Please Stand Up? – The Eagles continue to have issues with wide receivers getting behind superstar cornerback Nnamdi Asomugha, who said last night that he hadn't been beaten on a ball over the top to Ramses Barden – he was supposed to have help over the top and trail in coverage.
The Eagles have had a long time to figure things out with Asomugha and they're either mis-using him or he's not as good as he was in Oakland.  I'm more likely to think that they're not using him properly.
6. Rex Ryan and the Jets – My thoughts on Mark Sanchez and Tim Tebow are well stated, but how refreshing was it to hear Rex Ryan's postgame comments?
"I apologize for my language, because I was going to say we got our butt kicked, but really we gout our ass kicked," Ryan said. "There's no two ways, ins or outs about it.
"I don't know, turn the ball over four times, convert – here's the recipe for getting your ass kicked, all right? 2 for 13 on third down. That's 15 percent. Four turnovers. A blocked punt when they rush one guy. And giving up 245 yards rushing. How's that for a recipe?"
7. Who's Real, who's fake? – The Cardinals are 4-0 and the Vikings and Bengals are 3-1. So who is as good as the record shows?
Cardinals: Kevin Kolb has seven touchdowns and only two picks through a quarter of hte season. He's unlikely to finish the year with 28 touchdowns and only 8 interceptions, but their defense is legit.They're third in the league, giving up only 15.2 points per game. Arizona is for real.
Vikings: Don't get tricked. Two of their wins came over a pair of 1-3 teams in the Jaguars and Lions, while they did upset the 49ers. They also lost to the Colts, who are 1-2.
Bengals: They are a similar story, 3-1 after wins over the Browns, Redskins and Jaguars. Don't forget that 44-13 thrashing delivered by the Ravens, though.
8. The Kaepernick Effect? - Colin Kaepernick could be for the 49ers what Tim Tebow is supposed to be for the Jets. He's 6-foot-4, weighs 230 pounds and is impressively mobile.
9. Just in the Nick of Time – I'm sure Eagles fans weren't thrilled to find out that running back Rashard Mendenhall plans to make his return next week when the Birds visit the Steelers. He's only about nine months removed from ACL surgery, though, and admits that all of his speed and cutting ability have not fully returned.
10. Twitter Mailbag – Here are some questions from followers on Twitter. Follow me @Ryan_Messick.
@sully7896: "Do you think Asomugha's vision affected in him in any way on PI calls?"
No, but I do think it may have impacted him in the game in general as he admitted to not having his full vision back.  Most of all, though, I think that he would have had trouble tracking the pass toward the goal line on which Ramses Barden hauled him down, making that a very fortuitous penalty.
@disciple2000: "is [Brent] Celek the best catching and blocking TE in the game?"
No, but he's better than people realize and he is currently leading all tight ends with 315 yards, while his 18 catches are in the top 10 at the position.
While he is a good all around player at the position, you'd still take the all around talents of Rob Gronkowski, who is a capable blocker, over him – for one.
@GeoTechyFan: "Will Andy try to address the offense's red zone woes by acquiring a jump ball WR?"
No, if he wanted to do that he would have brought in Plaxico Burress in the offseason.  The Eagles will get some size back once wide receiver Riley Cooper is fully healthy, which should be within the next two weeks.