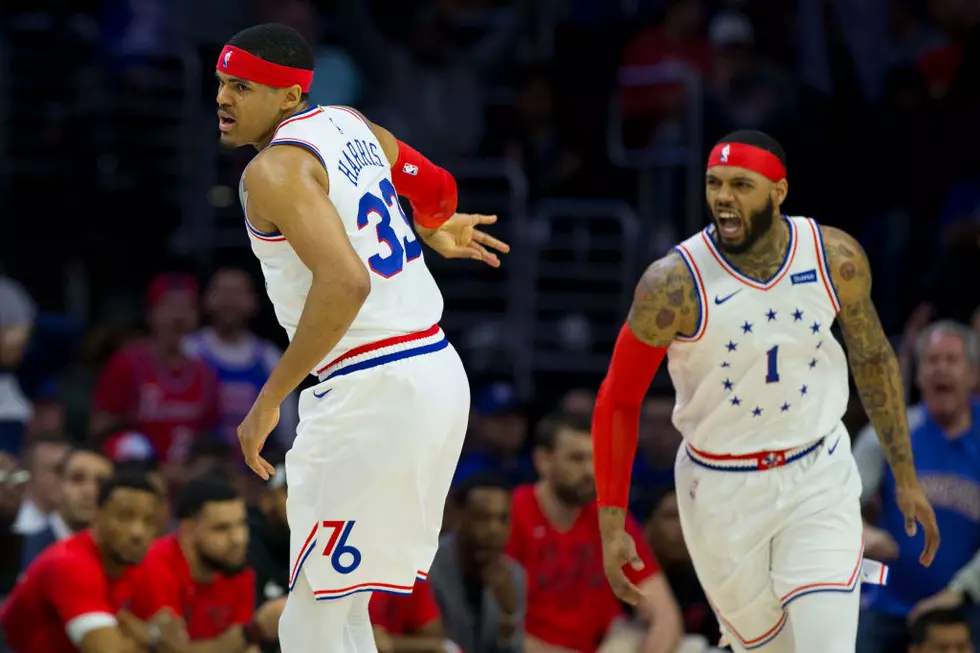 Mike Scott Details Friendly Competition With Tobias Harris
Mitchell Leff, Getty Images
CAMDEN, NJ (973espn.com) -- The Philadelphia 76ers are set to hit the road for the first time this week. After opening up the preseason against the Guangzhou Loong-Lions with a comfortable victory, the team is looking to shift their attention towards stiffer competition against an NBA opponent in the Charlotte Hornets.
It's been quite a while since the Sixers have had to hit the road as a team. With only two exhibition games thus far in Delaware and South Philly, the team is gearing up for their long stint of traveling city to city moving forward.
As you know, traveling can get quite expensive. But sometimes, select Sixers are able to earn themselves some extra cash for a road trip. Or what Mike Scott called on Thursday, another player's "per diem." And by another player, he specifically means Tobias Harris.
On Thursday, the Sixers wrapped up their final practice at their facility in Camden, New Jersey, before hitting the road for a second preseason game, which is set to take place on Friday. Before the road game, both Mike Scott and Tobias Harris put a little friendly wager on a post-practice competition.
As both players are known for their shooting, it comes as no surprise that the friendly battle features a three-point shooting contest. The winner earns bragging rights, while the loser has to cough up their "per diem" for the road trip. Harris and Scott went at it for the first time in 2019 on Thursday, and the winner was clear during media availability.
"I just want to say, I busted Tobias [Harris] [expletive] over there in shooting," Mike Scott mentions without a single question even being asked. "So shout out to Tobias Harris. He owes me his per diem for the trip so -- he's a great man -- I bust that [expletive] today, though"
Known never to be one to shy away from his thoughts, Mike Scott felt it was necessary to let the media know about one of the friendly competitions going on during this offseason. While this is the first battle of the season, Thursday's contest was not the first battle between Harris and Scott ever.
Although Scott was bragging about his "win by one spot," after practice, he did make sure to mention that Harris won against him last season. And when Scott won, he stuck by his word and coughed up the losing money for Harris. Therefore, he fully expects Harris to do the same this season.
That shouldn't be an issue for Tobias Harris, who signed a wealthy deal that's apparently within the $180 million range. However, the money isn't the key for Scott (although he looks forward to hitting the mall, as he mentioned.) It's more about beating his teammate, Tobias Harris, who is "such a great player, and great shooter," in the eyes of Scott.
For Scott, his win does wonders for his pockets. For the Sixers, though, the competition itself means a lot more. As this team develops a fun, but competitive vibe within the practice facility, the subtle matches will inevitably translate to the court during the games.
It may not seem that serious, but the Sixers sure do have a motivated bunch. For a team that desperately needed good, consistent shooters at times last season, any form of competition to make the Sixers more reliable in that department is a major key for success.
Justin Grasso covers the Philadelphia 76ers for South Jersey's 97.3 ESPN. You can follow Justin on Twitter: @JGrasso_