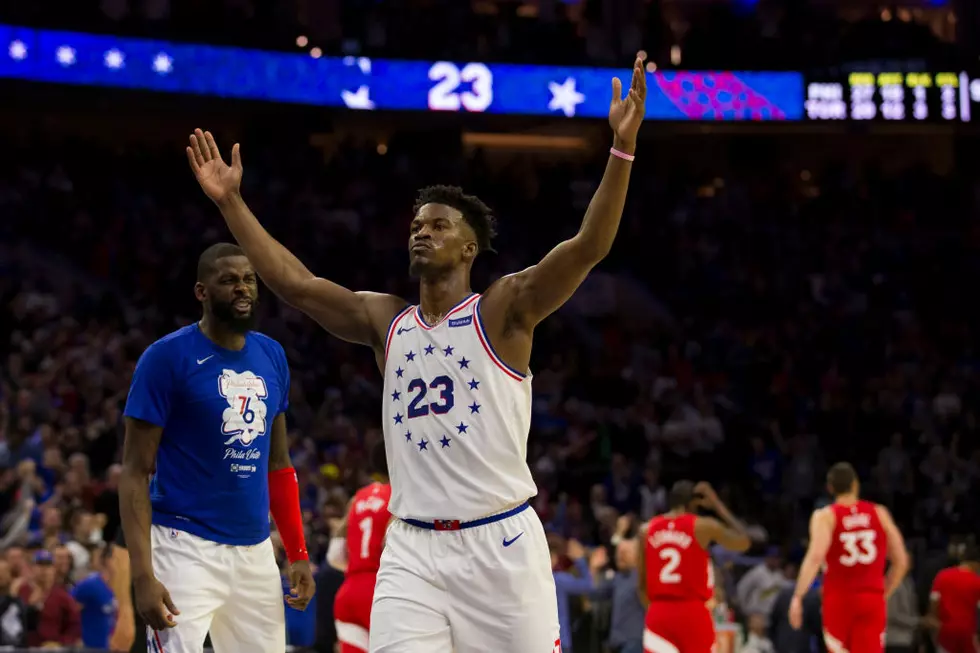 NBA Rumors: Jimmy Butler is on the Houston Rockets' Radar
Mitchell Leff, Getty Images
The Philadelphia 76ers are headed towards a critical offseason. With Elton Brand running the show in the front office full time for the first time, they need to make sure the Sixers are just as good, if not, better than last year. In order to do that, they need to bring back at least one of their star trade acquisitions from last season in Jimmy Butler or Tobias Harris.
Seeing as though Butler was a staple for the Sixers' moderate playoff success last season, it only makes sense that they prioritize bringing him back no matter what. Unfortunately, it's not going to be as easy as many initially thought. As expected, Butler will decline his option with the team for next season, making him a free agent next month.
Obviously, Butler wants to get paid, and he knows he's going to be one of the top free agent's on the market this year -- especially with the recent injuries occurring to Kevin Durant and Klay Thompson. All of the latest rumors indicate that Butler will either come back to Philadelphia or join LeBron James and Anthony Davis out in Los Angeles. However, don't rule out the Houston Rockets in the battle for Butler this offseason.
According to the Houston Chronicle's Brian Smith, Jimmy Butler seems to be their top target in free agency this offseason. If you can remember, the Rockets were heavy contenders in the trade sweepstakes for Butler long before the Sixers popped their heads into the negotiations with the Minnesota Timberwolves. Those talks fell through, and the Sixers capitalized on the opportunity to acquire Butler. Now, the Rockets are trying to get him in Houston once again without having to give up any assets besides money.
The Rockets intend on adding a third star to their roster to pair up with James Harden and Chris Paul. Although recent rumors indicate that Paul might be on the outs in Houston, that just further confirms that the Rockets will be chasing stars this offseason, and Butler will most definitely be a target regardless of whether Paul is in the picture or not.
The Sixers are aware of Butler's demand, and fortunately they have an upper-hand in the negotiations. Not only does Butler fit within the Sixers' locker room and know the organization, but Philly will have first dibs on offering him his desirable max deal. Sure, he could flirt with the idea of joining the Rockets or the Lakers, but both of those teams might be dealing with some financial struggles.
Depending on when the Lakers and the Pelicans finalize the Anthony Davis deal, Los Angeles could have insufficient cap space in order to offer Butler the max. And as for Houston, their situation is similar. Everything is in favor of the Sixers to land Butler next season, but a lot can change from now until the beginning of free agency.
Justin Grasso covers the Philadelphia 76ers for South Jersey's 97.3 ESPN. You can follow Justin on Twitter: @JGrasso_