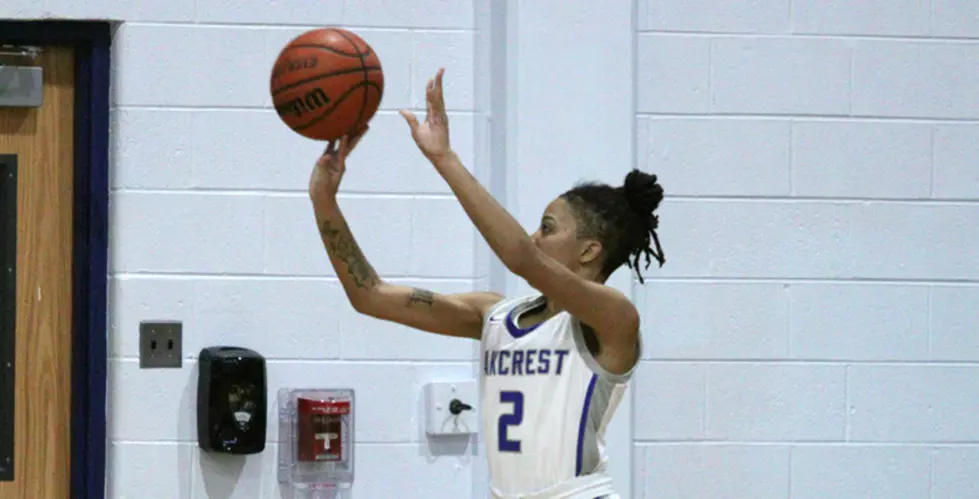 Oakcrest Girls' Sprint Past Short-Handed Cedar Creek
(Glory Days photo/Sully)
MAYS LANDING — Nay Nay Clark entered her senior year with 1,000 career points already, yet for much of her career has flown under the radar. She transferred to Oakcrest from district rival Absegami as a sophomore, and last year she averaged more than 24 points per game, but her Falcons finished just 9-17 and suffered a 20-point loss against Middle Township in the opening round of the South Jersey Group 2 playoffs.
This year may provide a lot more team success to go with Clark's individual accolades, as the Falcons return seven players with varsity experience and have some other players around Clark now who can take on some of the offensive burden. The Falcons showed their more well-rounded approach on Friday afternoon, using a 27-0 first-quarter blitz to score a 45-18 victory over a short-handed Cedar Creek team, which had to play without its top eight varsity players, who have been forced to quarantine because of COVID-19 protocols.
Cedar Creek's younger players were no match for Clark, who scored 16 points in the first quarter, had 18 by halftime and finished with a game-high 25.
It's tough to judge anything off a lopsided season-opening win over a team that was without its entire starting lineup, but Oakcrest coach Scott Miele said he likes what he has seen so far in the condensed two-week preseason that has preceded perhaps the strangest basketball season anyone has ever seen in South Jersey. Players must be socially distanced on the bench, referees aren't even touching the basketball at any time during the game, there is no jump ball to start the game and no fans have been allowed into gymnasiums throughout the state.
Enter your number to get our free mobile app
"One of the things we've promoted with the kids and keep pushing is, tomorrow could be our last practice. It really could, so enjoy this. This is something we should cherish," Miele said. "It's fun, and the neatest part for me — and I'm still kind of new as a head coach even though I've been coaching for a long time — is seeing kids grow up when you think they aren't going to, you're kind of blown away sometimes. It's like, holy cow, we showed them that and now they're doing it out there on the court. They know how to do it because we've done it a thousand times.
[CLICK HERE FOR A PHOTO GALLERY]
"We're really lucky, these kids I've had for six years from the time they were in the middle school, where I teach," he added. "It's a good group and we have a good flow this year, and on top of it, we're in the school when nobody else is in there, so there's some good bonding going on."
Naya Mason scored the only bucket of the first half for Cedar Creek (0-1, 0-1 Cape-Atlantic League North), which trailed 29-2 at the break. The Pirates should be getting their varsity players back from quarantine after this weekend, however.
While Oakcrest (1-0, 1-0 CAL North) does have a lot of players with varsity experience, getting such a big halftime lead on Friday allowed coach Miele to give some playing time to some of the bench players as a reward for all their hustle and hard work in practice. One of those players has a special place in Miele's heart, as Lonnai Dorris is a player who finally made the team this year after trying out for three straight years. She scored the first bucket of her career in the win over Cedar Creek.
"We have seven girls back with varsity experience. We had three girls opt out who had varsity experience, so at the beginning of the year we thought we could go nine or ten deep. We're probably seven deep and we have a great No. 8 (Dorris) who has been trying out for several years and for whatever reason we couldn't get her on the roster — she's had health issues and job issues — she got in the game today and I was happy for her. She stuck it out for four years," Miele said. "Every offseason she would text me and ask what she'd have to do to make the team. She has a lot of focus and she loves to work. Today was her first varsity game ever and she kept shooting that 17-footer, but I'm not going to yell at her for taking those shots. It was a cool moment for her to wait four years for her moment to play."
What's next: Oakcrest hosts Egg Harbor Township on Wednesday at 4 p.m.
Contact Dave O'Sullivan: sully@acglorydays.com; on Twitter @GDsullysays
KEEP READING: South Jersey Athletes Who Played/Coached in NBA and MLB