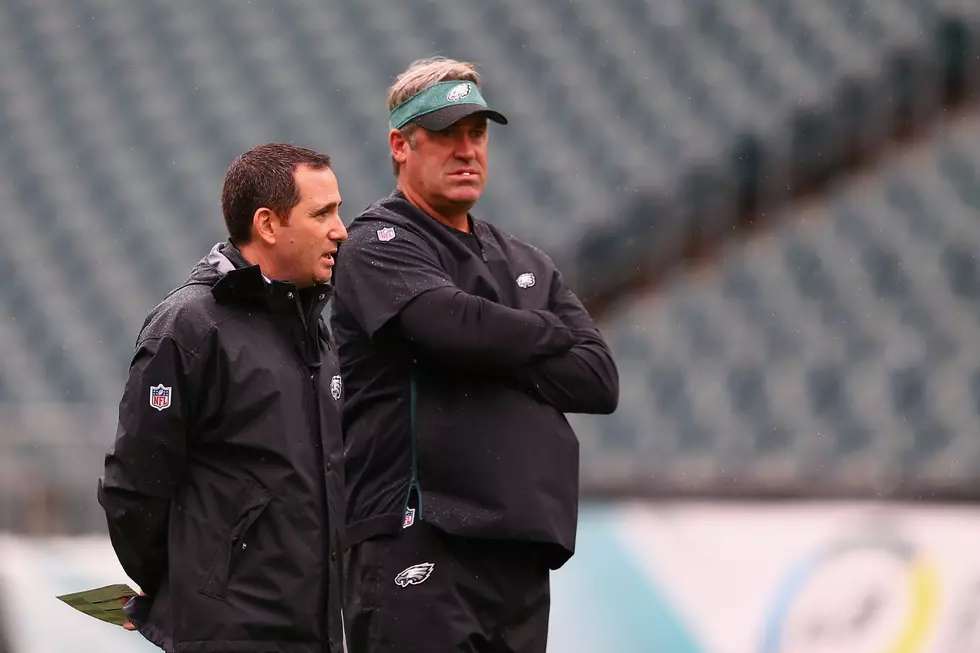 Ranking Eagles Positions Of Need For 2020 Offseason
Mitchell Leff/Getty Images
If a very important offseason for Howie Roseman and the Eagles.
Yes, the birds made the playoffs the past two years, but did so at 9-7 and needing a very mediocre division around them to allow them to get in the playoff field.
The good news though is there is talent that can help the Eagles now. Its a good draft class, especially in some areas of need for the team.
Which positions need to receive those resources the most? Here are the top five areas of need with free agent options and predictions on what might happen.
1. Wide receiver: You could probably interchange defensive back and wide receiver on this list. To some, wideout is a bigger need, to others its the defensive backfield. With plenty of depth in this years wide receiver draft class and some interesting names on the free agent market, Howie Roseman has a few avenues he could travel to fix the Eagles wide receiver issues.
The receiver position clearly failed to meet pre-season expectations in 2019. DeSean Jackson, is now 33-years old and missed 13 games last year. Alshon Jeffery, who just turned 30, missed six games last year and will miss at least half the season in 2020, if he does return - meaning the Eagles need to address wide receiver position immediately.
The 2019 group did not provide enough play-making, especially after the catch. That has to change if the offense is going to get back on track and their are plenty of options in this years draft and a few options in free agency as well.
Free agency has a few decent options, including: Amari Cooper, A.J. Green, Robby Anderson, and Demarcus Robinson is a under-the-radar guy the Eagles could try to bring in.
Prediction: The Eagles will draft a wide receiver in the first round, and sign a under-the-radar player on the cheap and hope Jackson is back.
2. Cornerback: When talking about 2020 unrestricted free agents, the Eagles could lose both their starters from the 2019 season, with both Ronald Darby and Jalen Mills free to sign elsewhere.
We saw the cornerback depth get tested in 2019 and struggle, meaning it might finally be time to bring in someone from outside of the organization. Sidney Jones has been a disappointment, Rasul Douglas has shown some flashes, but isn't really a week-to-week starter. Both Avonte Maddox and Cre'von LeBlanc are better suited in the slot.
If you look at most mock drafts, the show the Eagles going with a wide receiver in the first-round, but a few have them going cornerback, with the depth at wide receiver, it might be best to get a corner in round one, and take that wide out in round two.
Its not a very good free agent class, with Byron Jones, James Bradburry and Chris Harris at the top of the list.
Prediction: The Eagles let Darby and MIlls walk and start over at the position.  They will sign a corner, and draft a corner in one of the first, two-rounds of the draft.  Sidney Jones will be given one more chance to win a role.
3. Safety: The starting duo of Malcolm Jenkins and Rodney McLeod could be coming to an end. Jenkins wants, and deserves a new deal, McLeod is a free agent, and will probably find a new home for 2020.  Even if the birds brought both guys back to start, from a depth standpoint, the Eagles need another body.
Marcus Epps and Rudy Ford are the only other two safety's on the roster, and the Eagles need an upgrade at that spot.
In free agency, Anthony Harris is available, he'll turn 29 in October, but would be a great fit in the Eagles defense, but would cost a fortune. Justin Simmons will turn 27 in November, and would be another great fit. Jimmie Ward is another name to keep an eye on, but all would need to be paid some hefty contracts.
Prediction: The feeling here is that Jenkins will get a new deal, McLeod will walk and the Eagles sign a new safety in free agency, and draft a guy in the third or fourth round.
4. Linebacker: The linebacker trio that we saw in 2010 has to be better. That would be Nigel Bradham, Kamu Grugier-Hill and Nate Geary. All of the linebackers who saw action for the Eagles in 2019 are still under contract except Grugier-Hill, so the Eagles could look to replace him.  The problem is, its just not a position of importance to the Eagles front office, but its in need of a serious upgrade.  Bradham has slowed down and Geary is under-sized.
Cory Littleton is the best of the free-agent lot, if the Eagles want to go in that direction.  A few other names to keep an eye on would be Joe Schobert, along with Bears linebackers Nick Kwiatkoski and Kevin Pierre-Louis
Prediction: The Eagles again try to get by with cheaper options and draft a player in the 4-6 rounds.
5. Back-Up Quarterback: Last year's backup quarterback Josh McCown will be 41-years old when training camp begins.  He is a free agent, so its not even a guarantee that he will be back, and if he is not, the Eagles need to find a good solid backup for Carson Wentz. The 2017 and 2018 Eagles, had Nick Foles, and needed to go to the backup once again in this years backup, if there is one team the understands the importance of a solid veteran backup, its the Eagles.
 In free agency, options include: Marcus Mariota and Case Keenum.
Prediction: The Eagles grab a QB in the draft and bring back McCown for one more season.